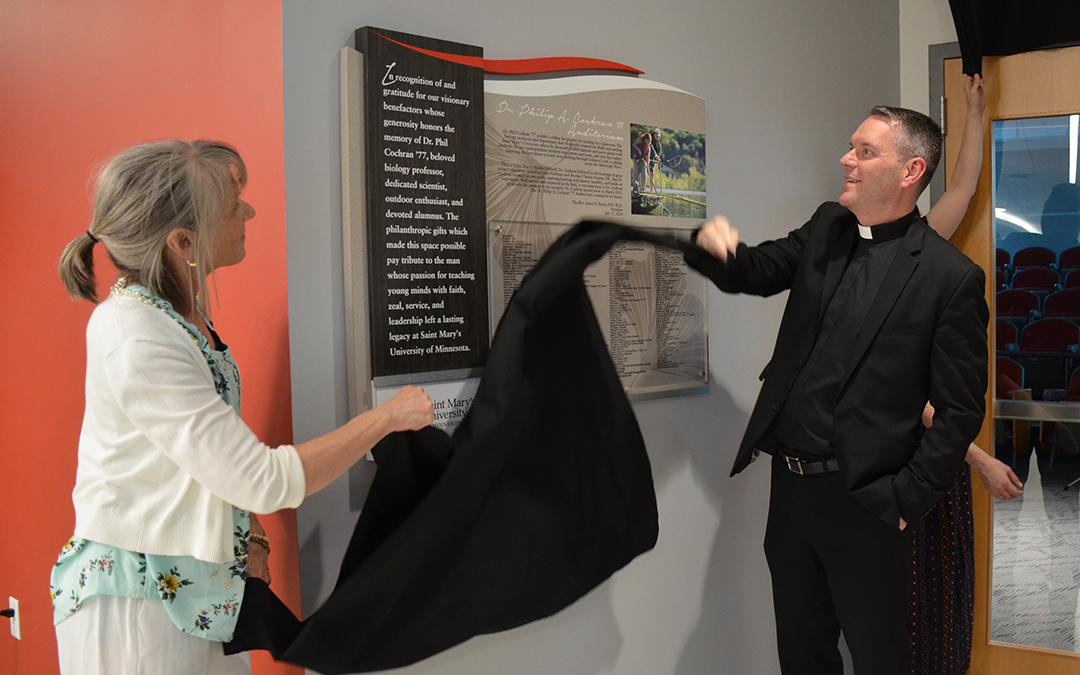 Photo caption: Father James P. Burns, IVD, president of Saint Mary's, unveils the donor plaque for the Dr. Phil A. Cochran '77 Auditorium with Phil's widow, Michelle (Galles) Cochran '79, M'05, C'07.
In recognition of a renowned scientist, beloved professor, gifted alumnus, and treasured friend, Saint Mary's University dedicated the Dr. Phil A. Cochran '77 Auditorium July 12 in its Science and Learning Center. The impact of Dr. Cochran's sudden death in 2015 left a tremendous void at Saint Mary's, particularly in its Biology Department where he had taught for 15 years.
Dr. Cochran inspired many students throughout his career and frequently involved them in his extensive field research. His talent and his reputation extended far beyond Saint Mary's, as he published hundreds of articles on countless topics, presenting his findings throughout the United States and Canada. He also frequently invited renowned speakers to Saint Mary's, which is why the lecture hall was chosen as the space to best carry his legacy forward to new generations of learners.
The dedication ceremony also recognized the many alumni, friends, and family who generously donated $500,000 for the naming opportunity — to ensure the Cochran legacy would live on at Saint Mary's.