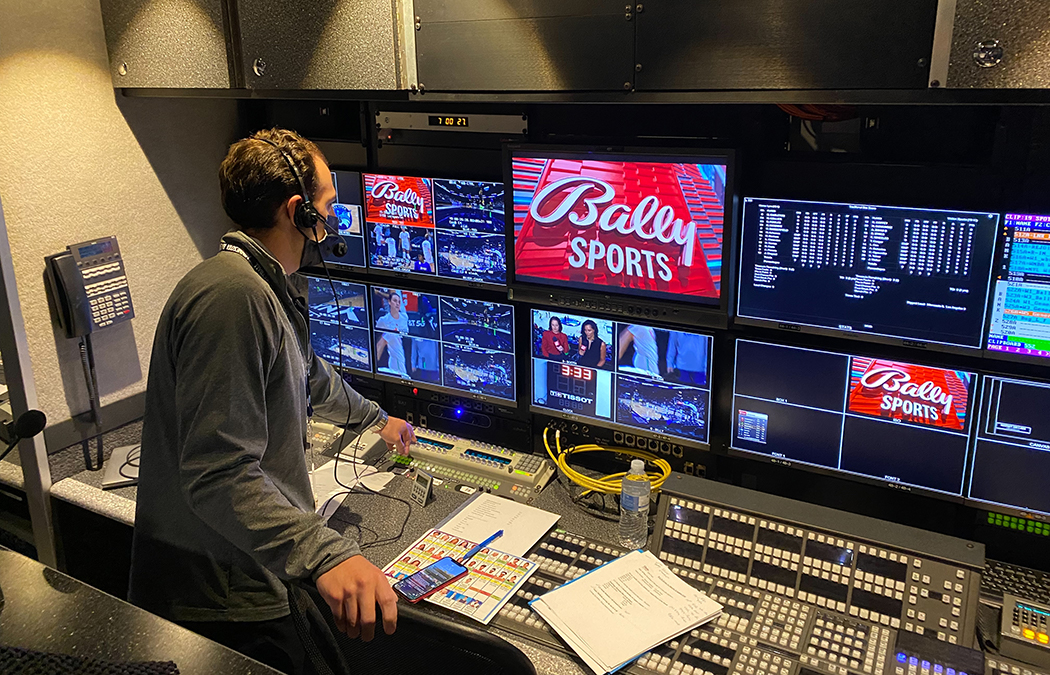 Covering 120 Twins baseball games throughout an entire season, even if it's your dream job, can become tedious.
For Rick Palermo '16, who produces pre and post-game TV shows for the Twins, Timberwolves, and the Minnesota Wild for Bally Sports North, there is one baseball game from the past season that now stands out. And that's the game that's post-game show landed Palermo a 2021 Upper Midwest Emmy for Outstanding Achievement for Live Sports Programming.
The award-winning sports broadcaster didn't always see himself working in this field. . When he arrived at Saint Mary's University in the fall of 2012, Palermo decided to major in business. However, he found his niche after a few classes.
After switching his major to communications, Palermo saw a path to working in sports. He caught the bug pretty quickly after he started doing play-by-plays for Cardinal volleyball, hockey, and basketball.
"I tried it and just fell in love with it," Palermo said. "I ended up broadcasting a lot of sports for the college and even worked for the local TV station in Winona. I really just loved the opportunity to work in the TV industry and live sports."
Just months after graduating from Saint Mary's in 2016, Palermo landed a producing job with Fox Sports North, now Bally Sports North, leading him to several exciting career opportunities. Focused on pre and post-game show production, he's spanned the Twin Cities sports scene, covering the Wild, the Timberwolves, the Lynx, and, of course, the Twins.
With a vast amount of experience now under his belt, Palermo is pleased to see his hard work receive recognition from the Upper Midwest Emmys. The specific pre-game show that received an Emmy broke down Twins pitcher Kenta Maeda's heat maps after the pitcher was struggling on the mound and giving up several home runs.
"Receiving this kind of recognition is awesome for the fact that you work so hard putting these shows together, and especially with baseball, where it can get monotonous, I'm working hard to find something that is unique or a way to tell the story differently than a simple package," Palermo said. "It's pretty cool to see."
To receive an Emmy, Palermo had to submit pre and post-game shows to be considered for submission. This year, two of his shows were submitted, which is quite a feat in the world of live sports television.
"You have to be lucky to execute everything perfectly because it's live TV," Palermo said. "So to have a show that was on live TV and executed perfectly, that's huge."
With an Emmy under his belt, Palermo continues to advance in his career. Coming up this season, he will be producing live Gopher hockey games, while continuing to produce pre and post-game shows for other sports teams. This is a big step for the Saint Mary's graduate, as he hopes to become a full-time live game producer, preferably for the Timberwolves or Wild.
As he's stepping into newer roles and considering what's next, Palermo is reassured about the work he is doing after receiving recognition from one of the top organizations in the TV industry.
"It's really humbling," Palermo said. "It's like 'Wow, you're doing things that are top-level in your field.' "