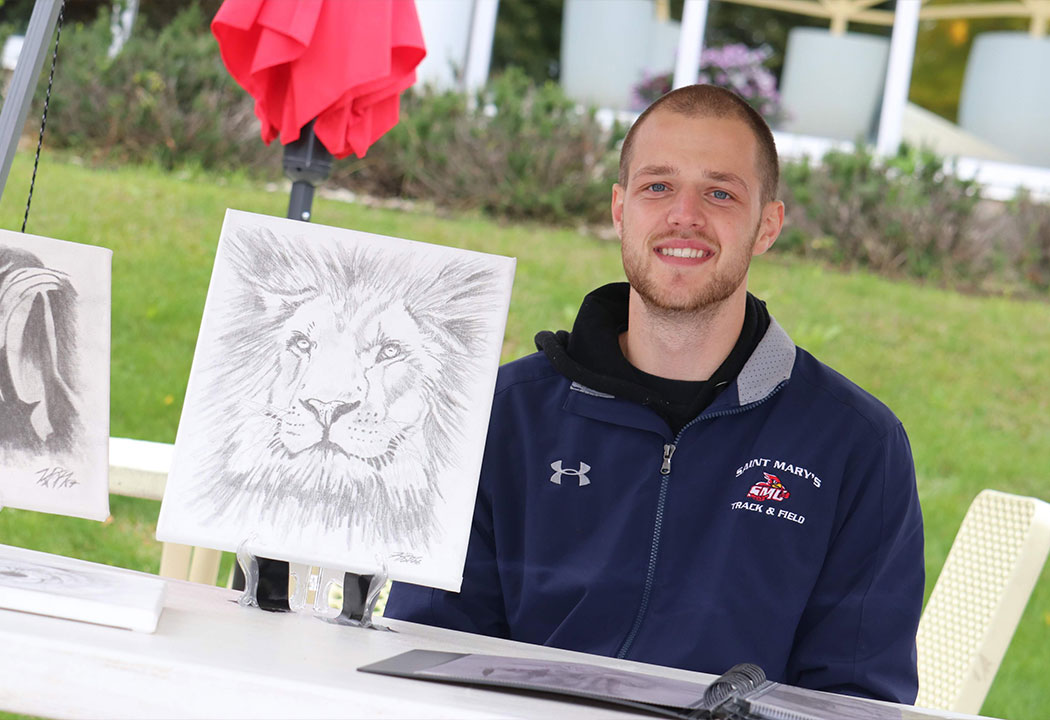 By Courteney Jacob '19
Combining a love for creating artwork with an entrepreneurial spirit wasn't always part of the picture for Kody Michaels '18.
While drawing has been a part of Michaels' life since the third grade, it wasn't until he came to Saint Mary's University that he started putting his passions together and realizing that he could share his artistic passion and make a profit.
Michaels, whose artistic focus is on freehand pencil sketching with some charcoal canvas experimenting, displayed and sold his work at the Artisan Fair on the Plaza on Saturday, Oct. 6, an event held in connection with the inauguration weekend and sponsored by the Kabara Institute for Entrepreneurial Studies to bring the local artisan community together.
"The artisan fair not only allowed me to express my hobby, but it is a great way to showcase the beautiful campus of Saint Mary's all while providing a great event for the community," Michaels said. Currently serving as the assistant track and field coach for the university, Michaels has yet another reason to want to entice people to visit Saint Mary's.
But Michaels may not have ever participated in the artisan fair without the experience and skills he says he gained while a student at Saint Mary's.
"I never used to take the business side of my artwork seriously until I came to Saint Mary's," he said, adding that during his four years he learned essential marketing, technological, and social skills, especially how to make strong first impressions.
Beyond what he learned in the classroom, Michaels also credits the relationships he built at Saint Mary's for shaping him into who he is now.
"Saint Mary's has provided me with a large number of relationships that has helped me expand my business and showcase my artistic abilities," Michaels said "I believe that the relationships I've created are just as important as the educational pieces I've acquired.
"I had an extremely rough start to my college life and was spinning my wheels for a few years," Michaels said. So when the Saint Mary's head track and field coach, who was Michaels' former high school track coach (now Michaels' boss) encouraged him to make a change, he took that advice wholeheartedly and transferred to Saint Mary's.
Thanks to that leap, Michaels is just where he wants to be: He's graduated college, landed one of his dream jobs, gotten engaged, and bought a house.
"I can truly say that I wouldn't be where I am today if it wasn't for this university and the community around it."