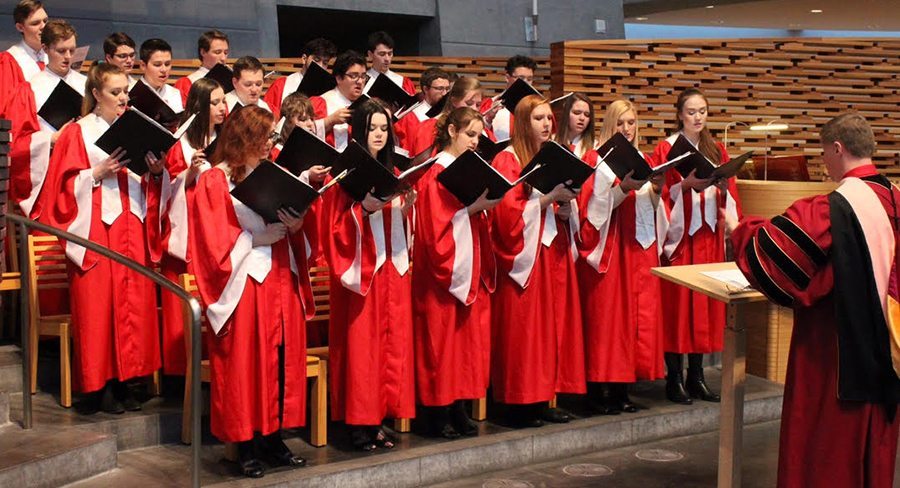 As a staff accountant for the Archdiocese of Saint Paul and Minneapolis, Abby (Zimmer) O'Brien B'08 sees herself as a problem solver. And she's felt that way in the myriad of positions she's held in her professional career since leaving Saint Mary's.
For O'Brien, it's the education she received at Saint Mary's that set her up to fulfill that role. 
"My experience at Saint Mary's helped me be able to critically think and be able to handle and troubleshoot any problems that came up throughout my entire career," she said. 
The ability to access such an education, according to O'Brien, was made easy by Saint Mary's in a variety of ways, from the assistance that made seeking a higher education affordable to faculty who are available to students and prioritize their success. 
When looking at colleges, O'Brien was unaware of Saint Mary's and had planned to apply to other schools. However, during a visit to Winona with a high school friend, she was instantly drawn to the city. Thinking Winona State was the only college in town, she was pleased to find Saint Mary's tucked away in the bluffs. After a tour of campus and a taste of student life that included Gaslight, an on-campus variety show, O'Brien knew where she wanted to spend her next four years. 
"A lot of little things added up that made me say, 'Yeah, this is the right place for me,' " she said. 
One aspect that made Saint Mary's the right place: the cost of tuition. Compared to the other schools O'Brien had been considering at the time, Saint Mary's was the most affordable. O'Brien also was awarded a number of merit-based scholarships through the university.
"It really allowed me to focus on school instead of focusing on how burdened I could have been by student loans," O'Brien said. "So it was also great that my hard work in high school paid off and then continued to pay off in college." 
Another cost-savings option made readily available to O'Brien was the opportunity to hold work-study positions throughout her college career, which included checking student IDs at the Recreation and Athletic Center and helping the Sports Information Department with basketball statistics. O'Brien says she benefited from the two work-study opportunities in multiple ways. 
"My work-study helped further engage me with the school because I was attending athletic events," she said. "It also made it so I didn't have to find a job off-campus." 
The idea of having an education within reach did not stop at the affordability of the school for O'Brien. As is echoed by many students and graduates of Saint Mary's, she valued the small class sizes and the availability of her professors. 
"I had friends who attended larger schools and would have their gen ed classes in a lecture hall with 300 other students," she said. "But that was never the case at Saint Mary's. Whether it was a gen ed class or something for your major, the classes were always small and personable. And that definitely made education accessible. And the professors were always able and willing to connect with you, whether it be during office hours or over email." 
One door Saint Mary's opened for O'Brien, a highlight of her college experience, was the opportunity to study abroad in London. For her, this was an opportunity to experience England and other parts of Europe, all while earning credits toward her business minor and needed general education courses. 
"That was an experience I wouldn't change for the world," she said. "It was amazing to experience life outside of this country while not falling behind." 
Access to extracurriculars was also an essential part of O'Brien's college experience. An active high school student, she continued that trend at Saint Mary's, getting involved in numerous organizations including the student newspaper, Habitat for Humanity, choir, and band. 
"There was a lot I was involved in," she said. "And it was great to be able to connect with my classmates and cohorts outside of the classroom."
To O'Brien, her time at Saint Mary's seemed like "the best of both worlds." 
"I was able to enjoy small class sizes, develop amazing friends, and have all these clubs and extracurriculars I could be a part of," she said. "I truly enjoyed it."