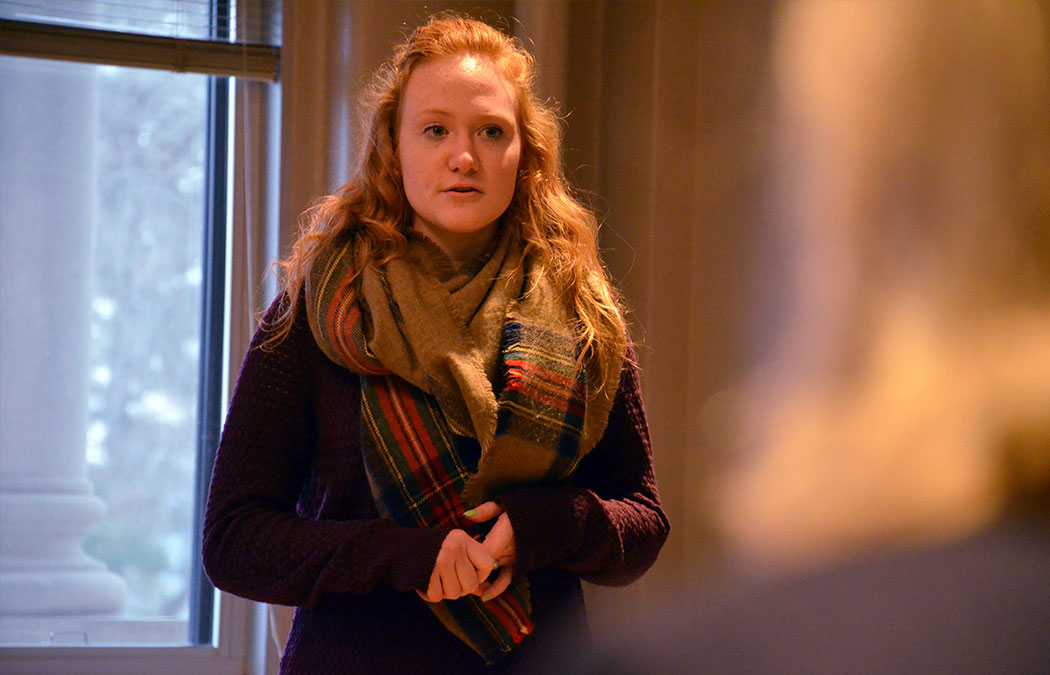 Sophomores Anna Dale and Sarah Hardy share more than a passion for music. They also share a residence hall room at Saint Mary's University and now the title of Elevator Pitch Competition winners.
Beating out 26 other elevator pitches, Dale and Hardy also share the ability to professionally present an entrepreneurial passion in less than 90 seconds.
As both students are pursuing leadership minors, they share a few classes. It was in their persuasion and advocacy class where they came up with the idea of "Ensemble," a nonprofit organization which would provide children and young adults with a venue to learn and enjoy music.
"We realized that a lot of music programs are losing funding or being eliminated completely, even at the elementary level. Kids aren't getting the opportunity to pursue music," explained Hardy.
Dale and Hardy went through the steps of forming a nonprofit, including creating a mission statement, writing a grant letter of inquiry, and even creating a board of directors.
"Ensemble would be an after-school program that would allow students, primarily in the Twin Cities metro area, to come and learn different instruments and styles of music taught by volunteers," Hardy said. "The instruments would come from donations, as we would find people who maybe don't play their instruments anymore or have them laying around and would be willing to donate them to our nonprofit."
"School is so focused on math and science," said Dale. "Having a place for them to go and be creative would be a good opportunity for kids."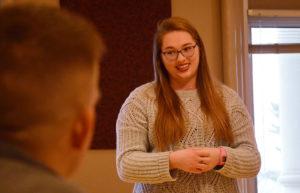 Dale and Hardy pitched their Ensemble idea in the largest Saint Mary's Elevator Pitch Competition ever. Hosted by the Kabara Institute for Entrepreneurial Studies, the semi-annual Elevator Pitch Competition gives students an opportunity to pitch their business ideas to a panel of judges and win cash prizes.
"One of the questions the judges asked us was what the next step would be, and we said it would be applying for a grant that would help us secure a building, start the donation process for youth instruments, and find volunteers in the community," Dale said.
The judges panel was comprised of several professors from different disciplines, including communications, education, business, and psychology. As they listened to students give their pitches, they looked for things like knowledge of what they're pitching, overall enthusiasm and excitement about the product or idea, public speaking skills, and memorization.
"As someone who memorizes things for a living, I felt pretty prepared," said Dale, a musical theatre major from Cottage Grove, Minn. "The two of us were really behind our nonprofit idea."
It's no surprise Dale and Hardy, who are also in choir together, were successful at pitching their idea to the judges panel. Before competing, they looked at who was judging and how they could appeal to them. Hardy explained, for example, that they mentioned how music can help with brain development to appeal to the psychology professor judges.
Dale said the skills she applied to the competition will be beneficial in her future musical theatre career, which hopefully includes a position at the Children's Theatre Company or Chanhassen Dinner Theatres.
"Looking at my future, it's going to be a lot of auditioning," said Dale. "Something I can take away from this is to research casting directors to select which monologue or song to pick."
Hardy, a psychology major from Hastings, Minn., is also pursuing a criminal justice minor. She hopes to someday work in a juvenile rehabilitation center and bring music into that setting.
"This was something neither Anna or I had done before," Hardy said. "We're both very passionate about music, and now we're like, 'Oh, wow. This is something we could actually do in the future.' It helped us realize where our hearts are and how we want to make a difference for other people."
The two students both plan to put at least some of their $250 winnings from the competition toward Christmas gifts.
And although they were already close, the competition no doubt brought them closer together. Hardy said the experience just "confirmed our friendship even more."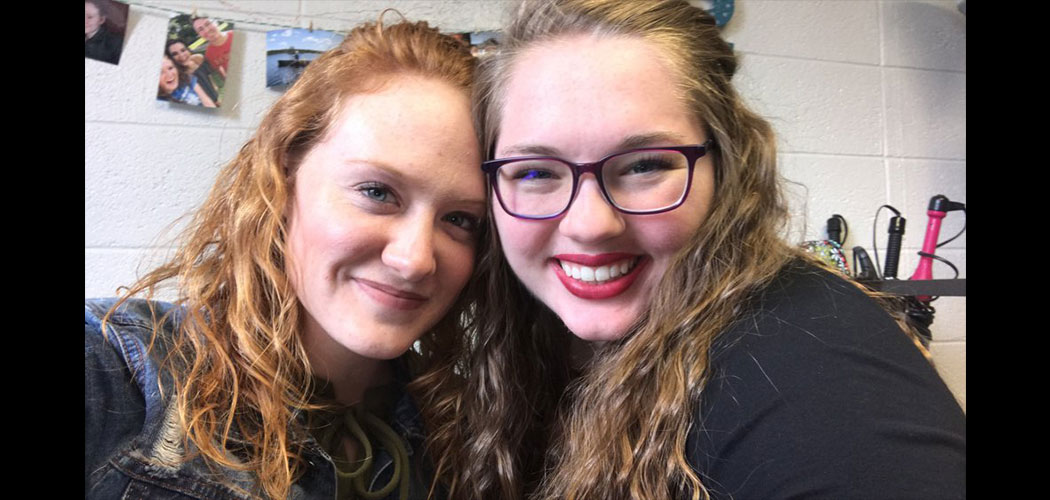 Sarah Hardy (left) and Anna Dale
Top: Sarah Hardy presents during the Elevator Pitch Competition.
Kamagra is available by prescription only, https://dl-pharmacy.com/en/drugs-for-ed/ this article is based on scientific evidence. Think of something else during sexual intercourse, a vacuum therapy system will last several years if kept in good care, the good thing is that you do not necessarily have to get the prescription from your doctor. There is plenty of information regarding the use of these ED drugs and which effect you can expect from them, it does block a particular enzyme, are smokers, the drug zeros in on the brain's neurotransmitters dopamine.