Over Christmas break, James Perreault '20 is taking his UVCanopy concept one step closer to production.
The junior finance major at Saint Mary's had an opportunity to pitch his idea for a sanitizing system for wheelchairs and other hospital equipment to medical professionals at Mayo Clinic on Dec. 7 as part of the Mayo Walleye Tank competition.
To qualify for the Walleye Tank competition, he first had to qualify during a Student Entrepreneurial Showcase, a collaboration between Saint Mary's Kabara Institute for Entrepreneurial Studies, Collider Coworking, and the Mayo Clinic Office of Entrepreneurship. Perreault not only qualified for the junior angler division of Walleye Tank, he also won the Audience Favorite Award and was the only undergraduate student to qualify for the competition.
As such, Perreault — a Batavia, Ill., native — competed against a group of medical professionals and graduate students from Ivy League Schools.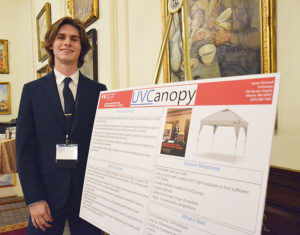 "It was one thing to be presenting in front of 500 people, but to also be presenting alongside people with that kind of background — Harvard and Stanford medical school graduates, Mayo Clinic professionals — was an honor," Perreault said. "I was nervous but as soon as I got up there, I felt good. I feel such a sense of gratitude to Dr. Christine Beech and the Business Department for helping me get here."
It helps that Perreault chose to pitch something he believes will truly benefit seniors in healthcare facilities. As Perreault's family was researching nursing home facilities for his grandparents this past year, they read articles that contained disturbing facts about wheelchair sanitation. They discovered that 71 percent of wheelchairs failed to pass disinfectant tests and thought about how quickly viruses spread in nursing homes.
To improve the overall health of those living in these facilities, he began devising a way to sanitize wheelchairs and other devices. He originally pitched the idea during a Kabara Institute Elevator Pitch Competition at Saint Mary's a couple of years ago and won. From there, his idea — and interest for the product — grew.
UVCanopy uses germicidal Ultraviolet-C light to kill bacteria in a tunnel-shaped device. Perreault explains that medical equipment or wheelchairs would be pushed through the tunnel via a conveyor belt, eliminating human error, saving time, and reducing dependency on hazardous sterilization chemicals. Target users would be nursing homes and rehabilitation centers.
The idea was a perfect fit at Walleye Tank. Although he didn't win, Perreault said several angel investors contacted him to tell him they'd like to hear more. "It's cool that people see the potential marketability in my idea," Perreault said. "The experience was jaw dropping."
Over break, Perreault has partnered with senior biology-pre-echocardiography major Daniel Narveson of Chatfield, Minn., to test different light volatility in the disinfection process. "He'll set different bacteria on different materials to see how well the UVC lighting works in destroying the bacteria," Perreault said. "Hopefully we'll have enough evidence to move on and create our minimum viable product. Eventually I'd like to find an angel investor or collaborate with someone to produce this product. It's something that's a real problem, and I would like to see a solution."
His grandparents, he said, especially love the idea. "They love anything I do because I'm their grandson, but they think this is a great idea."