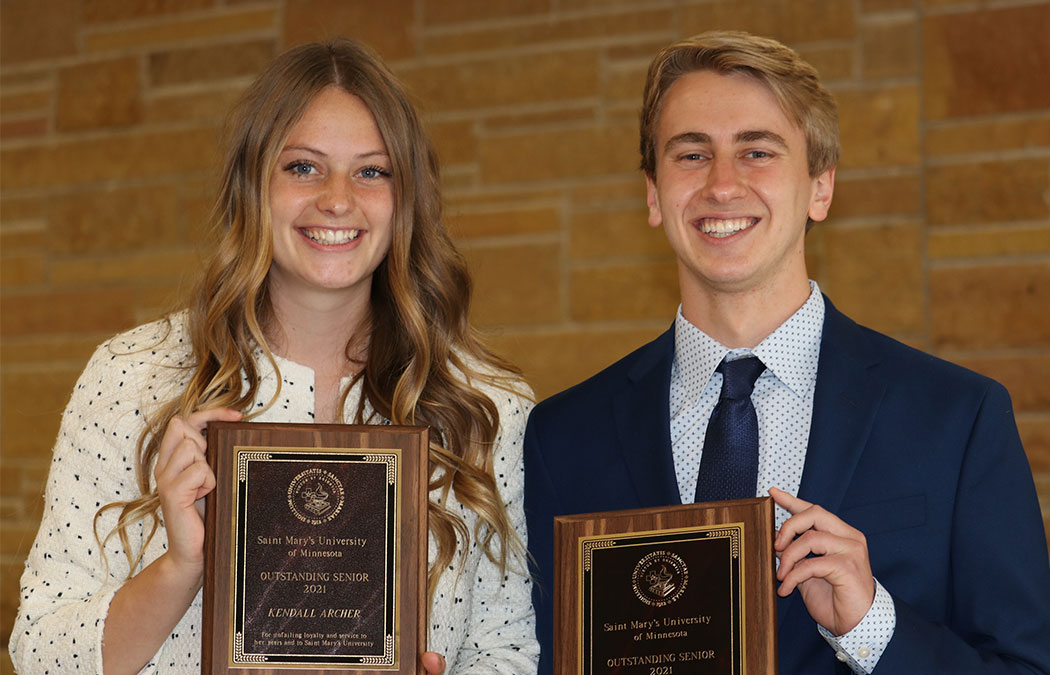 Saint Mary's University is proud to announce the 2021 Outstanding Senior recipients, Kendall Archer and Kristopher Shepard!
Typically presented at the university's Founders' Day, the two were recognized during a private luncheon for all 10 finalists on April 22. Outstanding Seniors have demonstrated the ideals of scholarship, character, leadership, service to colleagues and the university community, as well as genuine concern for the needs of others.
Kendall Archer, daughter of James and Tana Archer of Draper, Utah, is a philosophy and literature with a writing emphasis double major and political science minor. She has played for the Cardinal women's soccer team for the past four years and has had the honor of being the team captain for her senior season. Kendall has served on Student Senate in various roles, the most notable being Student Senate president her senior year. She also works as an ambassador and the chair of tour guides in the Admissions Office and as a tutor for the Writing Center. Following graduation in May, Kendall will be moving to Washington, D.C., to attend George Washington University School of Law as a presidential scholar and hopes to use the degree obtained to enter the public sector and advocate for vulnerable populations.
Kristopher Shepard, son of Scott and Michele Shepard of Crystal Lake, Ill., is a literature with a writing emphasis major and leadership and Spanish double minor. He captained the club ultimate frisbee team, played club soccer and intramurals, participated in the Lasallian Honors Program, assisted LIFT retreats, and provided the play-by-play webcast for various Cardinal athletic teams. Kris served in executive positions for Student Activities Committee, Saints Teresa and Peter Leadership Club, and the Phi Mu Alpha fraternity and also worked as a two-year executive orientation leader. Kris has been accepted into Saint Mary's M.A. in Teaching graduate program and will return to Winona next year before eventually teaching English at the high school level.
Other Outstanding Senior nominees included: males: David French, Jacob Hagstrom, Jordan Malikowski, and Elliott Rysavy; females: Clare Blath, Hallie Schmeling, Justine Schultz, and Delaney Wolf.
Congratulations to Kendall and Kristopher and to all our deserving nominees!