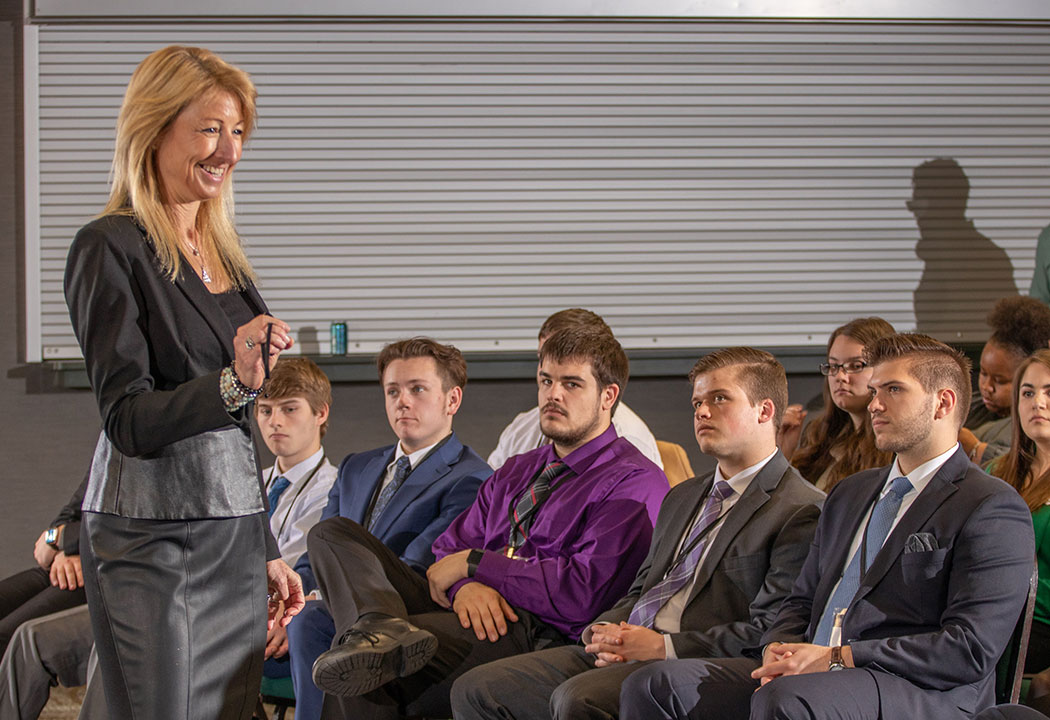 More than 35 Saint Mary's University undergraduate student leaders learned how to engage and innovate from international best-selling author and global consultant Dr. Jackie Freiberg at the 2018 Hendrickson Forum on April 24.
The students met Dr. Freiberg, recognized as one of the Top 30 Minds on Leadership by Leadership Excellence Magazine, on the Saint Mary's Twin Cities Campus in Minneapolis. Dr. Freiberg delivered a lunchtime keynote address to approximately 280 people, including area business leaders and community members. Focusing on three critical roles for organizational success (notice, lead, and engage), Dr. Freiberg's keynote empowered attendees to take on these roles and begin taking advantage of opportunities to transform new ideas into real solutions.
Isabel Bettag '21, accounting and sports management double major who is also on the basketball team, came to the Hendrickson Forum because she was interested in learning about what being a leader truly means. Bettag has an older sister and a cousin who are also attending Saint Mary's. "One message that stood out to me was that leadership is what people say about you when you leave the room," said Bettag. "I have a big family, and I don't want anything I do to reflect badly on my family name. When I walk out of a room, I want people to think well of me and hold me to high esteem."
After the keynote, the Winona Campus students spent an hour with Dr. Freiberg. Majoring in various subjects including business, the students shared a common interest in innovation and leadership. During their time together, Dr. Freiberg imparted the college students with 10 leadership"isms" for life:
Keep great company (and be good company) …

People want to be and work with someone who dreams big, gets stuff done, and knows how to have fun.

Build bridges …

What you know and who you know is important.

Learn like crazy …

Life is a journey. Don't fake it. Be a lifelong learner.

Show up …

Get to know people and their backstories.

Dream big …

Dreams choose people; people don't choose dreams. Capture your dreams, write them down, visualize them every day.

Dare to try …

Don't make excuses. Rise above your fear.

Choose carefully …

Be a gentleman (or a lady), not a jerk. Be classy, not catty. Temporary pleasures lead to permanent reminders.

Find a cause …

Work to have an impact on society in a positive way.

Play hard …

You'll work harder if you're happier.

Work hard …

Don't count on someone else to do it for you.
Abram Whitebird '18, history/social studies major who is also involved in Campus Ministry, said the ninth leadership"ism" stood out to him. "I tend to push myself to my limits, and it's important to take a break, take a walk, do something you love, and then get back at it," he explained.
Kate Dulak '19, public relations major, secretary of the Public Relations/Business Club, and vice president of Big and Little Pals, said one of her favorite messages from Dr. Freiberg was that leadership is a choice. "You can sit in the back and not do anything, or you can choose to participate, be there, and be present," explained Dulak. "It can be hard to be a strong leader when you're busy, but I plan to take that idea back to the activities I'm involved in on campus. I want to be more of an active presence and and be more vocal."
Attending her fourth Hendrickson Forum was international business and marketing major Maria Antonieta Morales-Lozano '18. She's the president of the Saint Teresa Leadership Club, an organization she was introduced to at her first Hendrickson Forum. As she'll be graduating this year, Morales-Lozano asked Dr. Freiberg for advice about how young professionals can make their mark when starting a new job after college.
Dr. Freiberg's advice was to learn the lay of land first. Build a network, be interested, find the leaders and influencers, learn the culture, find the pockets of toxic energy — she emphasized the importance of learning these before trying to leave your mark or make a difference. And when you lift up a problem, Dr. Freiberg added, always offer a solution, even though it may not be the right solution.
"This event means a lot to me. It brings to light ideas that are bigger than ourselves," said Jacob Petraitis '19, a business intelligence and data analytics major who was attending his second Hendrickson Forum. "It's a great networking event and really gives you something valuable to walk away with."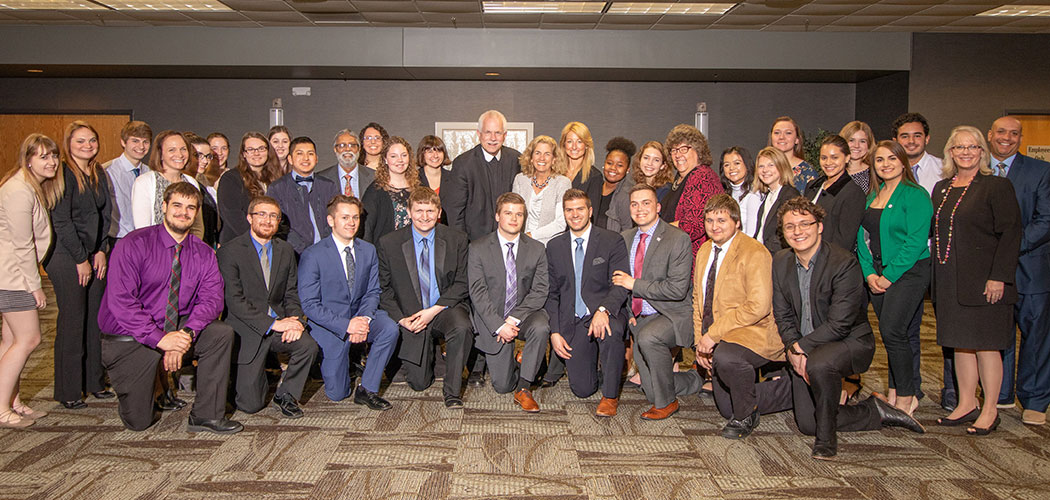 Learn more about the Hendrickson Forum at smumn.edu/HendricksonForum, or the Hendrickson Institute for Ethical Leadership at smumn.edu/HendricksonInstitute.