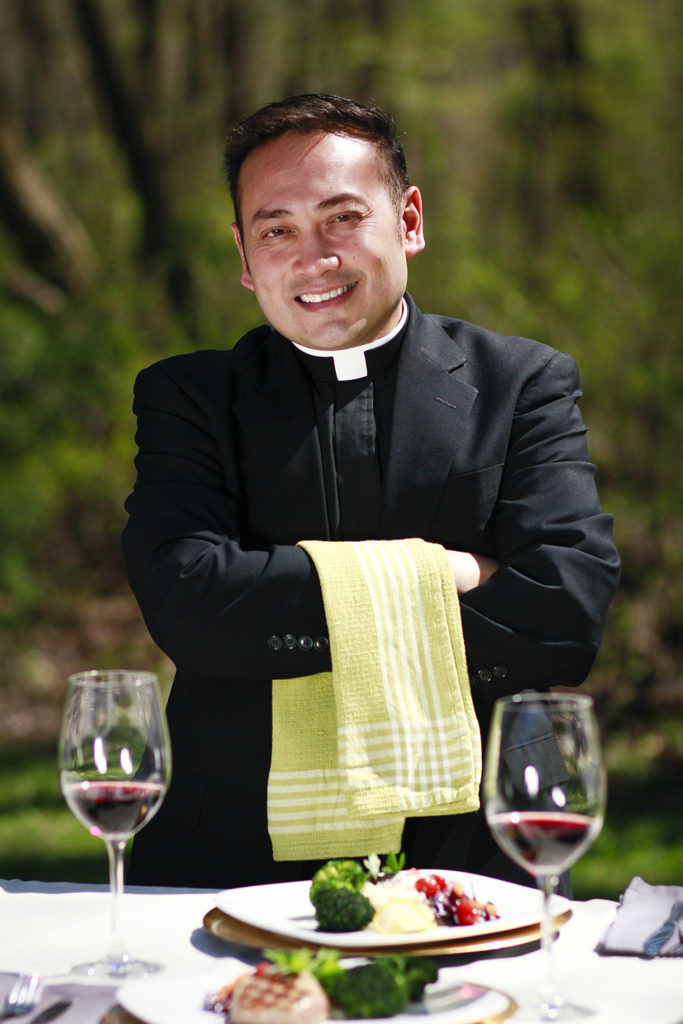 The Rev. Leo E. Patalinghug, IVDei, an award-winning cook and acclaimed speaker, will dish up an interesting discussion about community for the next Cardinal Virtue presentation Wednesday, March 11. The public is invited to watch and listen to the Rev. Patalinghug at 6 p.m. in Saint Mary's University's Toner Student Center.
The Rev. Patalinghug hosts a weekly international TV show, Savoring our Faith, on EWTN and is also a bestselling author, radio and podcast host, and internationally acclaimed speaker. His unique background as a two-time black belt martial arts instructor, award-winning break dancer and choreographer, and award-winning cook has caught the attention of many media and entertainment outlets, from ABC, FOX, NBC, PBS, NBC, the Cooking Channel, and also the Food Network where he defeated the world-famous chef in a competition called, "Throw Down with Bobby Flay!"
With an appetite for making deep discussions more bite sizable, the Rev. Patalinghug and his movement, "Plating Grace," and the nonprofit group, "The Table Foundation," are helping bring our world together … one plate of grace at a time. He is a priest member of a community of consecrated life, Voluntas Dei (The Will of God) and currently resides in Baltimore, Md.
Cardinal Virtue presentations are thematically centered around the virtues of courage (fortitude), justice, prudence (practical wisdom), and temperance.
Visit smumn.edu/cvrsvp to RSVP. Questions about this or any of the Cardinal Virtues presentations may be directed to Saint Mary's University's Office of Mission at 507-457-1646.
The Cardinal Virtues
Courage (Fortitude) moderates those desires that prevent us from undertaking more daunting, difficult tasks — even allowing us to endure pain and discomfort when necessary in pursuit of truth and good.
Justice is a sustained or constant willingness to extend to each person what he or she deserves in relation to what is truly good for that individual and having both community and individual elements related to it.
Prudence (Practical Wisdom) is an intellectual aptitude that enables us to make judgments that are consonant with our proper end as human beings.
Temperance, in a general sense, denotes a kind of moderation common to every moral virtue and is directed to the good.