Play a crucial role in an organization's workforce with a degree in HR.
The  SHRM-aligned curriculum of the bachelor's completion program in Human Resource Management at Saint Mary's is designed to provide you with the skills and knowledge needed to become an asset to any organization. You'll be prepared to tackle the challenges of managing employees, developing organizational leadership, exploring global practices, and complying with labor laws and government regulations.
Our online program combines foundational business education with the key fundamentals of human resources, ensuring that you'll have the skills and knowledge necessary to succeed in today's rapidly evolving workplace. 
Employers across Minnesota, such as the State of Minnesota, Fairview Health Systems, and Mayo Clinic, seek candidates with a degree. With an average advertised salary of $77,000 per year, a degree can lead to a fulfilling career with ample opportunities for growth.
Whether you're just starting out in your career or looking to advance your existing career, a degree in Human Resource Management from Saint Mary's University will prepare you for success.
Read More
36
credits
Individual credits and completion times vary
Aug.
•

Oct.

•

Jan. March

•

May

•

June
start dates
Program Highlights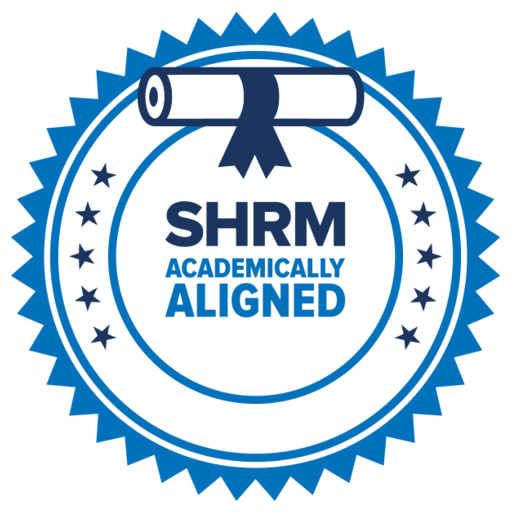 The Society for Human Resource Management (SHRM) has acknowledged that the B.S. in Human Resource Management program at Saint Mary's University fully aligns with SHRM's Human Resources Curriculum Guidebook and Templates.
Take up to 15 graduate credits and start your M.A. in Human Resource Management while completing your B.S. in Human Resource Management.
Human resource management initiatives aligned with organizational strategy
Various human resource initiatives to improve employee engagement
Training and development strategies focusing on performance improvement
Cultural competence and its role in human resource management
Effective communication with diverse audiences in a variety of modes
Fundamental business administration skills needed by organizational leaders
Join us for an information session to learn more about programs, how to apply, transferring your credits, and more.  We offer live information sessions where you can meet other prospective learners and faculty, as well as an archive you can view on your own time.
Prior credits earned, past work experience, and military service all count toward finishing your degree. All of them. Applying the credits you already have toward the career you want — and do it faster than you thought possible.  
Youbusinessr past credits are always eligible – they never expire

Technical college credits are accepted

Transfer up to 90 credits (75% of your bachelor of science degree)

Transfer credits for prior learning

You can apply standardized tests such as CLEP or DSST toward your degree.

We accept military, industry, and business training via the American Council on Education (ACE) or PLA.
Submit your transcripts and we'll get started creating a personalized degree plan for you.  Find out how quickly you can earn your degree.
Apply for Admission
Apply anytime to finish your bachelor's degree. Many of the programs have six start times per year. Start here to take the next step.
Applicants must demonstrate an overall grade point average of 2.00 on a 4.00 scale with evidence of at least 30 transferable semester credits¹.

These credits must include completion of one basic English composition course with a grade of "C-"or better.²

Applicants may be required to

complete an interview with a program administrator as part of the admissions process.

¹These credits may be made up of:

Industry Training and Military Separation Paper carrying American Council on Education (ACE) credit recommendations or,

Past College Level Examination Program (CLEP) or Dantes Subject Standardized Tests (DSST) exam credits or,

International credits evaluated by a source accepted by Saint Mary's University or,

Any credits transferable from a regionally accredited or non-regionally accredited institution.

²The English composition course requirement helps the student prepare for college level coursework. The applicant may be conditionally admitted if he or she cannot prove competency in this area, in which case the CLEP College Composition exam with essay or a similar university course must be taken within the first semester of study at Saint Mary's University of Minnesota.
Students who have completed 30 credits from  an accredited institution within the U.S. or the equivalent of these credits from an institution in an approved waiver country are exempt from demonstrating English language proficiency. Otherwise, students with transcripts from universities located outside of the U.S. are required to take and pass English proficiency testing. 

Saint Mary's accepts:

Test of

English

as a Foreign Language (TOEFL) with a minimum score of 72

International English Language Testing System (IELTS) with a

minimum score of 6.0

International Test of English Proficiency (ITEP) with a minimum score of 4.0 or Pearson Test of English with a score of 51

Duolingo Language Test with a minimum score of 100

Pearson Test of English with a score of 51

Please see our academic catalog for a list of all approved waiver countries.
Your application must include the following items:

Completed application form

All official transcripts issued to Saint Mary's University of Minnesota from all previous institutions attended with a minimum of 30 semester credits with a basic English composition course.  

An official transcript is one that is sent to the university by the credit-granting institution.

Transcripts from countries other than the U.S. must be evaluated on a course by course basis by a university accepted evaluation service, such as World Education Services, Educational Credential Evaluators, Educational Perspectives, or

One Earth International Credential Evaluators

and be deemed equivalent to accredited U.S. university standards.  

Evaluations from an approved member of the National Association of Credential Evaluation Services (NACES.org) will also be accepted.

Official Transcripts should be sent to Office of Admission

Saint Mary's University of Minnesota
2500 Park Avenue
Minneapolis, MN 55404

Or email: tcadmission@smumn.edu

Please reach out with any questions about the application process.

Phone: (612) 728-5100

Toll-free: (866) 437-2788
Priority Deadlines: Applicants completing the application process by the priority deadline are guaranteed consideration for their intended start date.*

Fall 2023: Friday, Aug. 4, 2023

Spring 2024: Friday, Dec. 1, 2023

Summer 2024: Friday, April 5, 2024

Fall 2024: Friday, Aug 2, 2024

*Not all programs offer starts each semester
Fall 2023 : Aug. 28

Fall 2023

term 2

:  Oct. 23

Spring 2024: Jan. 8

Spring 2024

term 2

: March 4

Summer 2024 : May 6

Summer 2024

term 2

: July 1
You can expect to be notified about your acceptance approximately two weeks following your application completion date.
We help you find ways to finance your education.Talk to your Enrollment Counselor  about scholarships, loans, and other ways to make education affordable.
In addition to foundational courses, you'll take courses such as 
Employee Engagement

Employee and Labor Relations 

Applied Leadership and Management
The course catalog provides complete information about course requirements.
Careers & Salary
Every business, regardless of industry, depends on people to succeed. Human resource professionals play a key role in ensuring organizations and employees have what they need to succeed. At Saint Mary's, you'll gain the skills needed for entry- and mid-level roles in the growing HR management field.
Compensation and Benefits Manager
$127,530 per year*
Human Resources Manager
$126,230 per year*
Training and Development Specialist
$61,570 per year*
Related Programs
Find the right program for right now — or the future. Saint Mary's offers adult degree completion programs, as well as graduate certificates, master's, and doctoral degree programs.
Frequently Asked Questions
News and Information from the School of Business and Technology
Sources and Disclaimer
Bureau of Labor Statistics, U.S. Department of Labor, Occupational Outlook Handbook, Human Resources Specialists,

at

https://www.bls.gov/ooh/business-and-financial/human-resources-specialists.htm

(visited February 14, 2023).

Bureau of Labor Statistics, U.S. Department of Labor, Occupational Outlook Handbook, Compensation and Benefits Managers at

https://www.bls.gov/ooh/management/compensation-and-benefits-managers.htm

(visited February 14, 2023).

Bureau of Labor Statistics, U.S. Department of Labor, Occupational Outlook Handbook, Human Resources Managers at

https://www.bls.gov/ooh/management/human-resources-managers.htm

(visited February 14, 2023).

Bureau of Labor Statistics, U.S. Department of Labor, Occupational Outlook Handbook, Training and Development Specialists at

https://www.bls.gov/ooh/business-and-financial/training-and-development-specialists.htm

(visited February 14, 2023).

All other career data on this page can be found at Lightcast (lightcast.io) Q1 2023 Data, September 2022-February 2023.