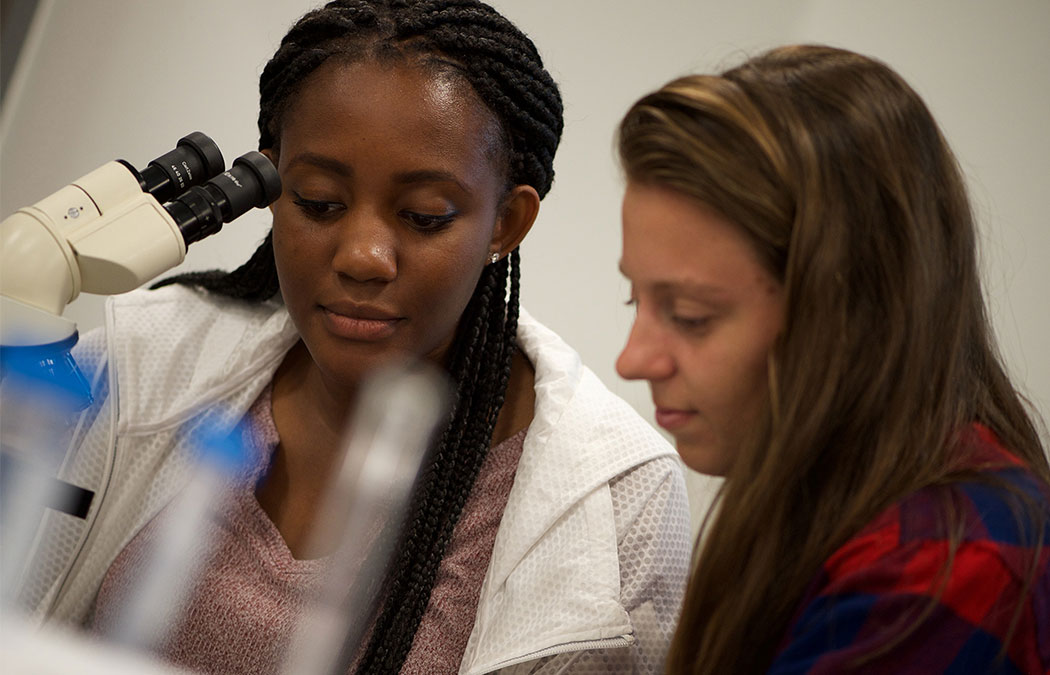 In responding to the needs of the healthcare industry, Saint Mary's is developing a B.S. in Nursing program.
Saint Mary's ongoing expansion in healthcare-related academic offerings — and its plan to establish a B.S. in Nursing program in fall 2021 — stems from market research and an identified need in the workforce.
"We know with the changing demographics and aging of the workforce, there's continued need for nurses and nurse anesthetists," said Todd Reinhart, Sc.D., dean of Sciences and Health Professions. "And we also know that we're going to continue to need educated policy and prevention personnel. One of the biggest examples of this we are seeing today is with COVID-19."
With its forward-thinking and constantly adapting programming, Saint Mary's is garnering a reputation for being a leading force in meeting growing needs in the healthcare sector.
Each year, dozens of applicants to Saint Mary's University don't matriculate because they are specifically interested in studying nursing, so Dr. Reinhart said the undergraduate student demand for a B.S. in Nursing is evident. Additionally, he said seven clinical agency partners from southern Minnesota and the metro area have agreed to partner with Saint Mary's on student clinical education., and more relationships are forthcoming.
The Adducci Science Center's Hoffman and Brother Charles halls, now under renovation on the Winona Campus, include a dedicated nursing suite with a large clinical skills lab,a high fidelity nursing simulation center, as well as faculty offices and learning hubs.
• Saint Mary's just admitted its second cohort for the 3+2 Physician Assistant (PA) Studies program in collaboration with Mayo Clinic School of Health Sciences. This highly competitive program for incoming first-year students puts them on the fast track to begin a meaningful and versatile career in the medical field — and to ultimately work within the Midwest for Mayo Clinic Health System.
They spend three years studying on the Winona Campus. The following two years, they learn from Mayo Clinic School of Health Sciences faculty at Saint Mary's Rochester Campus and have clinical learning experiences at Mayo Clinic in Rochester and throughout Mayo Clinic Health System.
At the conclusion of their fourth year, they earn a Bachelor of Arts in Biology – Health Science degree from Saint Mary's University, and at the end of their fifth year, they earn a Master of Health Sciences in PA Studies degree from Mayo Clinic School of Health Sciences.
This fall, Saint Mary's will have 35 students enrolled in this program, and as a result, the university's four-year Biology/Pre PA Studies program is also growing fast, with 11 students enrolled.
• The Minneapolis Saint Paul Business Journal reported that a bachelor's in nursing from Saint Mary's boasts a median first-year salary of $88,400 — a top earning per federal data from the U.S. Department of Education.
Additionally, the nursing program at Saint Mary's is featured on the 2020 Best Campus & Online Colleges lists (as #2 in 2020 Best Master's Nursing Degrees and #7 as Best Online Bachelor's Nursing Degrees).
• The Minneapolis Saint Paul Business Journal also reported that Minnesota's highest first-year earners are certified registered nurse anesthetists who earned their master's degrees from Saint Mary's University.
Leah Gordon M'10, D.N.P., director of the university's M.S. in Nurse Anesthesia program, said Saint Mary's graduates are in demand right now. This program recently received a maximum level of re-accreditation.
Additionally, Saint Mary's School of Health and Human Services is developing a Doctor of Nursing Practice (DNP), which will be a blended online and residential experience.
• Dr. Reinhart said that students coming into the Master of Public Health program program are often in lab positions and are looking to expand their careers to be more community focused. "This program is a perfect combination if you understand science and benchwork and want to learn how to apply that to community and public health issues," he said.
Dr. Reinhart added that today's healthcare systems want to increase their patient care bandwidth, particularly in rural areas, and Saint Mary's 3+2 PA program directly addresses that need, as does the M.S. in Nurse Anesthesia program, and soon the developing pre-licensure B.S. in Nursing program.
"In rural areas, that's where CRNAs really can practice at the top of the care spectrum," he said.
"We're helping to meet those rural needs. We have clinical placements in rural areas to help with relationship building and the job placement, and our graduates are sought after. Graduates of our PA program will also fill an existing need that Mayo Clinic has in their rural medical centers.
"It's ultimately about helping today's healthcare system provide affordable quality care," he said.
"We're working to help strengthen the workforce and address the economic challenges within that workforce."