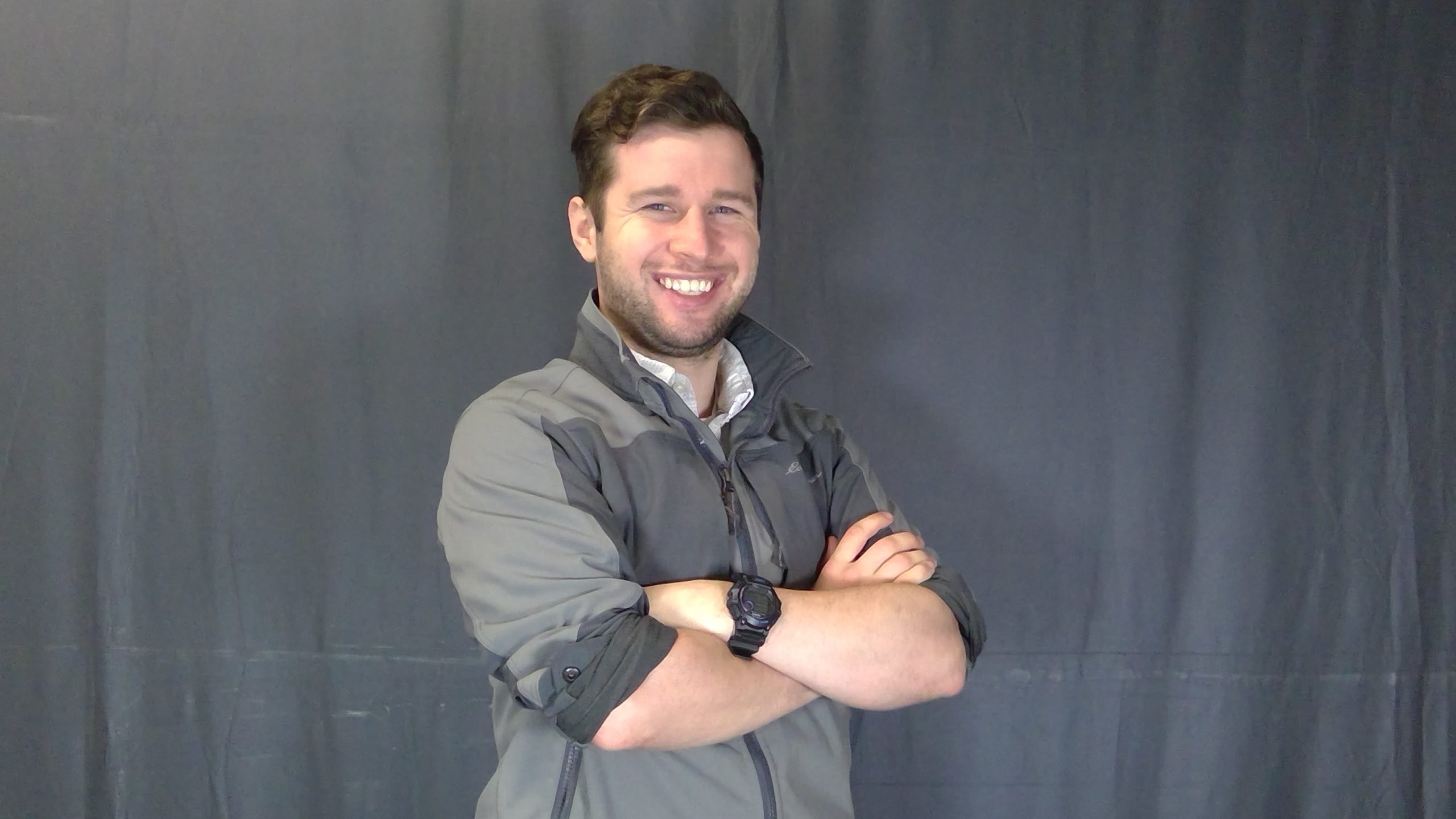 Caption: Quentin Hietpas '21 currently works as an accountant and IT manager for Enova Illumination while he finishes his B.S. in Accounting online. The program moved online entirely at the start of the Fall 2020 semester.

Their dress attire was different, but the realization was the same between R. Don Keysser and Quentin Hietpas '21 in a Zoom interview in April: They had found a good fit.
Hietpas — a student in the bachelor's completion program who was pursuing his B.S. in Accounting at Saint Mary's University of Minnesota — was undergoing an initial job screening remotely for a position as an accountant at Enova Illumination, a medical technology company based out of Northeast Minneapolis. Keysser serves as a member of the Enova Illumination board of directors, as well as its chief investment officer.
"I was kind of cracking up laughing because here I am in my T-shirt calling from my study at home, but he had a shirt and tie on," recalled Keysser, who also serves as an associate professor in the MBA Program at Saint Mary's. "It's a little thing like that, but it's impressive."
After talking with Keysser, Hietpas was invited to speak with the company's president and others on the leadership team. Within two months of applying, he began work at the end of May as both an accountant and IT manager.
'The strongest candidate'
When the position opened, Keysser reached out to Melanie Torborg, director of the B.S. and M.S. in Accounting programs at Saint Mary's, to see if she could recommend applicants from her program, either current students or graduates. Some of the other finalists had more work experience than Hietpas, but Keysser and the rest of his Enova colleagues walked away impressed.
"He was the youngest by far, but he just came across as the strongest candidate," Keysser said. "He was very enthusiastic, knowledgeable, and well-prepared."
Hietpas said the remote job interview setup worked in his favor, as the comfort and familiarity of his home kept any anxiety at bay.
"Being at home helped me temper those nerves and present who I was, and give the best possible case for what I would bring in without the distraction of being somewhere new," Hietpas said.
Enova Illumination specializes in manufacturing cordless LED surgical headlights, magnification loupes, digital microscopes, 'smartglasses,' and other related equipment geared toward doctors, dentists, and surgeons. As part of a team of approximately 25 people, Hietpas spends his time helping to balance the company's books, as well as assisting colleagues with onboarding and making sure his team members are always up and running on Enova's remote servers.
"I wear a lot of hats. It's been a challenge, but it's also very rewarding, too," said Hietpas, who splits his time working from home and the company's offices. "We're expanding, and that expansion comes with some growing pains, but it's also leading to some really great opportunities."
A fresh start
In 2019, Hietpas, a native of St. Paul, had been looking to finish his bachelor's degree, after earning an associate's degree in computer science from Saint Paul College, following a year at the University of Wisconsin-Madison.
He saw an advertisement promoting an open house event on the Twin Cities Campus, which encouraged him to reach out to his cousin Kevin Endres '15. Endres told him about his overall positive experience on the Winona Campus while earning his marketing degree.
After looking at other options in the metro area, Hietpas decided to enroll at Saint Mary's based on how easy it was to pinpoint when he would be able to finish his degree. When he accepted the job at Enova Solutions, he decided to split his coursework into two courses each in the fall and spring semesters.
He is giving strong thought to pursuing his M.S. in Accounting at Saint Mary's. He already plans to do a master's level elective for nonprofit accounting later this year, allowing him to finish in as little as one year by taking 24 credits.
Since the Bachelor's Completion program naturally segues to the master's program, close to 20 percent of the program's accounting students go on to the M.S. program, noted Torborg.
"I've had some of the best professors I've ever had who really love to teach," Hietpas said of his time at Saint Mary's. "I'll be pretty excited to have my degree and see where that takes me. When I'm ready to take the next plunge, I think the master's program in accounting is definitely a contender for where I'll go next."