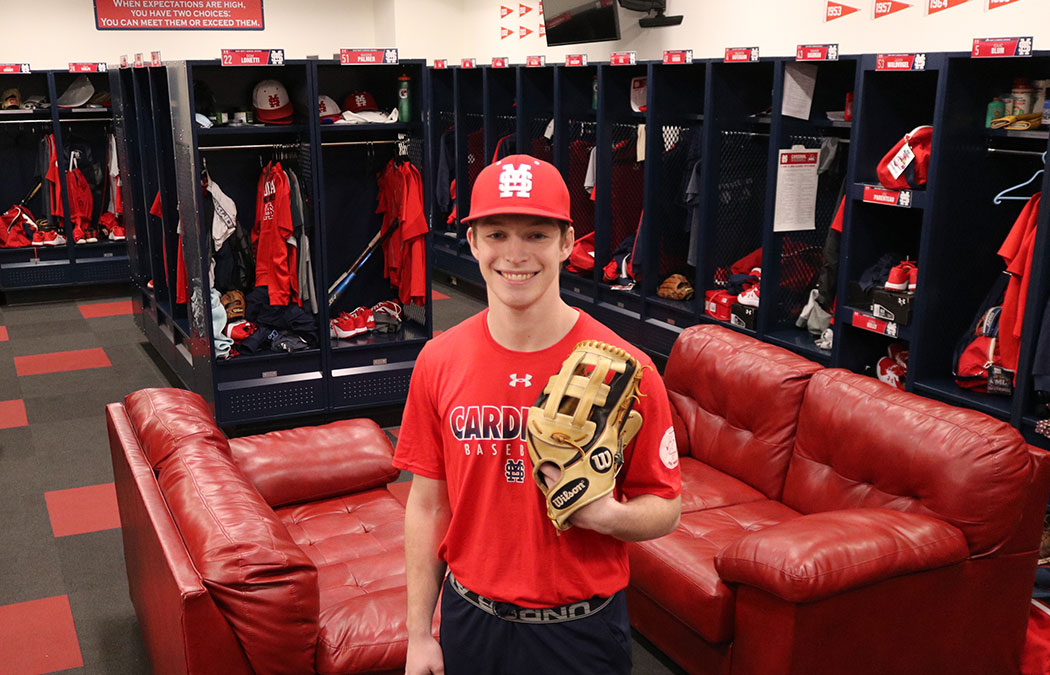 It's been scientifically proven that seeing others give makes an individual more likely to give.
Generosity is contagious, and head Saint Mary's baseball coach Nick Winecke '07, M'12 can attest to the fact because he's seen it in action. Benefactors spanning more than five decades are giving back to a sport and a program they love.
It all began on Jan. 14, 2019, as Saint Mary's unveiled its new $704,000 baseball clubhouse, "Pudge's Place." The 2,500-square-foot facility was made possible by a generous lead gift from Marc Weisenburger '75.
Weisenburger had been inspired by previous benefactors of Saint Mary's initiatives like the Science and Learning Center and the Kabara Institute.
"In thinking about how I could help define success for Saint Mary's baseball, I wanted to try and determine what I could do to make a difference," he said. "I am honored that my nickname is on this clubhouse, and I am proud to be forever connected to Saint Mary's baseball … and all that it stands for."
Winecke said that Weisenburger's generosity inspired a giving trend for the baseball program. Of the 46 lockers located in Pudge's Place, all (plus two coaches' lockers) were quickly sponsored. The cost to sponsor a locker was set at $2,000, but several alumni, Winecke said, have made gifts over the requested sponsorship amount.
In total, 66 individuals and families supported the project.
Even more impressive, about 50 percent of the lockers were supported by young alumni from the past 13 years — alumni like Taylor Thelemann '14, who played shortstop for the Cardinals between 2011 and 2014.
"I decided to sponsor a locker and give back to the program in general because of how much the team and university did for me as a person," Thelemann said. "I matured and developed more than I could have ever expected, and I attribute a lot of that to the inclusivity and camaraderie associated with the program. The culture that Coach Winecke has built at Saint Mary's is truly special, and I wanted to help make that bond more noticeable to prospective students."
Thelemann said having his name permanently attached to the facilities is an honor.
"Alumni banded together collectively to make the opportunity a reality," he said. "My former teammates who were contacted agreed to assist without hesitation."
As great as the on-field accomplishments were, Thelemann said it's the time spent off the field with teammates he misses the most. "Coach Winecke always said that the first day you come on campus as a new student and member of the baseball program, you gain 40-plus best friends, and that could not be more true. It is hard to find a professional environment where everyone cares more about the common goal than individual accomplishments or milestones."
Weisenburger shared this same experience while playing under the guidance of Hall of Fame Coach Max Molock between 1971 and 1975. To further honor Molock, Weisenburger has now committed generous funding for another important Cardinal baseball initiative.
This generous donation has established "The Max" player package. "The name, in addition to being inspired by Molock, is also centered around the knowledge that giving the max effort and having the max contributors will lead to max results," Weisenburger said.
As part of the package, all Cardinal baseball players every year will receive a pair of spikes, training shoes, and practice gear (two T-shirts and a pair of shorts). Moving forward, first-years will get a certain package every year, and returning players will be able to choose from a menu of options, based on their need.
"He's allowing us to have a Division 1 experience at a Division III institution," Winecke said. "This sets us apart to win with recruitment, but it also takes the financial burden off of some students and their families."
Sophomore biology pre-med major Brandon Merfeld said it took awhile for the news of this gift to sink in.
"Playing Division III sports, it is really unheard of to get all that equipment for free," he said. "It really speaks to the quality of alumni that this program produces. It also displays that there is a high level of investment from our alumni, which in turn will make our team work harder as we do not want to let down those who came before us."
Ryan Wolfe '20, enrolled in Saint Mary's finance certificate program, agrees. " 'The Max' shows a lot of what our program and culture is all about. Alumni care about this program so much that they give generous donations year after year. They want to make sure this program is in a better place and make our experiences even greater than theirs were."
Merfeld said as a member of the baseball team he feels part of a family, one in which everyone has each others' back. "I think that's why Saint Mary's is special," he said. "This goes beyond the baseball program to the professors and administrators who are always there to lend a helping hand.
"If I am ever able to give back in any way, I will certainly do so. I have seen first-hand how 'The Max' package has impacted my teammates, not only emotionally but financially," he said. "I think it would be a surreal opportunity to be able to bring joy to Cardinal Baseball players to come."