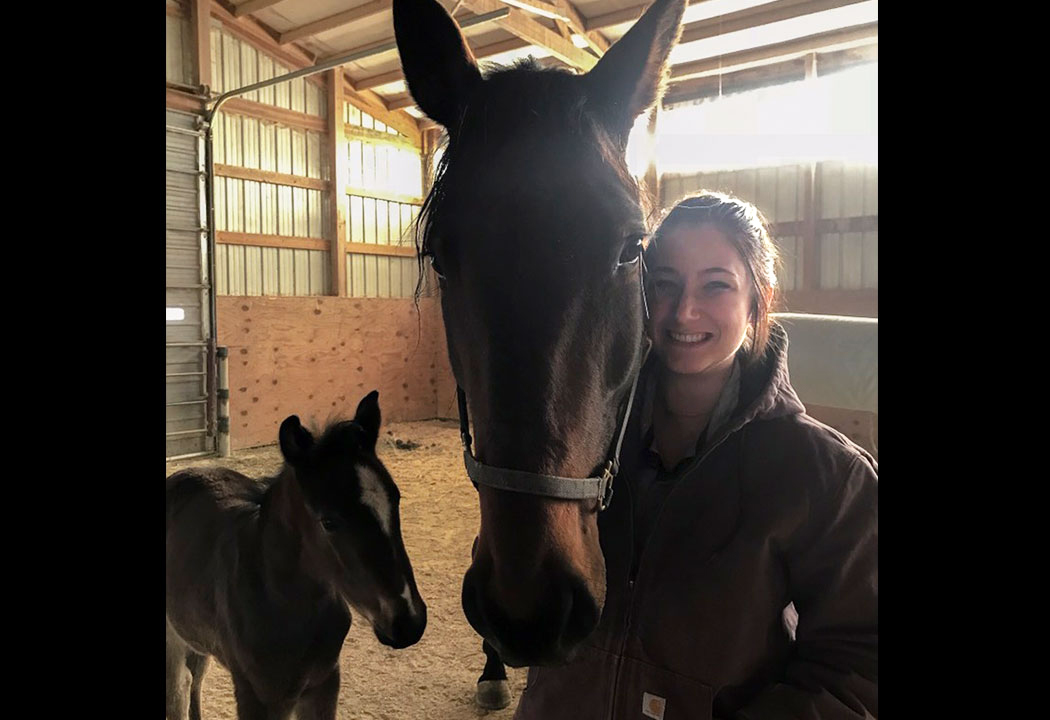 Mia Ojczyk '20 is doing all she can to get more experience working with animals, including working the past four years at a small animal clinic (three as a veterinarian assistant) and most recently as a veterinarian intern at a large animal clinic.
Growing up around animals, her dream of becoming a veterinarian developed early.
"My first job was at a petting zoo," said Ojczyk, a biology major from White Bear Lake, Minn., whose family has been fostering rescue dogs for years. "My parents raised my sister and I outside. We didn't have a TV for a long time. My mom is really passionate about animals as well. She taught us the importance of having respect for animals."
Ojczyk has been horseback riding for nearly her whole life, so her recent internship at Bluff Country Equine Veterinary Center in Winona, Minn., during spring semester was a natural fit, even though Bluff Country serves all large animals, not just horses as the name suggests. Ojczyk mainly worked with Dr. Shawn Jensen, a vet who specializes in equine reproduction, but also had the chance to work with Dr. John Bengfort, who works with cows, deer, and even elk.
"Equine reproduction is pretty interesting. There's a lot of really cool stuff they're doing with that now at the clinic, like embryo transplants," said Ojczyk. "There's a lot for me to learn about the other animals too. I'd never seen an elk, let alone work with one. It was awesome."
Working with Dr. Jensen, Ojczyk gained hands-on experience with horses, helping with appointments, giving vaccinations, administering medication, floating teeth (filing their teeth down to make them smooth), and even watching births.
"I've gotten to see a couple foals being born," Ojczyk said. "It's not like anything I've ever experienced before." Typically, she said clients bring the expecting mother horses to the clinic about two weeks before their due dates so she can be constantly monitored in a safe environment throughout the birthing process.
Ojczyk plans on applying to vet school next year, but she knows the application process is tough. She said even though she already had experience working at a small animal clinic back home, she sought an internship with large animals because she wanted to expand her horizons and get new experience.
"To get into vet school you need a certain amount of hours working with a vet," said Ojczyk. "And you're a much more attractive applicant if you've worked with different types of animals."
She took a very hands-on approach to finding the internship. Working alongside Saint Mary's staff, Ojczyk called vet clinics in the area and asked about job shadow and internship opportunities. "A lot of vets want to teach and share their profession and share their passion. Even though it's not like these opportunities are posted anywhere, they're definitely there. You just have to look for them," she said.
Ojczyk said the most rewarding part of the internship was getting exposure to different situations and animals.
"At my summer job I help with blood tests and fecal exams, but now I know how to interpret the values we get back from the tests," said Ojczyk. "I've been doing some of this stuff for a while but never quite knew exactly what it means. Working at Bluff Country helped me get in-depth, relevant knowledge that will help at my summer job and in vet school too. I'm extremely thankful."