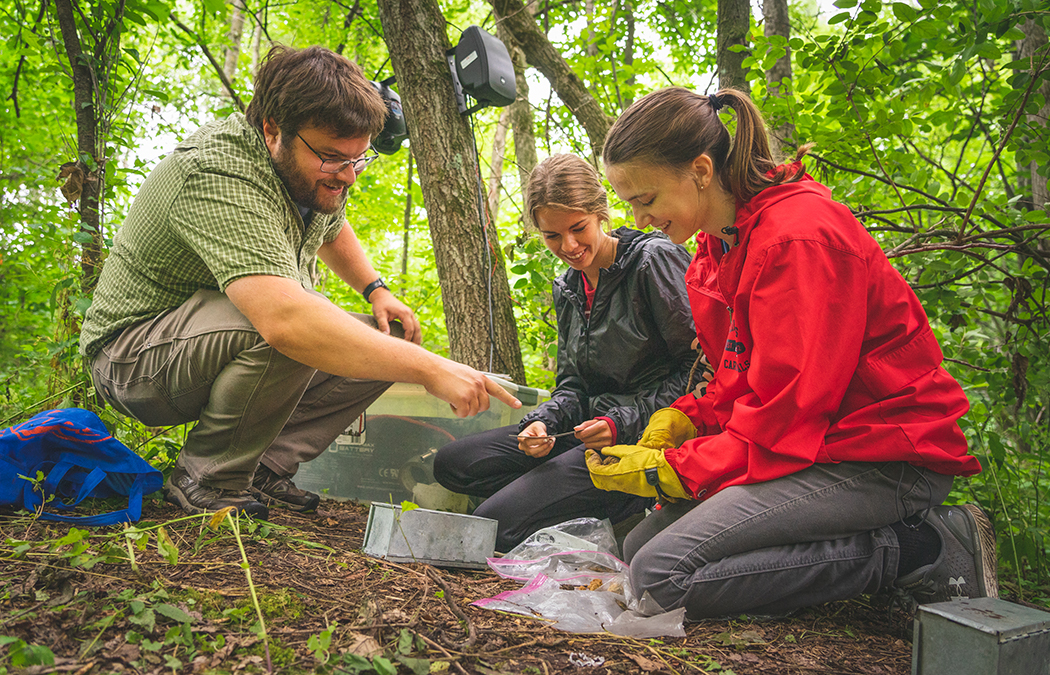 Saint Mary's seniors Rose Kraus, Cole Gunneson, Abbi Mazurek, Ally Niedospial, and Julia VanWatermeulen are laying down the tracks for research in a newer, lesser-known area of ecological study.
In June, the five students, along with assistant professor of biology Ben Pauli, Ph.D., spent time in the bluffs near the university's Winona Campus trying to find out how train noises could affect animals in the area.
The research into what is known as "railway ecology" is a part of the students' senior project.
Extensive research has been done to find how roads and highways can harm animals. However, Pauli says little research exists about the effects of trains.
"There are roads essentially everywhere, but there are lots of railroads as well. So, does the scientific community have less of an understanding of how railroads affect wildlife?" Pauli said. "We suspect [railways] may have some of the same effects roads have on wildlife but we don't really know."
Performing research in a less observed area of science can come with its headaches, but the students working with Pauli said the unknown is part of what sparked their interest in the project.
"I'm excited to see what we find because when you look for this kind of research on the internet, there is slim to none," VanWatermeulen said.
Watching students come to those "aha moments" is what's crucial to Pauli as a professor.
"It's kind of turning that first frustration into, 'Well, there is a real opportunity here,' he said. "I think that's important and also shows them what it feels like to be on the leading edge of a scientific discipline."
To gauge whether train noises have an impact on wildlife, Pauli and the students set up two test areas on the trails behind campus. In one area, speakers were placed to play train sounds at different times throughout the day, while another area was kept completely silent.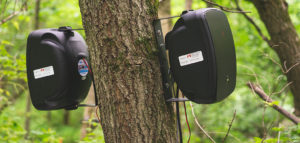 Using an assortment of different tools and techniques, the students gathered data to see how the activity and habits of animals differ between the two locations.
Each student was tasked with tracking a different variety of animal, including mice and small mammals, squirrels, mid-sized carnivores, bats, and birds.
Not only does the project allow students to take part in research in an understudied area of ecology, it also allows some of them to dive into areas of science they are enthusiastic about.
"I eventually want to become an ornithologist, someone who studies birds, so having an opportunity like that is exciting for me," said Niedospial, who is grateful to study birds in this project.
For others, it's an opportunity to engage in research that is outside of their area of study. Wanting to take advantage of his liberal arts education, Gunneson, a student in Saint Mary's 3+2 Physician Assistant Program, decided to look beyond the health care sciences for his senior project and consider research in wildlife biology.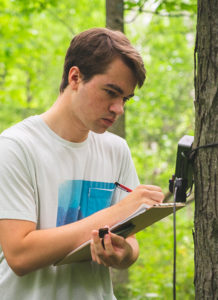 "I thought it would sort of be interesting to get a different experience, knowing that a lot of my time from here on out is going to be focused on health care," Gunneson said. "I'm absolutely still committed to doing what I'm doing, but I thought it would be interesting to get that holistic experience I might not get elsewhere."
An added benefit, students may also experience having their work published in a scientific journal, something Pauli says isn't afforded to most undergraduate students. The five students involved know having published research is beneficial when pursuing graduate school and careers in the sciences; they see it as an opportunity that would put them ahead of students at other institutions.
"It's really exciting, the thought of being published so early in my career," Niedospial said. "I think it's super cool that the professors at Saint Mary's want to have their students be published."
Published or not, the students know their work could lead to solutions that might help mitigate the harmful effects of human interaction with wildlife, especially when it comes to secondary effects like noise pollution.
"When people think about the effects of railroads on ecosystems and wildlife, they think of ecosystem fragmentation or railroad collisions, usually not the noise. I really hope we can find some compelling data to show whether railroad noise affects wildlife," Kraus said.
Photo caption 1: Senior biology students and assistant professor Ben Pauli conduct research on how train noises affect wildlife. Photo by Blake Darst.
Photo caption 2: Speakers placed on the trails near Saint Mary's campus play train sounds as senior biology students research the noise's effect on wildlife. Photo by Blake Darst.
Photo caption 3: Senior Cole Gunneson collects data as part of his research on how train noises affect wildlife. Photo by Blake Darst.