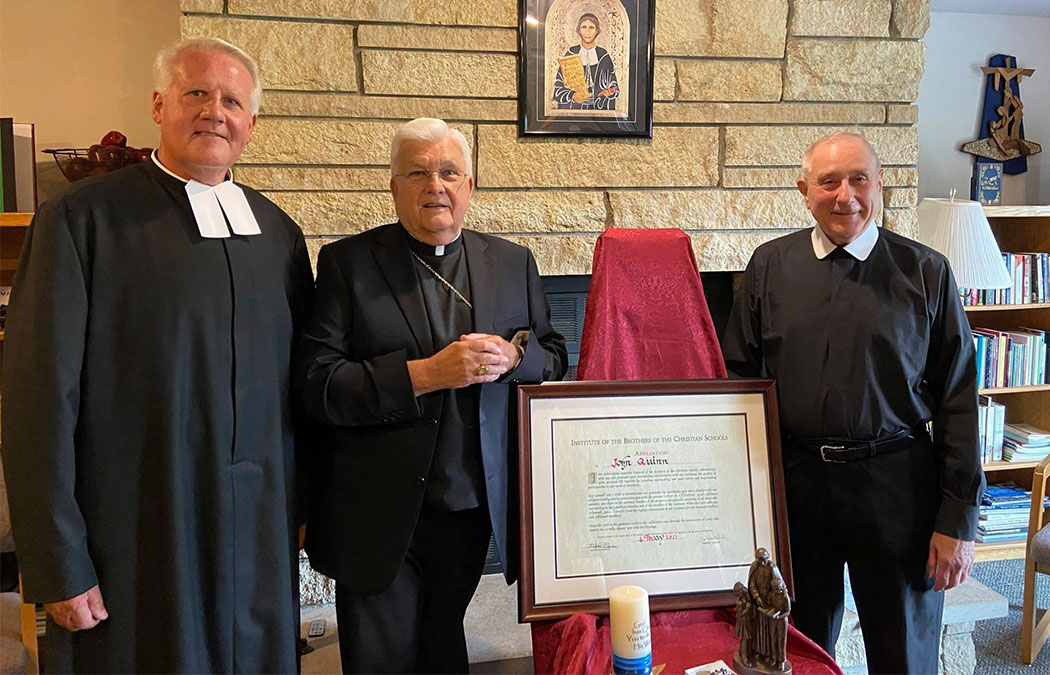 In recognition of his inspirational dedication to and support of the De La Salle Christian Brothers, the Most. Rev. John M. Quinn, Bishop of the Diocese of Winona-Rochester, was named an Affiliated Christian Brother Aug. 25 in the Brothers' residence on Saint Mary's University's Winona Campus.
The highest honor the Institute of the Brothers of the Christian Schools can bestow, affiliation is given to those who have demonstrated knowledge of, interest in, and commitment to the charism and heritage of the Brothers. As an affiliated Brother, the person may use the initials AFSC after their name. These initials stand for Afiliatus Frater Scholarum Christianarum, Latin for Affiliated Brother of the Christian Schools.
Bishop Quinn has had a longstanding connection to the Christian Brothers, beginning with his ministry in Detroit, and he has taught in the Theology Department on the university's Winona Campus since he arrived in Winona in 2008. He has befriended the Brothers and regularly joins their community for Mass and dinner. Most recently, he received approval from the Vatican to allow the Diocese of Winona-Rochester to officially celebrate the feast of Blessed James Miller (Saint Mary's alumnus) each Feb. 13.
Bishop Quinn joins a number of previously affiliated De La Salle Brothers connected to Saint Mary's University including: the late Father Andrew Fabian, OP, AFSC; Mary Catherine Fox, AFSC '75, Ph.D., Jeffrey Highland, AFSC, Ph.D.; Anthony Piscitiello, AFSC '69, M'82; and the Rev. Robert Stamchror, AFSC '57.