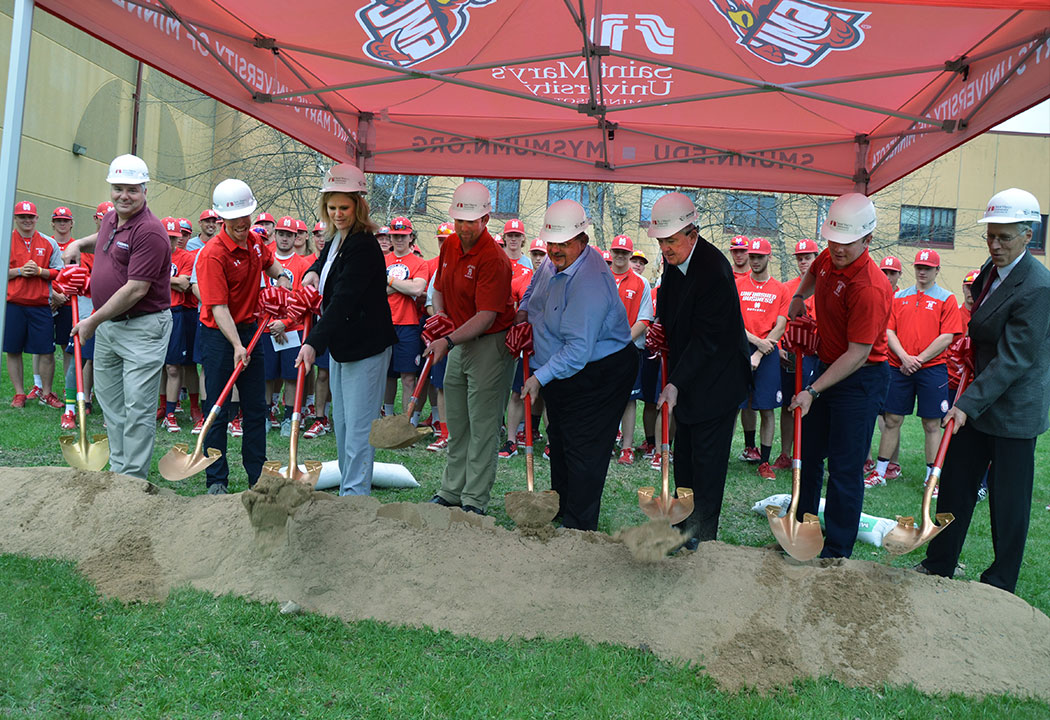 Saint Mary's broke ground May 1 on a new $704,000 baseball clubhouse. The project was made possible through the generosity of a lead gift from Marc Weisenburger '75, and more than 50 other young alumni have stepped up to bat to join Weisenburger in this dream by sponsoring lockers at $2,000 or more. The 2,500-square-foot facility, which will be referred to as Pudge's Place in recognition of Weisenburger's nickname during his playing days, will include:
a locker room with 46 locker stalls

a players' lounge with spaces for athletes to study, have team meetings, and enjoy quiet time

big screen TVs, a ping pong table and gaming area

a coaches' space

bathrooms and a shower facility

a laundry facility and storage
Photo caption: Breaking ground were, from left, Willy Dickenson, vice president, Schwab LLC Construction Services; Joe Seegers '18, Cardinal baseball team; Nikki Fennern, athletic director; Nick Winecke '07, assistant athletic director, head baseball coach; Marc Weisenburger '75, lead benefactor on this project; Brother William Mann, president, Saint Mary's University; Jake Mencacci '18, Cardinal baseball team; and Owen Warneke, lead architect, OWA Architects.