If Brother Francis "Frank" Carr, FSC B'66 looks familiar, it could be because of his growing social media presence. He is, after all, a star of Saint Mary's Instagram and Tik Tok accounts, garnering a large and devoted following.
Or, maybe you've seen him in the bleachers or on the sidelines of a game. As the Cardinal athletic liaison, he's there, most games and practices, cheering on the student-athletes.
At Saint Mary's, students may even know him from serving food in the cafeteria on Tuesdays. His line is often the longest, and not because what he's serving is necessarily the most desired item on the menu.
Brother Frank is one of the friendly faces of the De La Salle Christian Brothers, who continue to dedicate themselves to serving Saint Mary's students.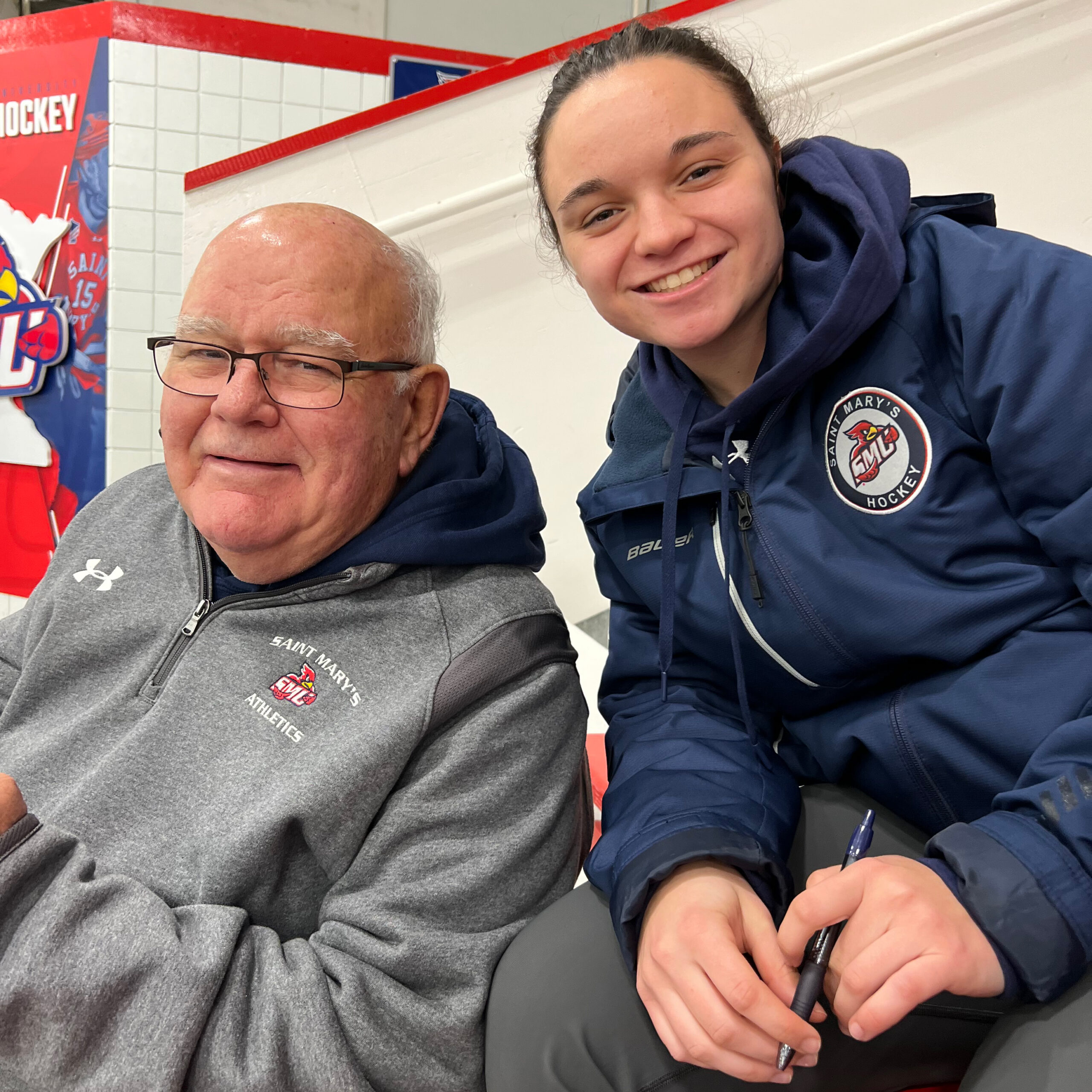 Saint Mary's became affiliated with the De La Salle Christian Brothers in 1933, and at one time the Brothers taught in most classrooms and were infused throughout the university. As years have gone on, the number of Christian Brothers — a religious order of men in the Church who are not ordained but who devote their lives to education, particularly to the underprivileged — have dwindled.
Those who remain are no less dedicated, and Brother Frank has been a member of the Brothers for 61 years.
Throughout these past six decades, he's served in a number of roles, going wherever he was most needed — including assistant provincial and provincial/visitor of the Midwest District of the Christian Brothers. He also worked at Hill Murray High School in St. Paul for 19 years as a teacher, assistant principal, and athletic director. And, he's worked at Saint Mary's Press in Winona in a variety of roles.
His first association with Saint Mary's was as a student from 1962-1966. In 2011, he returned to campus for good, continuing to serve wherever people need him — whether it's serving teams or student groups meals at the Brothers' residence, meeting families with admissions, cheering on teams, or dancing with the Big Red mascot for TikTok.
Cameron Weber, a junior infielder on the baseball team, describes Brother Frank as the most genuine person he's ever met.
"He is always putting others around him before himself no matter what the situation is," he said. "I know no matter what is going on, if I need help with anything at all, Brother Frank would always be willing to help however possible."
Katie Pierpont, a senior center on the women's hockey team, describes Brother Frank as "welcoming and loving." "Having someone who supports us, no matter how well (or not so well) the season is going, means the world to the athletes on campus," she said. "Brother Frank cares about us not only for what we do in our respective sports, but he cares about us as people. He is often the first to reach out on students' birthdays and will always stop and chat when passing in the plaza."
In fact, one of Weber's favorite memories is of his birthday, freshman year, before he even knew Brother Frank all that well: "I remember getting an email from him at about 5:30 a.m. saying happy birthday. To me, that is a perfect example of the kind of person he is. The first thing he thought to do when he woke up, before doing anything for himself, was to email me happy birthday."
Brother Frank shrugs at the early morning greeting. "If I'm up …" he says in response. "But I also have to be careful. I don't want to wake them at 5:30 just to get a happy birthday message from me."
In addition to preparing dinners for student groups, Brother Frank is renowned for sharing his cookies. "They're not Oreos," he says with a smile, "and they're not from a tube, they're homemade." Brother Frank always makes sure to bake enough for those with a sweet tooth. "They take more than one, you know," he said.
He knows all of these gestures matter to students. "It's important for them to have that kind of contact with the people here. I enjoy being around them," he said.
Brother Frank sums up his role as athletic liaison as "getting to know the student-athletes, going to games, learning their names, sending them birthday notes — encouraging them, and being available however I can."
To Cardinal baseball coach Nick Winecke B'07, M'12, Brother Frank's role is that and so much more.
"He's a phenomenal role model for our guys to have around," he said. "He's a smiley face every day and is someone who wants the best for them. He wants each student to feel important.
"From my perspective, I'm able to tap into all his years of leadership as an athletic director and bounce ideas off of him," he added. "He travels with us everywhere, even to Florida. He helps with retreats, talking about leadership."
Winecke described Brother Frank as the most popular man on campus. "I can't imagine this place without him," he said. "The thing I always loved about the Brothers is they truly are invested in the people they are working with. They always see the good in their students, even the ones who struggle and hate school the most. That's Brother Frank, he finds all the good things first. That's what makes him special. He sees the good."
Weber added, "I think Brother Frank keeps the Lasallian spirit flowing at Saint Mary's by always putting others around him before himself. I believe that quality is contagious. I would add that if you are having a bad day, a conversation with Brother Frank will always make you feel better. I am pretty sure it is impossible to still be upset about whatever is bothering you after talking to Brother Frank."
Pierpont agrees. "Brother Frank is someone I always think of when I think of Saint Mary's. He truly lives out the mission in his daily life, and I consider myself fortunate that I have had a great role model like him throughout my time here."