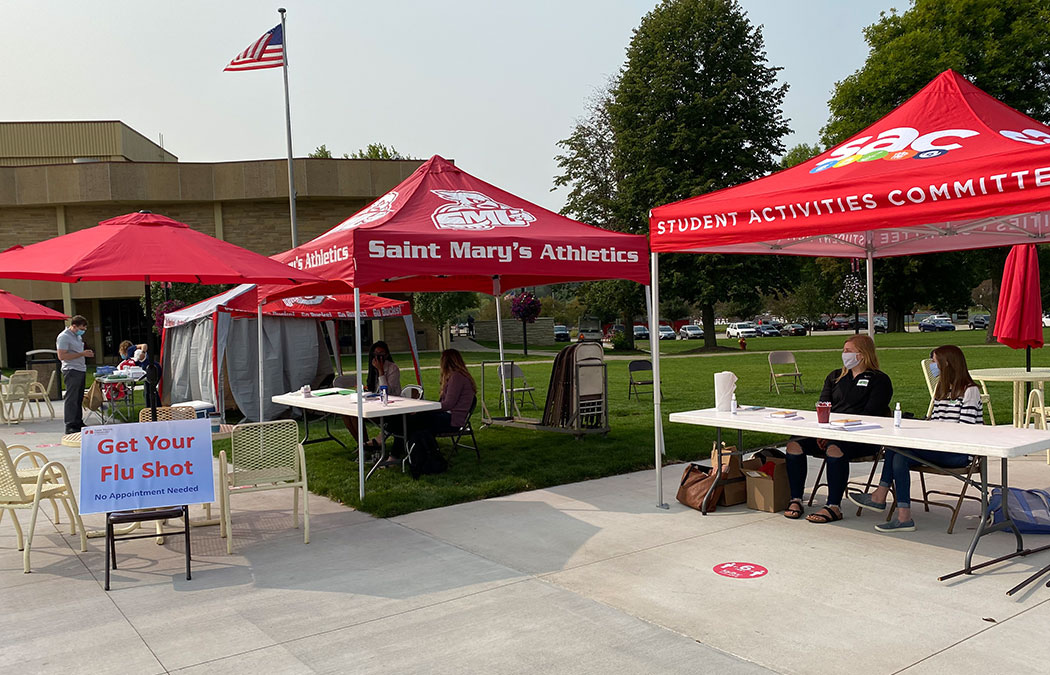 Congratulations to the residents of Brother William Hall who won the residence hall flu shot competition with an impressive 26% of residents getting vaccinated! Each resident will receive a free small coffee, tea, or single latte from Cardinal Coffee. Residents simply need to provide their name and student ID number when ordering their drink. Free drinks must be redeemed by the end of fall semester.
This was a record-breaking year for the student flu clinic — 171 vaccinations were given during the four-hour event! For students who were unable to attend, flu shots will continue to be available at local clinics and pharmacies throughout the region. Most insurance covers the cost of vaccination, but some organizations are providing free flu shots this year in an effort to minimize the impact of influenza amid the ongoing challenges of the COVID-19 pandemic. Flu shots are more important than ever this year, as communities try to focus their resources (including hospital beds, staffing, supplies) on caring for those ill with COVID-19. If you have not already gotten your flu shot this year, please do so!
Contact the Wellness Center with questions at 507-457-1492 or wellnesscenter@smumn.edu.
Thank you to Chartwells for their collaboration and support of this effort!
Photo caption: Student volunteers staff the student flu clinic held Sept. 16.