Alessio Caselli is in his element in chest waders.
The senior environmental biology major and zoology minor hopes one day to become a marine biologist.
So spending a couple of hours this past week measuring, studying, and tagging brown trout solidified Caselli made the right career choice.
There is no better hands-on classroom than Gilmore Creek, which runs through the Winona Campus. Assistant Professor of Biology Jennifer Cochran Biederman, Ph.D., waded into the creek with Caselli and another senior environmental biology senior Mitchell Feyereisen. The goal of their research is to determine how changes in water temperature due to climate change will impact growth of brown trout in the creek.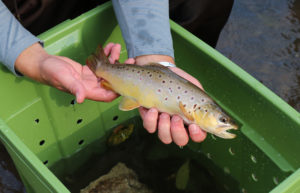 "Although we are not entirely sure what to expect, we do anticipate that increased water temperatures due to climate change will alter trout growth and behavior," Dr. Cochran Biederman said. "After we gather about a year's worth of data, we will be able to do modeling to help us predict the impact of climate change on freshwater fish communities."
She said the participating students learned some valuable field techniques in collecting stream fish using electrofishing methods. They acquired skills in how to properly measure and weigh the trout and inject transponders known as PIT tags, so they can attempt to recapture them throughout the year and monitor their growth. They are also analyzing the trouts' resource use, including diet and spawning habitat, and are monitoring physical stream characteristics, including water temperature.
Caselli said his biggest takeaway from the experience was learning trout don't colonize the whole creek. "The small ones are found upstream, and the very big ones are found more downstream," he said.
The opportunity to be involved in these kinds of hands-on experiences is invaluable to Caselli. "It's my dream to work in the field," he said. "I love animals and the outdoors. My hope is that this research continues in future years, so we can determine if there is anything special about the fish in Gilmore Creek."
Photo caption: Jennifer Cochran Biederman, Ph.D., right, works with two senior environmental biology students, Mitchell Feyereisen, left, and Alessio Caselli, center, on research involving brown trout.