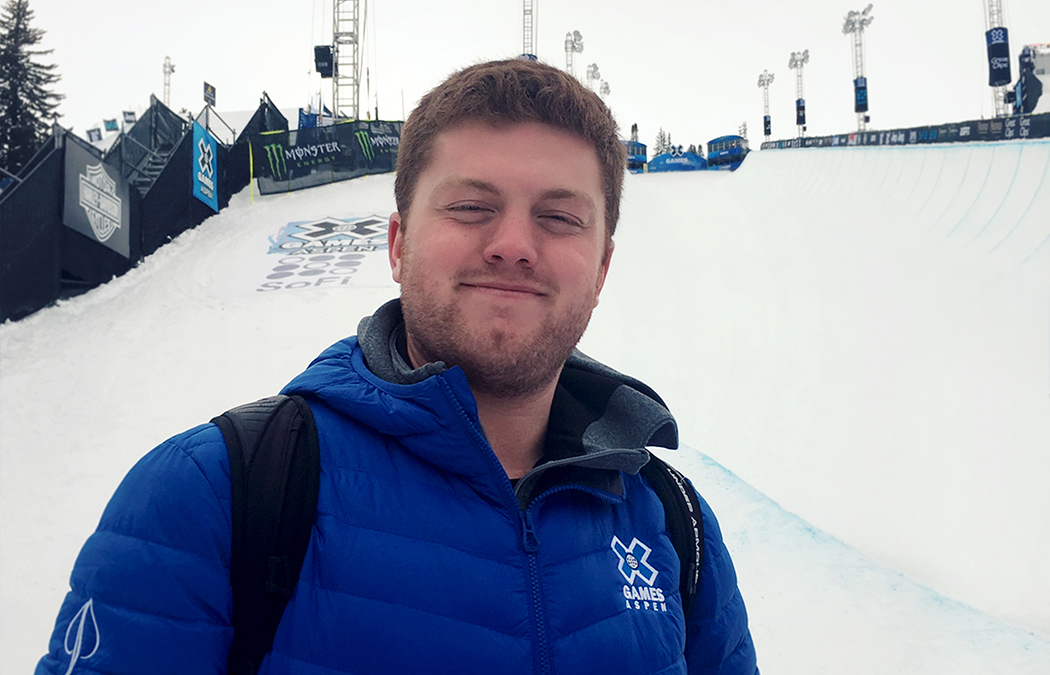 Alec Rudh '21 has this advice: "You've got to show them that you want it."
By continuing to network, Rudh has been able to further his social media work experience with the X Games.
His first taste with action sports events happened this past January, as the sport management and business analytics double major helped manage four social media platforms for the 2019 Winter X Games in Aspen. Back then, Rudh was one of 17 Saint Mary's business students who were in the student work program — led by Saint Mary's faculty member Assistant Professor Zakary Mayo.
As the launch of the inaugural Summer X Games China neared this summer, Rudh reached out to his former social media colleagues and asked if they needed help. They responded by giving him a to-do task, a deadline, and a paycheck.
In preparation for the event, Rudh worked remotely with the social media team. "For every single athlete in X Games China, I organized all their social media channels on a document spreadsheet in the same format as Aspen," he said. "We worked on Twitter, Facebook, and Instagram accounts for each athlete. We had to sort and filter social media accounts to determine which were real and research what the athletes' social media handles were and if they had changed from previous events."
Rudh said he was given a completion date of May 28, but he purposefully organized the data ahead of schedule to impress them.
From July 31 to Aug. 4, Saint Mary's will again send a team of student workers to X Games Minneapolis. Rudh will be with them, but he will be working an extra nine days.
"I'm going to the US Bank Stadium a week earlier than the rest of the X Games Student Work Program participants and staying after to work with the logistics team and help organize shipments and be a runner for them," he said.
Although Rudh had originally never considered a career with X Games, he said working for ESPN had always been a dream of his. "All the people I'm working with are employed by ESPN," he said. "And Zak Mayo reminded me that I can tell people I'm interviewing with that I've worked for X Games which is owned by ESPN. It's giving me some chills that I still have two more years of college and there are more opportunities.
"I know X Games wants Saint Mary's students to go to Shanghai, China next year, particularly some Chinese-speaking students," he added. "I don't speak Chinese but it's my goal to try to pick up a bit. It might be a stretch, but I'm going to make it my free-time goal. They've also added an event in Calgary, Canada. I would love to go to one or both to work with the social media teams if there are openings.
Rudh said he's learned so much being a part of these experiences, and he's excited to be doing analytics for the next two years as part of an internship with Saint Mary's Sports Information director. "I want to stick with analytics side but social media is also an option," he said. "Next summer, I'm going to try to intern with a major league sports team. I hope to have had four internships by the time next summer rolls around."