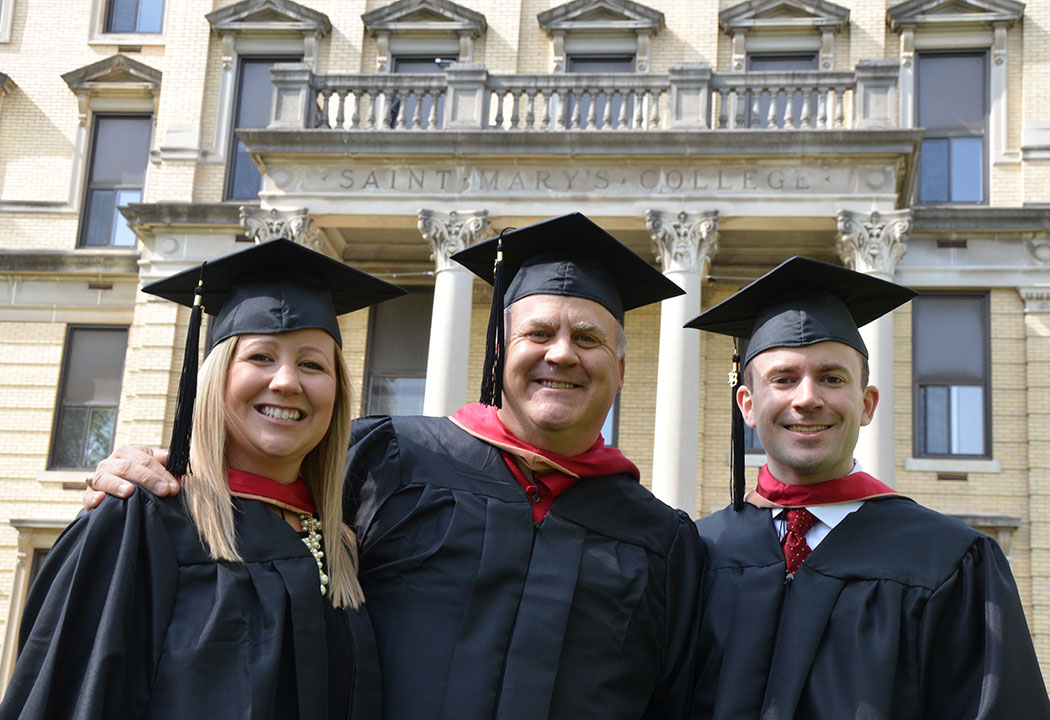 The family who studies together stays together. The Lafond family of Chicago, Ill., took family togetherness to a new level May 12, as William "Bill" Lafond '85, M'18, and his two children, Patrick Lafond '12, M'18 and Lauren (Lafond) Moderson M'18, all received M.B.A. degrees at Saint Mary's Winona Campus commencement ceremony after completing the online program.
"Graduating with my family is a life highlight," said Bill, who graduated from Saint Mary's — the first time — with his wife, Melissa (Kunert) Lafond '85. His sister Therese (Lafond) Pawlicki '88 is also a Saint Mary's alumna.
This time around, Bill said the learning curve was a bit steeper. "Pat and Lauren both helped their father dust off some outdated study habits. Microsoft Word, Excel, and PowerPoint did not exist when I was at Saint Mary's as an undergraduate," explained Bill, now a self-employed Certified Financial Planner. "I printed off reams of paper while doing research, and the kids routinely made fun of me."
Patrick, who is a claims manager at a transportation company in Minneapolis, said all three of them studied together and talked nearly every day throughout the program. "This was great for me since I live out of state from the rest of my family, including my sister and dad, so the constant communication was especially endearing to me," said Patrick. "We constantly bounced problems off each other, proofread each other's papers, and compared results."
Competition was fierce among the three, although all in good fun. "The phones lit up when grades were posted," said Bill.
On top of competing with her brother and dad for the best grades, Lauren had her plate full in completing her degree with a toddler at home, working full time as a senior financial analyst, moving to a new home, and welcoming her second daughter in January. She said the online structure was helpful because she didn't have to physically leave her family at a predetermined time or day of the week. She was able to do coursework on her own time, either before work or after her daughter went to bed.
"It's a fabulous program," Lauren said. "I'm proud that one day I can tell my daughters, 'It CAN be done!' I had a truly wonderful experience with my dad and brother."
Patrick is hopeful his M.B.A. degree will help him grow in his risk management career and is grateful for his six years of Saint Mary's education.
"Saint Mary's provides a very personal experience, whether it is online or on campus," Patrick said. "A perceived drawback of the M.B.A. online course setup is the lack of face to face, but I never had a problem picking up the phone and calling a professor for their opinion or using online tools to grow relationships with my classmates virtually. Saint Mary's has really embraced technology in that regard."
Bill said he looks forward to watching his children utilize their M.B.A. degrees in the future and added that it was a great experience for all of them. He joked, "I fear the 'paybacks' for the help I was given will be never-ending!"