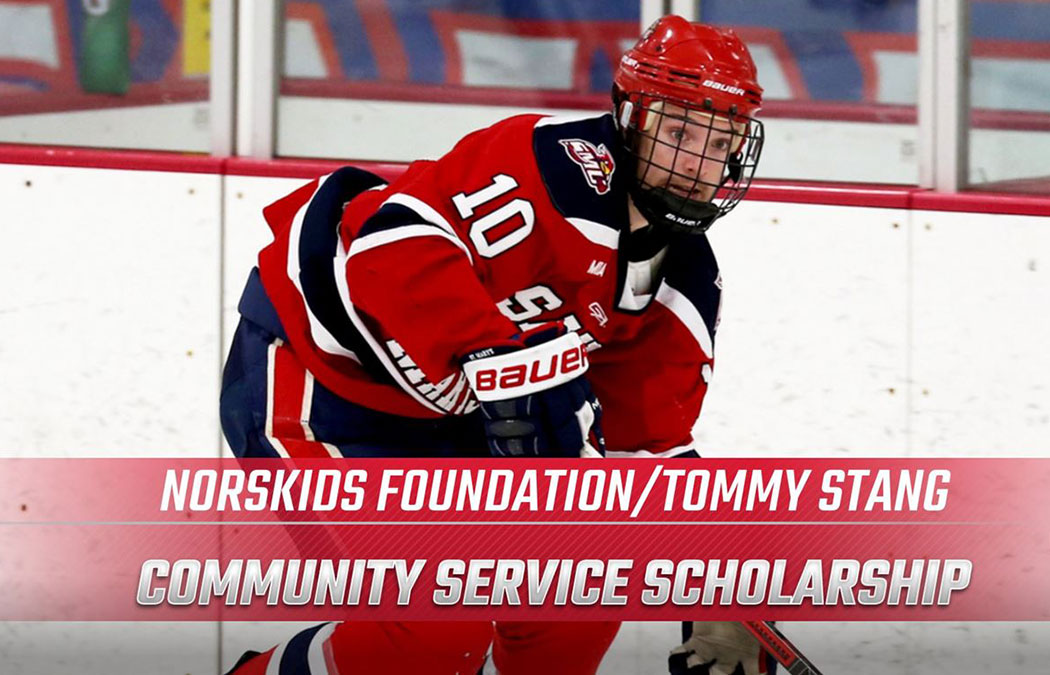 By Donny Nadeau
Saint Mary's Sports Information Director
WINONA, Minn. — Saint Mary's University of Minnesota sophomore Tommy Stang (Mendota Heights, Minn.) had a break-out year for the Cardinal men's hockey team in 2018-19 — highlighted by a spot on the All-Minnesota Intercollegiate Athletic Conference First-Team.
But Stang's impact has proven to go far beyond his uncanny playmaking abilities on the ice — just ask the Thief River Falls NorsKids Foundation.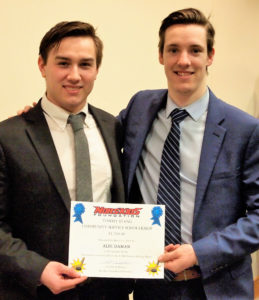 The non-profit NorsKids Foundation — in conjunction with the Thief River Falls Noskie Junior A hockey team — announced the creation of the $1,500 NorsKids Foundation/Tommy Stang Community Service Scholarship, and, on March 16, named Noskie Alec Daman its first recipient.
"To have my name be remembered in that town and with that team is something that I will cherish for the rest of my life," said Stang. "It was such a joy to work with the people in the community. The town and the people at NorsKids will always have a special place in my heart."
Stang, who played for the TRF Norskie squad during its inaugural season in 2016-17, was instrumental in organizing and getting the TRF Norskie players involved in NorsKids Foundation events, including weekly Tuesday afternoon bowling with the adult Special Olympic athletes.
The NorsKids Foundation's mission is to promote social interaction and activities, as well as mentoring programs in Thief River Falls, Minn., and surrounding communities for youth, veterans, senior citizens, economically disadvantaged families and disabled persons of all ages.
Part of what the NorsKids Foundation does is take their target groups of people to TRF Norskie Junior A hockey games to socialize, and get to know the players. In turn, the TRF Norskie players volunteer and participate in events such as the weekly bowling practice for Special Olympic adults, a day at the go-kart track and mini-golf course, an annual bowling tournament, a dance, and several other events.
"When I was at Thief River Falls, I was approached by my coach, Tim Benton," explained Stang of his initial involvement with the NosKids Foundation. "He wanted to start a foundation for disabled kids and adults, and asked if I and a couple teammates would want to join a group over at the bowling alley. I instantly said yes, and within five minutes of walking in the door, I fell in love with each and every one of those people.
"It was so nice to give back to a community that had given me the opportunity to showcase my talents," Stang added. "When I left to come to Saint Mary's, I stayed in touch with Tim, and the group all came to our game at Concordia — that made me realize how special the bond is we have with each other."