Andrea Carroll-Glover, vice provost of online strategy and programs at Saint Mary's, is one of 13 new board members for the University Professional and Continuing Education Association (UPCEA), the Washington, D.C.-based association for college and university leaders in professional, continuing, and online education. Elected earlier in November 2021, these individuals will assume their roles at the conclusion of the 2022 UPCEA Annual Conference in Orlando, Fla., on April 14, 2022.
"UPCEA's mission is vitally important to the future of higher education," said Bob Hansen, UPCEA CEO. "Whether it is leadership in online learning or the rise of alternative credentials, the field needs a Board that is nimble, visionary, and strategic. These new officers and directors bring those attributes to the work of building a truly consequential Board."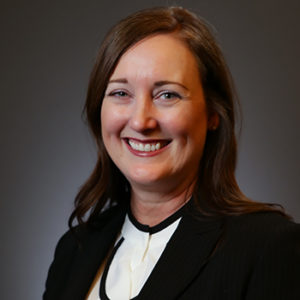 Carroll-Glover joins representatives from Georgia Institute of Technology, Rutgers University, and Worcester Polytechnic Institute to name but a few, and will serve on the board for a two-year term.
What is the value of having Saint Mary's represented on this board?
With the university's new Strategic Plan and goals for national prominence and regional dominance, representation on the UPCEA board is a great way to build Saint Mary's national reputation and thought leadership in an important dimension of higher education — online and continuing professional education. Beyond thought leadership, board membership provides Saint Mary's a national voice and a thought leadership opportunity to inform the future of online education across national institutions of higher education.
What are the key initiatives the board is focused on around the growing demand for online and professional education?
As part of the board, members are responsible for strategic planning and governance of the association. This includes monitoring association implementation and serving on committees. Board members serve to support the advancement of UPCEA priorities in the dimensions of enhancing quality standards, excellence, and best practices in online and continuing education and furthering public awareness about online and continuing education by bringing together a community of close to 10,000 practitioners to provide opportunities for collaboration and to learn from one another. This helps colleagues within the UPCEA community grow and improve their online and continuing and professional education practice; support scholarship and research through professional publication and data collection, research, and insights across management discipline areas; and build awareness and connection with industry-leading partners to foster innovation and to support online and continuing professional education units.
Can you talk about the strategic initiative you are leading for Saint Mary's; what are some milestones we reached already?
A few strategic initiatives and achievements over the past year include:
One LMS – Moving from two LMS systems (to briefly three) to now one LMS that our students are loving = Canvas.
Introducing 87 Digital Badges — Aiding in differentiation of our online programs across schools.
High School Pathways — Introducing new high school partnerships and online learning modalities further extending access to high school students.
Building brand and reputation — Sharing best practices in Saint Mary's innovations by speaking nationally at UPCEA's national and regional conferences, ACHE (American Council for Higher Education) and CAEL (Council for Adult and Experiential Learning).
The Global Online 6c initiative is one of the prioritized Strategic Initiatives for Saint Mary's. Here a universitywide committee is made up of representatives from across the university and works together to advance Saint Mary's online strategy by:
Developing a revenue and funding model for an internal online education service model (internal OPM).
Developing a comprehensive plan for advancing online operations.
Evaluating and refining the infrastructure, organization, and online teaching and learning training to support faculty and students.
Identifying avenues to optimize efficiencies with online partners.
Defining strategies to incorporate our Lasallian Catholic mission and formation into online programs.
Kicking off in June of 2021, the Global Online 6c committee has made great progress in building a shared understanding of the current online learning ecosystem. The work has benchmarked nationwide best practices in partnership with UPCEA in teaching and learning while assessing our own internal needs to shape a re-imagined strategy for our Center for Excellence in Learning and Teaching. Additionally, the committee has evaluated both marketing and admissions practices related to best practices in online support systems leveraging best practices from UPCEA. These are just a couple of great examples of how Saint Mary's is drawing upon the UPCEA community to shape the future of global online across functional areas.
What do you see as the biggest challenge in this arena for Saint Mary's?
With a decade of delivering online learning experiences, Saint Mary's has grown and learned what is necessary to bring to life both high-quality online teaching and learning experiences, as well as the necessary support ecosystem that underpins the complexities in serving online students. Through the Global Online 6c strategic initiative, Saint Mary's has clearly seen one of the biggest challenges is creating a shared understanding of the many facets of the online learning support ecosystem and the importance of building key capabilities and capacities that cut across traditional higher education silos to support long-term scalable growth. By building a deep understanding of the needs of online learners and thinking differently about support models and structure, Saint Mary's continues to advance global online systems and processes that serve an online student's unique needs.
What is one goal you have to advance online learning at Saint Mary's in the next year?
Building upon what we have learned early in our Global Online 6c initiative, I look forward to advancing the initial strategies outlined in the re-imagined CELT and investing in Saint Mary's capabilities and capacity-building recommendations tied to the marketing and admissions findings and recommendations. By making thoughtful investments across the multiple functional areas necessary to support a holistic online ecosystem, Saint Mary's will continue to make strides in strengthening and scaling our global online systems.
Representatives from Saint Mary's will make two presentations at the annual conference that coincide with the first board meeting? What are they about?
Digital Badges — "So Much More Than A Transcript: The Power and Potential of Digital Badges for Career Self-Advocacy," has been accepted as a "Network Meeting Spotlight" session for the UPCEA 2022 Annual Conference, hosted April 11-14, in Orlando, Fla. This builds off of our continued work in digital badging.
Equity and Inclusion — "Inclusion and Human Dignity – Creating inclusive and supportive learning environments," has been accepted as a poster session for the UPCEA 2022 SOLA+R and Annual Conferences This builds off of our fall faculty development series offered through the CELT.