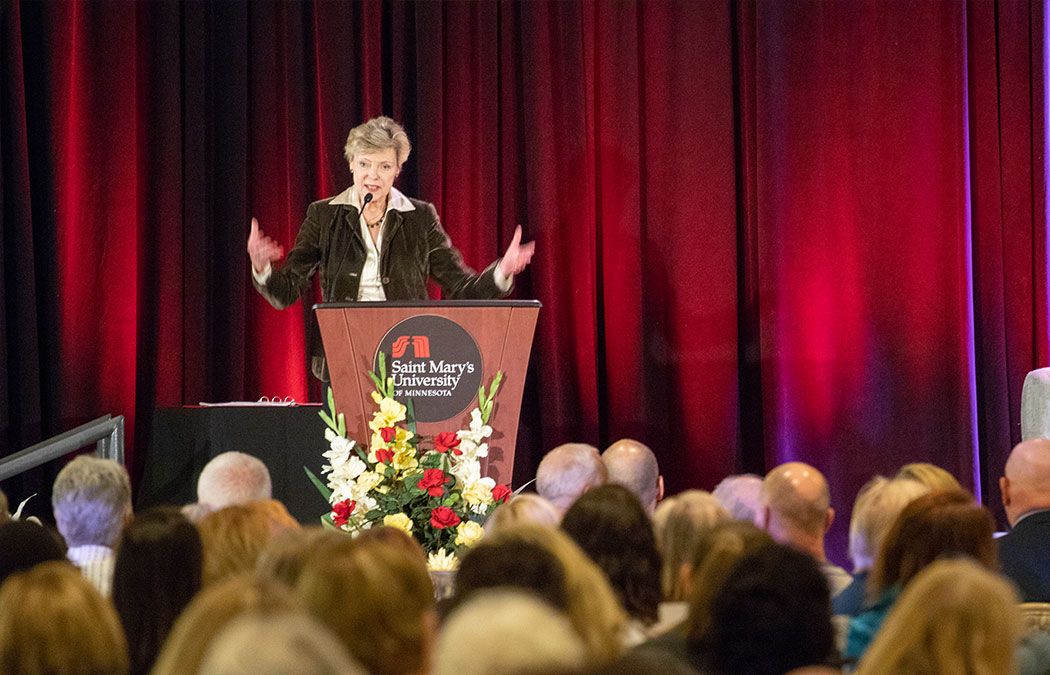 The sad news of Cokie Roberts' passing coincided with the publication of the following recap of her appearance at the Hendrickson Forum this past April on Saint Mary's University's Minneapolis Campus. Our prayers are with her family and friends, and our deep appreciation for her wisdom, wit, and faith remain.
At this year's Saint Mary's University Hendrickson Forum, held April 16 during Holy Week, keynote speaker Cokie Roberts appropriately recognized the Blessed Mother for her strength.
A sold out crowd of nearly 300 attended Roberts' presentation at the annual forum on Saint Mary's Twin Cities Campus, during which Brad Hewitt, retired CEO of Thrivent Financial, also received the 2019 Hendrickson Medal for Ethical Leadership.
In her keynote, "Weaving the Social Safety Net at Home and Around the World," Roberts, a New York Times best-selling author and renowned journalist and political commentator, explained that "There has been a strong social responsibility fabric running throughout history, primarily exercised by women."
"That's what the women in the foundation of our country did," she added. "They looked around them. They saw what was happening. They saw the needs and strove to fill them."
As Roberts has written six New York Times best-sellers, most dealing with the roles of women in U.S. history, she ought to know. "I came to write these books because histories that leave out half of the human race aren't accurate," she said.
One lifelong inspiration for Roberts was her mother, who served 18 years in Congress before retiring and serving as ambassador to the Vatican. "She was an enormous influence in my life and remarkable human being in so many ways," Roberts said, listing another major influence, the nuns from the Society of the Sacred Heart. "They took girls seriously in the 1950s. That was radical," Roberts said. "They raised us to be anything we wanted to be."
In the continuum of religious women doing what needed to be done, Roberts mentioned the Ursulines who came to her home town of New Orleans in 1727 to open hospitals for the colonists but looked around at other needs and soon established schools for Native Americans and African Americans.
In 1810, Elizabeth Ann Seton, started what became the highly successful parochial school system in this country — a feat that often gets her one short sentence in history books.
She detailed Sister Francis Xavier Cabrini, Sister Katharine Drexel and others, women canonized for being ahead of their time "to bring those on margins into the mainstream and not take no for an answer."
And, in examining Minnesota history, she credited the woman who founded Mayo Clinic.
The celebrated hospital, she argued, would not exist were it not for Sister Mary Alfred Moes. "I know, of course, all about the Mayo Brothers and their remarkable father, but had it not been for a pushy nun, who wouldn't take no for an answer, Saint Mary's hospital wouldn't have been built and Mayo Clinic wouldn't exist," Roberts said. Sister Mary Alfred Moes refused to accept that Rochester was too small a town to support a hospital and she raised the money herself.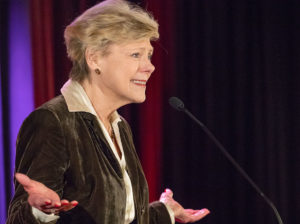 But, Roberts said, strong women aren't just Catholic religious women. She detailed the stories of Isabella Graham, Elizabeth Hamilton, and Martha Ripley, to name a few.
Amidst all of these notable women who worked, despite tremendous hardship, adversity, and often ridicule, for the betterment of society, Roberts singled out a male: Saint John Baptist de La Salle, the founder of the Brothers of the Christian Schools — of which Saint Mary's is affiliated.
"He was a man definitely before either his time, or perhaps more accurately, a man who recognized the sign of the time," Roberts said. "His remarkable vision about education for the poor, for delinquents, is still so incredibly relevant today … everything I've learned about Saint Mary's underlines that.
"It's clear that the Lasallian principles are still the guiding force behind this very important institution," she furthered. "Faith and the presence of God, quality education, and respect for all persons, inclusive community, and concern for the poor and social justice. Those principles need influence in our country today."
Roberts shared insights into other innovative humanitarian efforts and programs in both the private sector and U.S. government.
An active volunteer and advocate for Save the Children, she detailed her work with this organization, which provides relief to children in times of distress. "War is still stunting the lives of children," she said, providing the estimation that in 2018, 60.5 million people displaced from their homes by war, half of them under age of 18. She said that one person in this world is displaced every 2 seconds.
She said there are many programs which are making great strides to help global issues. She detailed the PEPFAR program, started by George W. Bush that is the biggest program for global health, providing anti-viral medications to 14.6 million people.
Circling back to education, Roberts said it is the best way to break the cycle of poverty. "It changes not only their lives but it changes the life of a country and we have lot of data to support that," she said. "That remarkably is what Saint John Baptist de La Salle recognized 300 years ago and is still true today. I am constantly blown away by kids' ability and desire to learn, even in extremely difficult conditions. We must try as hard as possible to provide education."
Roberts encouraged attendees to do what they can do, just like the women throughout history. "To say that it's too big a problem is just a copout," she said. "I hope the young people coming out of this great institution, no matter what their expertise, emerge awakened, nurtured, and empowered to lead ethical lives of service and leadership."
Following Cokie's remarks, Mary Lahammar, anchor, reporter and producer of Almanac, joined her on stage to moderate the question-and-answer portion of the program before Roberts met with 20 students for a private and inspiring Q&A.