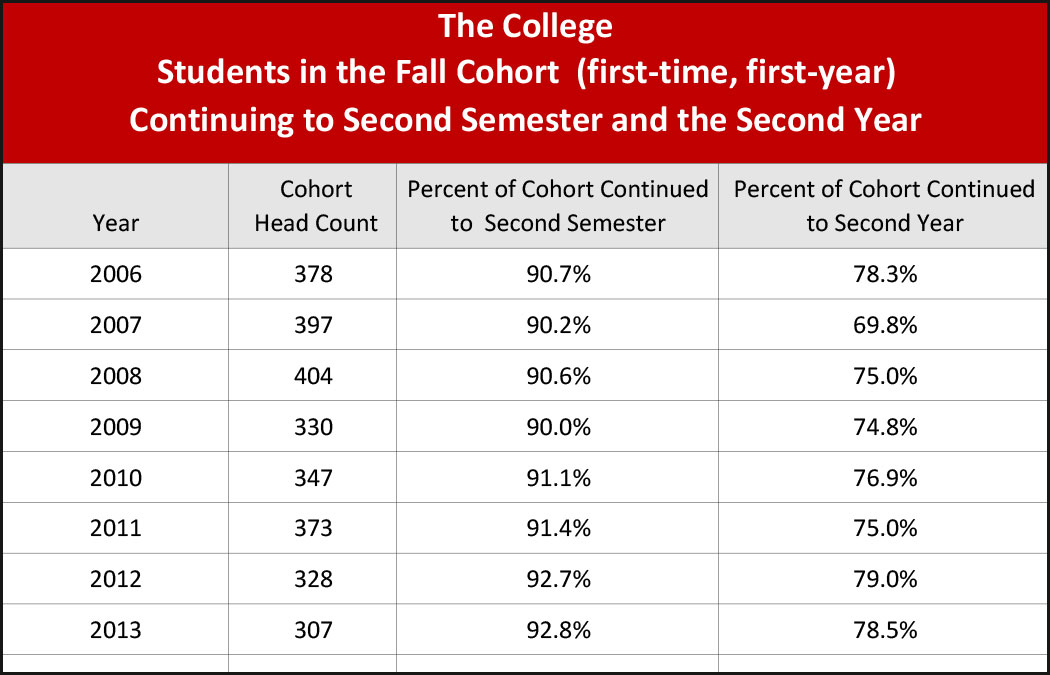 The second semester official enrollment numbers for the College includes 996 total students, with 963 attending full time. These numbers represent the lowest enrollment for a spring semester in our recent history. While we all have been made aware of our enrollment challenges at the College, we also know that there are some positive indicators behind these numbers, particularly as we consider that the College started the academic year with 1,044 total students, with 1,023 attending full time.
The retention of the first-year first-time students who started classes in August 2018 and who continued into spring 2019 is 97.1%, which is the highest retention of this group of students in more than a decade. Visit this link for information since 2006.
The attrition rate (the percent of students not returning of those expected to return) from fall semester to spring semester is 4%, the lowest it has been in recent history. The rates for the last five years respectively were 5.4%, 6.5%, 6.2%, and 5.1%; the range in the last decade has been a low of 4% and a high of 7.6%. Another way to look at this is that we retained 96% of the students who we expected to retain.
The retention rate of the first-year first-time students who started classes in August 2017 and who continued to this current academic year is 82.3%, which is the highest retention rate of this group of students in more than a decade.
As we continue to address our enrollment challenges across the university, we want to acknowledge our successes along the way. While these are early indicators and clearly only part of the story at the College, we believe that a number of initiatives over the past two years have contributed to this progress, including new approaches in recruitment/admission, new financial aid approaches to address student need, New Student Orientation efforts, new initiatives in residence life programming and student support areas, implementation of Student Central, new innovations in the classroom, the new Science and Learning Center, among others. Increasing enrollment is not only about increasing new incoming student numbers, but about retaining and completing those students who are already part of our community, which is something that we all can contribute to. Thank you to our faculty and staff for this important work!
If you have questions regarding any of the data provided here, please contact Kara Wener, director of Institutional Research, at kwener@smumn.edu or in 123 Saint Mary's Hall.