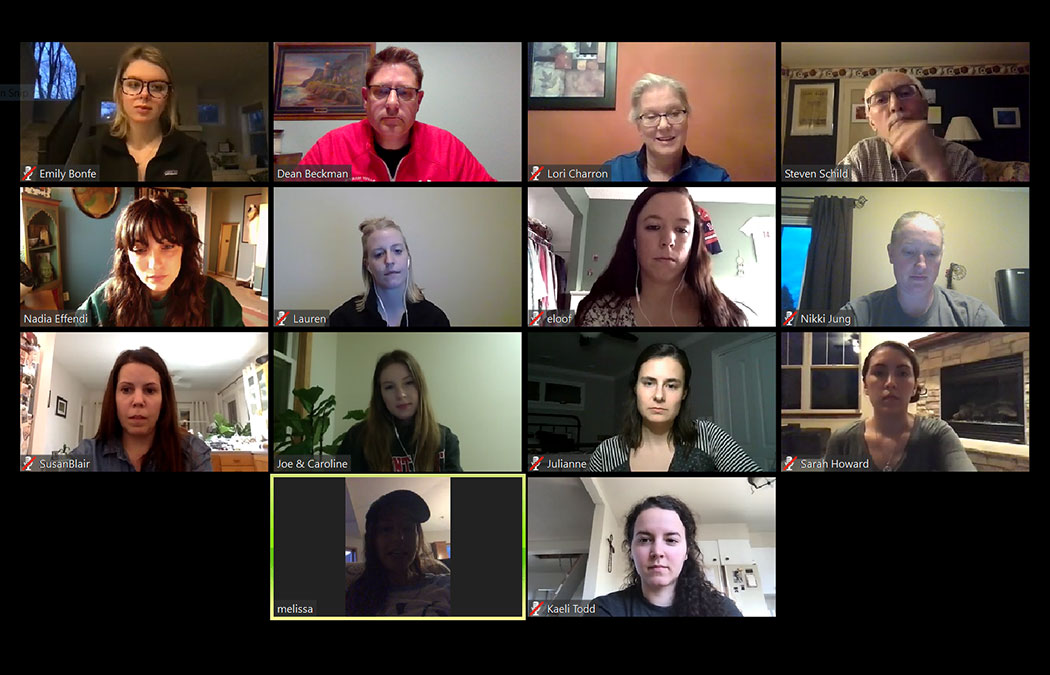 With more time being spent indoors, the Saint Mary's Department of Communication decided to hold a virtual alumni reunion over Zoom to discuss how their companies are communicating during the COVID-19 pandemic. The alumni also offered advice for current students and shared memories of their time at Saint Mary's.
A total of 22 alumni from 2004-2019 and three current faculty members took part in the two-hour reunions held over two nights, April 8 and April 14. The participants represented companies such as Walt Disney, 3M, Macy's, Gogo, Anytime Fitness, Northwestern Mutual, Space Foundation, Xcel Energy, Mayo Clinic, Children's Minnesota, American Public Media, and more!
Above photo caption: Those who took part in the recent virtual alumni reunion for the Department of Communication included, from left: top row, Emily Winter Bonfe '17, Dean Beckman, Dr. Lori Charron, Dr. Steve Schild; second row, Nadia Effendi '09, Lauren Rothering '11, Emily Loof '18, Nikki Jung '07; third row, Susan Birkenheier Trankle '07, Caroline Blackwood '16, Julie (Bartosz) Olivo '13, Sarah (McDonough) Howard '11; bottom row, Melissa Powers Walker '07, and Kaeli Todd '15.