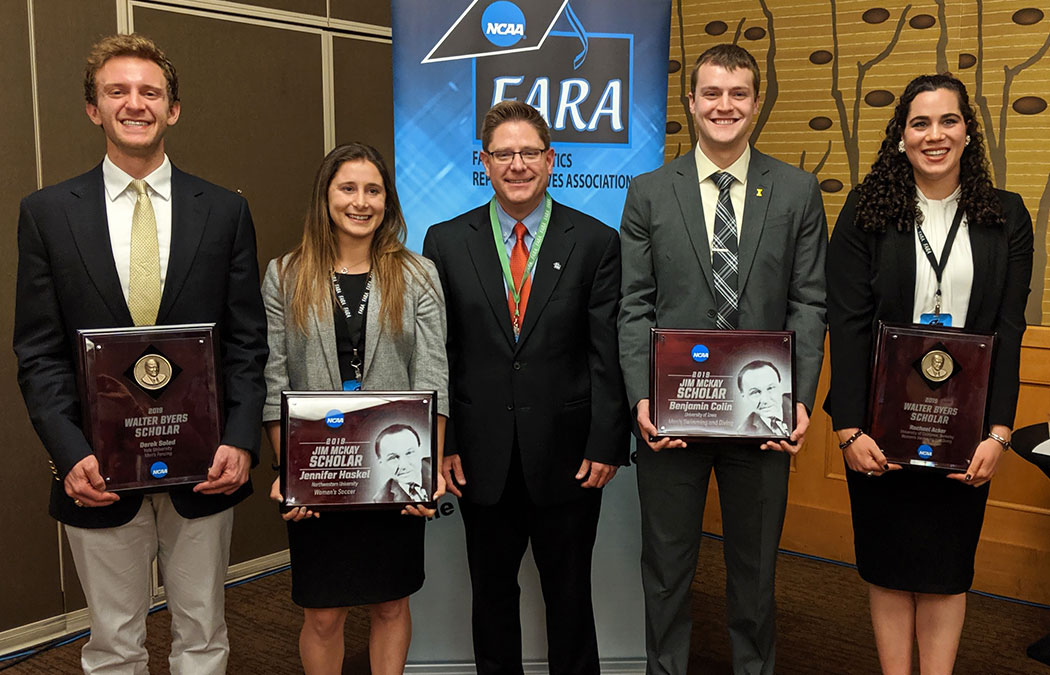 It had been four years since Dean Beckman had made the trek to the National Collegiate Athletic Association's (NCAA) Faculty Athletics Representative Association's (FARA) annual meeting and symposium. Beckman was excited to represent Saint Mary's University in the Seattle area at the event on Nov. 7, while seeing other acquaintances at other colleges across the country.
A week before the event, though, he received an email from Joan Davison, Ph.D., a professor at Rollins College in Florida and the president-elect of FARA. Davison was in need of someone to introduce four Division I student-athletes who had each been awarded graduate scholarships. She and the current president had started to look at the list of faculty athletic representatives (FARs) who made the lion's share of the attendee list. When they came across Beckman's work as the co-host on "Cardinal's Nest" on YouTube, originally airing on HBC TV25, alongside Saint Mary's Sports Information Director Donny Nadeau, they agreed that Beckman would be the perfect choice given his broadcasting experience.
Beckman, who serves as the chair and an associate professor for the Department of Communication, initially thought he would just have to read prepared statements — until he clarified the expectations with Davison.
"She said, 'We want them to be personable and a little bit funny,' " Beckman recalled.
Davison sent Beckman the event's program as well as the application materials of the scholarship recipients, which included personal essays and letters of recommendation. After going over all the content and conducting his own digital research, Beckman gained insight into the lives of four remarkable student-athletes.
"For me, it was an honor to do it, because these are just incredible student-athletes with unbelievable stories and phenomenal aspirations for what they want to do in life," Beckman said. "When I was writing up the introductions, it was a pretty humbling experience."
He continued: "To start things off, I said, 'They were as impressive in person as they were on paper. That's really saying something, because on paper they are really phenomenal people.'"
Two of the recipients were receiving $24,000 on behalf of the Walter Byers Scholarship. Named after the first executive director of the NCAA, the scholarship is given to a male and female student-athlete "who achieve national distinction for their achievements and are on a path to become future leaders in their chosen field of career service."
Beckman was especially inspired by the story of Derek Soled, a former member of the men's fencing team at Yale University. Soled is currently working on a medical degree from Harvard Medical School, while also earning his MBA at Harvard Business School — in the interest of providing care to disparate populations, while also being able to launch the necessary public health campaigns in those areas to address systemic issues.
The other recipient of the Walter Byers Scholarship, Rachael Acker, is currently at student at Harvard Medical School after being a championship-winning swimmer at the University of California, Berkeley. She hopes to either enter the fields of obstetrics/gynecology or pediatric surgery.
Beckman also presented the winners of the recipients of the Jim McKay Graduate Scholarship, a $10,000 scholarship for student-athletes who have a "potential to make a major contribution to the sports communication industry or public relations." Those recipients were Jennifer Haskel, a soccer player from Northwestern University, and Benjamin Colin, a swimmer from the University of Iowa.
Photo caption: Dean Beckman, chair of the Department of Communication, (middle) was asked to introduce four recipients of student-athlete graduate scholarships including, from left: Derek Soled, Walter Byers Scholar, Yale University; Jenny Haskell, Jim McMay Scholar, Northwestern University; Ben Colin, Jim McKay Scholar, University of Iowa; and Rachael Acker, Walter Byers Scholar, University of California, Berkeley.