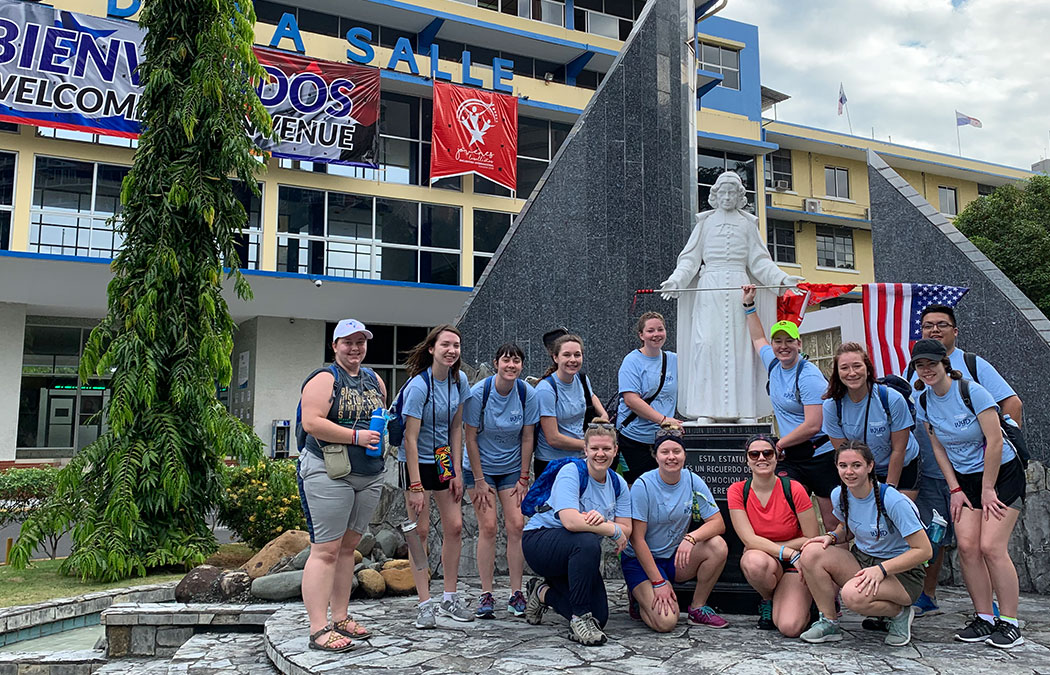 They were just 15 in a crowd of more than 500,000 gathered in Panama City this past January for World Youth Day.
Although relatively small in number, the 15 Saint Mary's University attendees (comprised of students, staff, and alumni) had an extraordinary emotional and faith-filled experience. Not only did they have the opportunity to see Pope Francis and travel to Panama City, they also had the reaffirming opportunity to encounter their worldwide Catholic community of peers.
Saint Mary's sophomore education major Brianna Jacobson said that, for her, World Youth Day was a chance to grow in her faith and experience other cultures.
"Being surrounded by so many different people made me think, 'Yes, God is real because there are so many people who believe.' And not all of them were Catholic," said Jacobson, a Sycamore, Ill., native who is also a peer minister on campus.
Open to all young people, World Youth Day is an opportunity to experience the universality of the church and share in the hope of many who want to commit themselves to Jesus Christ. The week-long event is a unique way to deepen one's faith through prayer and sacraments together with others from around the world who share the same interests and ambitions. This worldwide gathering is typically celebrated every three years in a different country.
Each day was packed with festival programming and events, including encounters with Pope Francis, which Jacobson said was a highlight for her.
"We were in shoulder-to-shoulder crowds," she said. "He had just given a talk to the youth and then drove right by us in his popemobile. Here we were 15 feet away from the pope. He goes by so fast. It was surreal. We were hugging and crying."
Another trip highlight occurred during one of Pope Francis' presentations as he told attendees that you have to let youth grow and can't cut them down; they need to sprout — which is the exact theme of a Bible study group she leads on campus called Sprout. "During that moment, I got the chills all over! It was crazy," she said.
This wasn't Saint Mary's junior Kamila Kuchta's first World Youth Day and probably won't be her last. She's already looking into the next World Youth Day 2022 in Portugal.
"Before coming to Saint Mary's, I attended World Youth Day in Poland, which is where my family is from and many family members still live," said Kuchta, a Woodbury, Minn., native who is involved in Campus Ministry and Student Activities at Saint Mary's. "My faith is very important to me, so I knew I wanted to go back to World Youth Day if I had the chance."
A memorable part of World Youth Day for Kuchta was the International Lasallian World Youth Encounter that took place. The gathering brought together Lasallians from Panama, France, Mexico, Nicaragua, Columbia, Cuba, Costa Rica, Honduras, Guatemala, the United States, and more for shared community and association.
"Before coming to Saint Mary's, I didn't know what it meant to be Lasallian. I knew Saint Mary's was a Catholic university, but Lasallian was a new thing to me," said Kuchta. "I've learned a lot about it through my years at Saint Mary's, but that gathering really stood out to me. We believe in the teachings of Saint John Baptist de La Salle. It was cool to be there with people from other countries and see that they pray the same prayers we do, just in their respective languages. I got to see that there are Lasallians all over the world."
Kuchta said she hopes to bring back the same fire, energy, and pure happiness experienced every day of the event.
"It's hard when you're back in classes and you have so many responsibilities … I hope I can inspire others to hear the word of God," she said. "And keep the friendships that were made on the trip alive."
Kuchta is active in her faith and on campus. She has also participated and led TEC (Together Encountering Christ) retreats, now called LIFT (Lasallians in Faith Together) retreats, and has been on S.O.U.L. (Serving Others United in Love) trips with Saint Mary's.
"As youth, now is the perfect time to live out our faith," she said.
While at World Youth Day, the Saint Mary's group stayed with host families, which both students agreed was a good way to immerse themselves into another culture.
Jacobson, who is also a Spanish minor, said she was able practice using her Spanish speaking skills, communicating with and even translating for others from different countries.
"Experiencing different cultures is important," Jacobson said. ""You need to go and experience new things. If you stay in one place your whole life, you might be missing out on meeting your best friends or people from different countries … and on creating new memories."
Learn more about World Youth Day.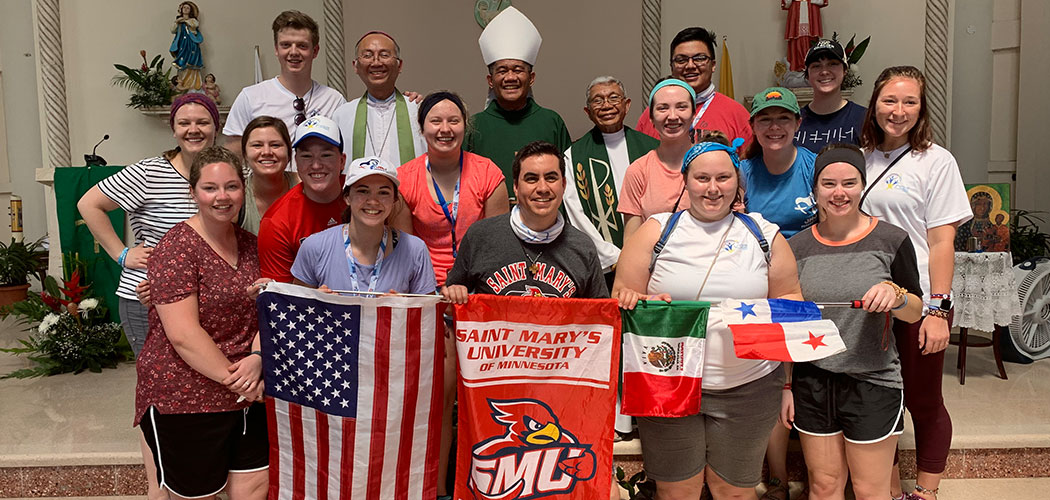 Top photo caption: The Saint Mary's group poses in front of a statue of Saint John Baptist de La Salle at Colegio De La Salle, the Lasallian High School in Panama City.