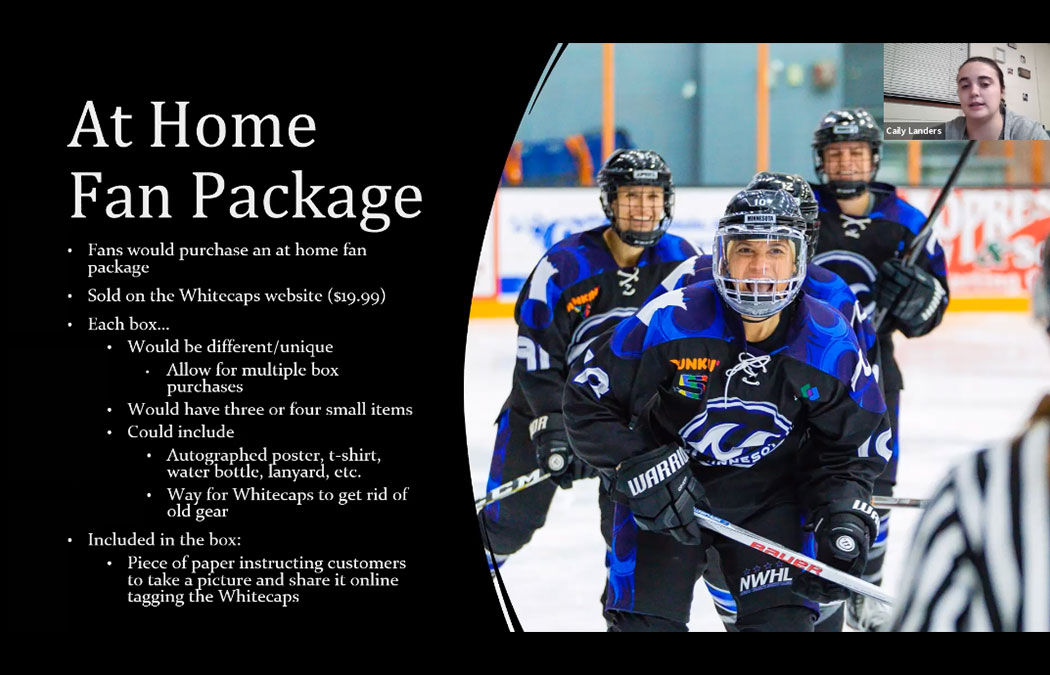 Mere months from graduating, Saint Mary's sport management students were set up to successfully market themselves into successful careers.
Their résumés already contain direct real-world experience; they're comfortable with presenting; and they've built valuable networks with well-known and well-respected names like X Games, the Minnesota Marine Art Museum, and Fanatics (previously WinCraft).
In the most recent example, this past fall, Zakary Mayo's Sport Marketing class prepared marketing presentations for the Minnesota Whitecaps of the National Women's Hockey League, and Elete Dribble, an app designed to improve dribbling skills for basketball players of all ages.
As a basketball player and overall sports fan, Caily Landers, a senior sport management and management double major, enjoyed the challenge. She hopes one day to both be an entrepreneur and to work for an organization just like the Minnesota Whitecaps.
Although, prior to the introduction of this project, Landers didn't know much about the Minneapolis-Saint Paul-based women's hockey team, she and her class immersed themselves in how to creatively increase fan engagement during a pandemic. Her team chose to come up with ideas that were both affordable (knowing the sports industry has taken a financial hit) and COVID-19 safety conscious.
They developed five winning strategies that would not only work during a pandemic, but could also carry through when social distancing is no longer necessary. Each appealed to various interests and audiences, and could drive revenue, increase visibility, and keep fans connected and engaged.
The Whitecaps representatives were impressed with the PowerPoint Landers designed for her team.
"I think it makes you feel appreciative of all the work you put into it and gives us lots of confidence," Landers said. "My professors — and that goes for the whole Business and Communication Department — have taught me a lot of skills that we could implement. They definitely do a great job in preparing us to present. They're always providing real-world experiences, and when you're looking for jobs, all that networking and all that experience is great for a résumé."
Senior Nick Nast also hopes his future career combines his love for sports and his double major of business intelligence and analytics and sport management.
When thinking about marketing ideas for the Whitecaps, Nast dipped into his background as a lifelong hockey fan, channeling ideas he'd seen other teams do, or things he wished teams would implement more to engage their fans.
"Sports is such a big part of so many people's lives," he said. "During this pandemic, people need that out, and that's where sports comes in. It's important to have that escape, and as an athlete myself, I know the advantage of having that escape."
To hear from the Whitecaps representatives that his ideas could be utilized by the team, was — in a word — cool.
"Anytime any pro organization compliments the ideas you've come up with, it is pretty cool," he said. "It feels even better as a student. One day you'd like to work in that kind of industry, so it's a reassuring or feel-good moment. The Business and Communication Department tries to set us up for success and they're doing a good job of it from what I can tell.
"I think it motivates you that much more to be sure you do the best you can to come up with these ideas. For us as students to be able to interact with those kinds of organizations in those industries — that we all want to get into — it makes the dream more realistic for you."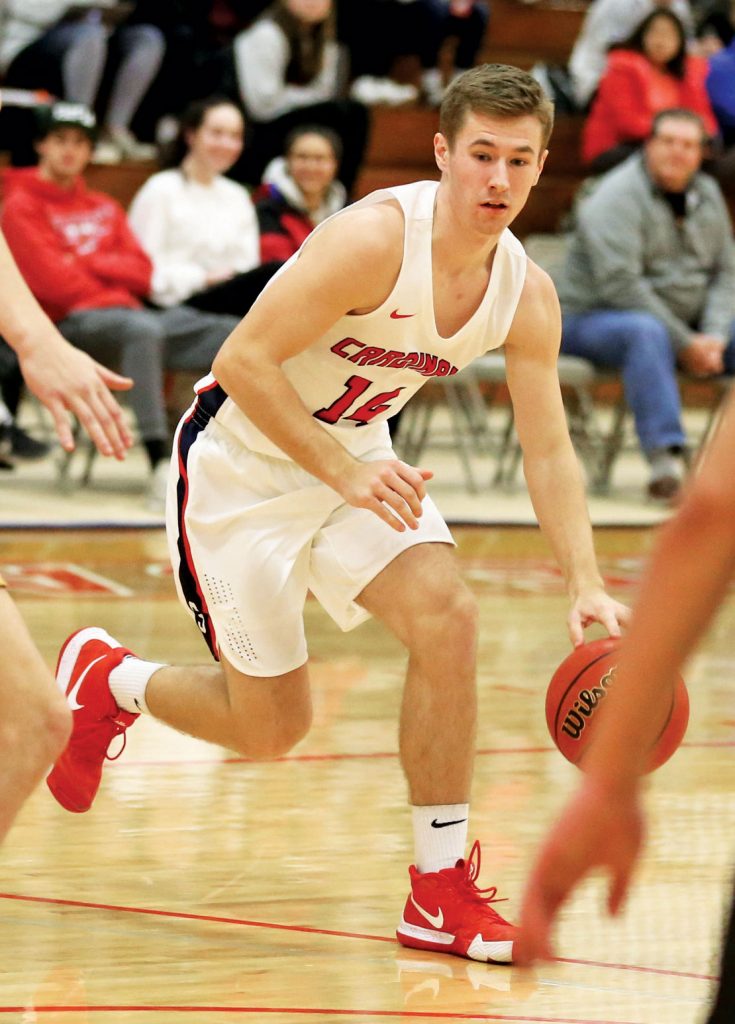 Brady Stevens, a senior marketing and management double major, was also on the Cardinal basketball team, so his dribbling skills came in handy when creating a visual marketing pitch to Elete Dribble.
His team focused on improving their social media presence to get more exposure through market penetration and to increase visibility and revenue by pairing with other companies.
"Because they're already an app, during this pandemic, it could be an advantage for them that more people will want to do online training instead of in person," he said. "We decided that marketing to parents is key as they are the ones who would pay for the app, and they want their kids to have every opportunity.
Stevens hopes to work for a professional sports team as a marketing manager and experiences like this, he said, mean all the difference. "We put more effort and care into it because it's actually something real. For us to get several different real-world projects and for the companies to take the time to talk with students … they hire professionals to do what we did, but the fact they took the time to listen to us is pretty awesome."
Senior Stephany Beck echoed that she and her teammates utilized a lot of skills learned from previous classes during their presentations, from advertising and promotions to strategic management.
The marketing and entrepreneurship major was impressed by the entrepreneurial aspect of Elete Dribble.
After college, she hopes to get a career in marketing, potentially something in advertising or social media. "It was a surreal experience to present in front of the Elete Dribble co-founder as well as build our connections and complete a project that has more meaning and could potentially be used. Being an entrepreneur, it was cool to create and implement and propose a social media platform. It looks good for a résumé and portfolio.
"When we were presenting, Sean Possemato, co-founder, asked me for one of the mock social media graphics I had made. It was pretty cool knowing that as a student you can make a bigger impact."