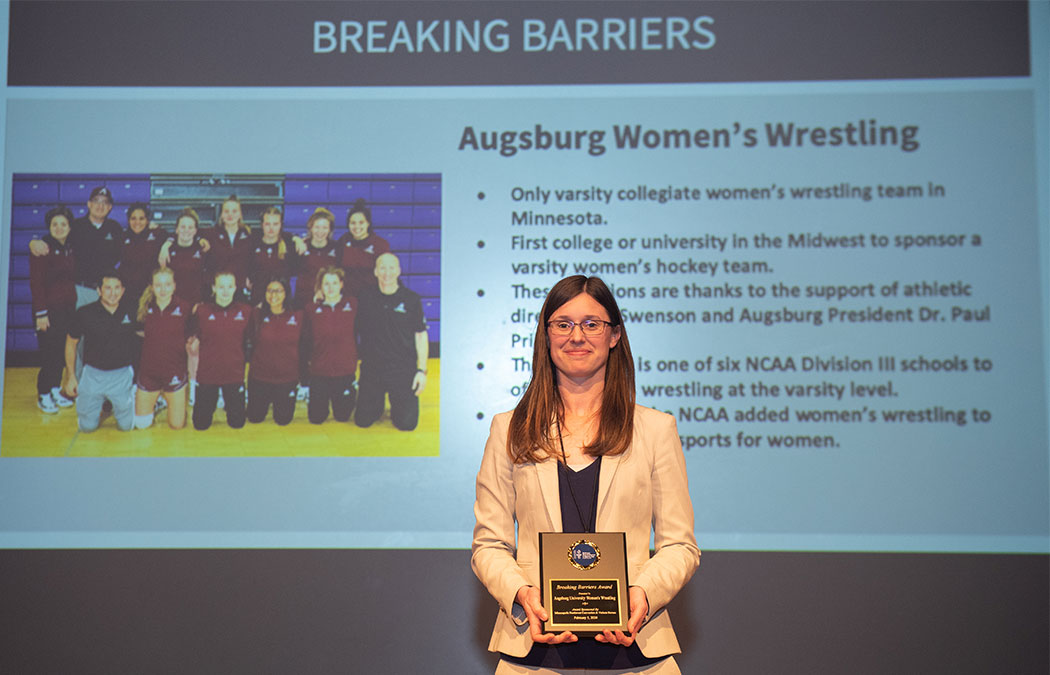 At Augsburg University in Minneapolis, where she has worked since 2008, Kelly Anderson Diercks is the associate athletic director.
At home with her husband, Matt, she has three children, Andi, Bo, and Riley.
At Saint Mary's University, she's working towards a Doctor of Business Administration (DBA) degree, studying job satisfaction for women later in their careers.
And she gets it all done with what a faculty member describes as "1000 volts of positive energy."
Diercks says what she learns in the DBA program has been immediately applicable to her work in athletics, especially her role as the deputy Title IX director for her department.
"The Saint Mary's DBA faculty encourage students to research, write about, and do projects during our coursework that can either directly apply to our dissertation or to our professional work," Diercks says. "Being someone who works in higher education, and intercollegiate athletics specifically, I was often interested in topics that were very different than my classmates, and the DBA faculty were incredibly open to my explorations of these interests. I was even able to write a paper on the economics of Title IX, and it ended up being one of the most enjoyable papers I've ever written."
While she researches late-career women leaders for her dissertation, Diercks is also committed to empowering the next generation of women who work in sports. She is on the organizing committee for Minnesota's National Girls and Women in Sports Day and a member of the group Women Leaders in College Sports, and has also previously served as chair of the NCAA Ethnic Minority and Women's Internship Selection Committee.
Diercks chose Saint Mary's because of the in-person classes and the management and strategy track, and says she is grateful that the program "continues to push me to be a stronger writer and critical thinker."
Photo caption: Dierks accepts the 2020 Breaking Barriers Award on behalf of Augsburg University women's wrestling for Minnesota's National Girls and Women in Sports Day.
By Maura Sullivan Hill