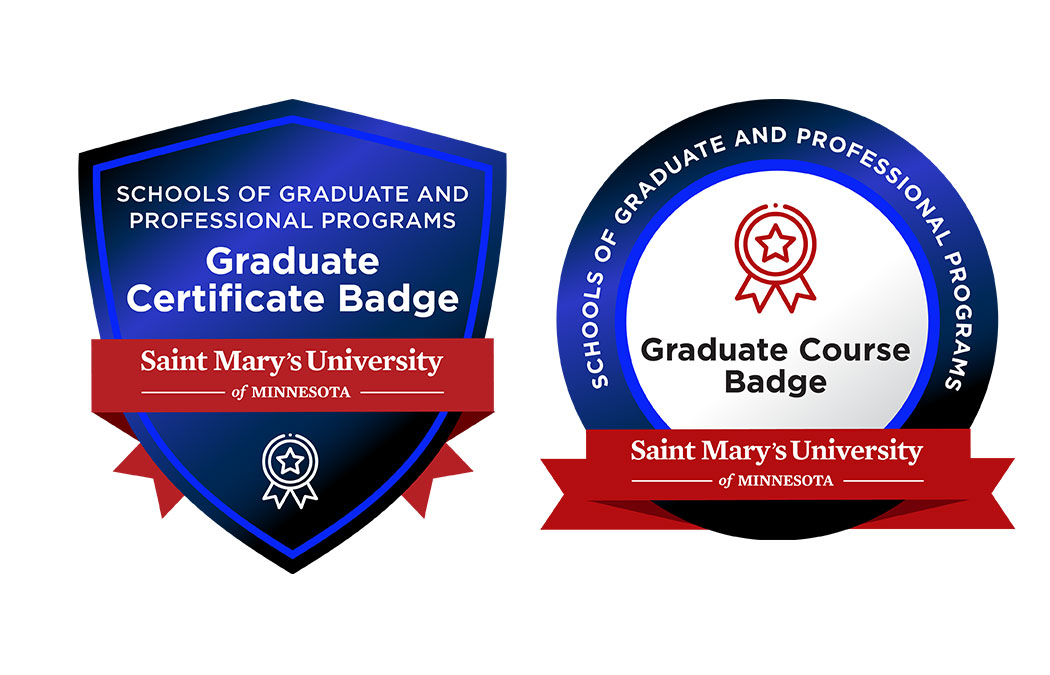 We honor the hard work, long hours, and financial investment that our students make in continuing their education with our master's programs and graduate-level certificates, and we wanted to deliver a way for them to share their accomplishments with a broader audience. This led to the creation of our digital badges which act as a graphic verification representing our students' achievements after completing a specific online course or program. See above for examples of two of our badges.
These badges are designed as a tool for our students to use that informs employers of their verified skills that align with job/task requirements and their commitment to being a well-prepared, well-rounded employee that will meet the challenges of tomorrow with confidence and knowledge.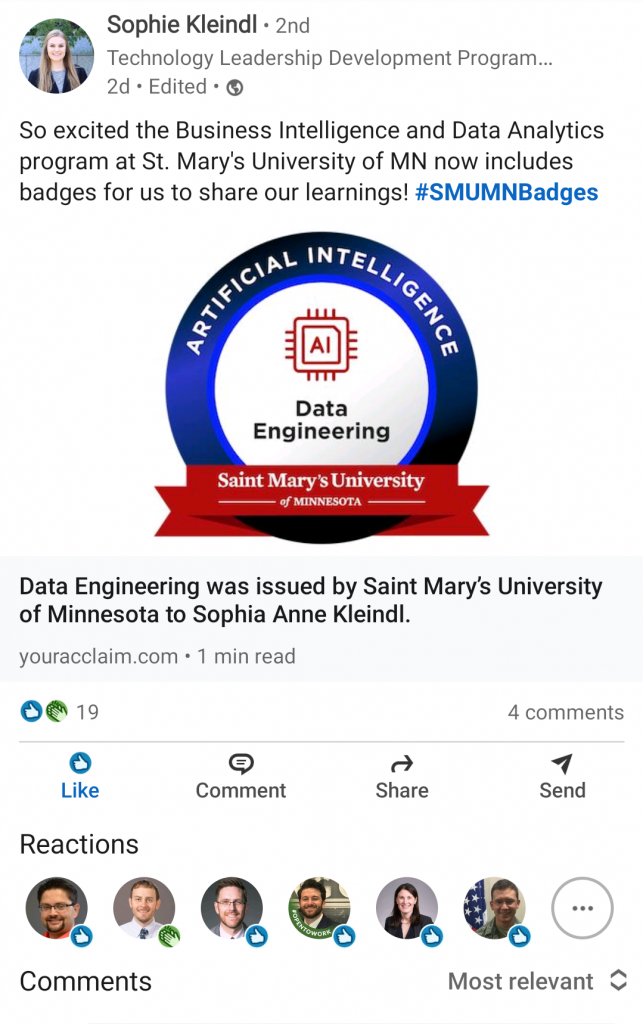 As an institution, Saint Mary's has closely aligned academic offerings with the emerging needs of the job market. We work diligently to ensure our students possess the skills necessary to advance along their chosen career pathway, upskill in their current role, or even re-skill and pivot to new opportunities throughout their professional careers.
Digital credentials, which are easily shared via LinkedIn, Twitter, and Facebook, give students a more concrete and portable way to highlight just how aligned their academic knowledge is with today's labor market. These credentials will be valuable additions to the professional portfolios of Saint Mary's students, allowing learners to communicate the skills they have acquired using language that employers understand.
Saint Mary's currently offers 27 distinct micros-credentials aligned to six fully online accelerator graduate certificates in high-demand fields: business analytics, healthcare analytics, artificial intelligence, finance, human resources management, and project management.
This initial offering is just the beginning! Saint Mary's plans to identify and scale opportunities for digital credentialing across the university this year, in addition to using digital credentialing as a means to recognize and certify the development and achievements of its esteemed faculty.
Learn more about our digital badging and how you can start sharing your accomplishments with your social networks today!