Our APA-accredited Psy.D. program prepares you to make a difference as a licensed psychologist.
The APA-accredited Doctor of Psychology (Psy.D.) program prepares you for a career in health service psychology and awards the Doctor of Psychology in Counseling Psychology (Psy.D.). This practitioner-oriented program provides training to prepare you to pursue a career as a licensed psychologist.*
Learn from faculty with a combination of research and clinical backgrounds, providing you with personalized advising and mentoring, and helping you develop a professional identity as a counseling psychologist. A series of elective courses offered in diverse populations, diverse settings, and advanced practice allows you to focus on interests that meet your career goals. The program emphasizes and integrates professional ethics, diversity and multiculturalism, and evidence-based practices throughout the curriculum.
As one of a small number of APA-accredited Counseling Psychology Psy.D. programs in the country, our program's training is guided by Saint Mary's Lasallian values of diversity and social justice, and those of the counseling psychology field. Here, we will train you to practice by ethical principles and codes that guide your work as a psychologist. We teach a communitarian focus — attending to both the needs of others and your own.
For additional information on Saint Mary's programs and psychology licensure, visit our Professional Licensure page.
Read More
Accreditation
The Psy.D. in Counseling Psychology program at Saint Mary's University of Minnesota is accredited by the American Psychological Association (APA). Questions related to the program's accredited status should be directed to the Commission on Accreditation:
Office of Program Consultation and Accreditation
American Psychological Association
750 1st Street, NE, Washington, DC 20002
Phone: (202) 336-5979
TDD/TTY: (202) 336-6123
E-mail: apaaccred@apa.org
Web: www.apa.org/ed/accreditation
The APA-accredited Doctor of Psychology (Psy.D.) program offers the Psy.D. degree and provides the training needed to pursue a career as a licensed psychologist. Discover our practitioner-oriented program offering dedicated, personalized support. Develop an ethical framework crucial in the field of health service psychology and explore well-being — for your clients and yourself.
Program Competencies
In alignment with the American Psychological Association's Standards of Accreditation (SoA), the Psy.D. in Counseling Psychology Program seeks to train you in two broad areas, including:
Discipline-specific knowledge: Covers training in the scientific foundations of psychology, and includes biological bases of behavior, cognitive bases of behavior, developmental psychology, social psychology, research methods, and affective bases of behavior.
Profession-wide competencies: Covers competencies critical for competent and ethical functioning as a psychologist, and includes research, ethical and legal standards, individual and cultural diversity, professional values and attitudes, communication and interpersonal skills, assessment, intervention, supervision, and consultation and interprofessional/interdisciplinary skills.
Program Aims
Based on a practitioner-scholar model, the Saint Mary's Psy.D. in Counseling Psychology program has two primary aims:
Aim 1: Develop professionally competent graduates prepared to demonstrate commitment to the pursuit of social justice and promote well-being across the lifespan.
Aim 2: Produce counseling psychologists who engage in ethical practice with cultural humility and self-reflection.
Read More
What Makes it Special:
APA-accredited

Complete this program in as little as five years

Early entry option from the Saint Mary's Master of Arts in Counseling and Psychological Services program

Practitioner-led faculty

Elective courses in diverse areas to match your career goals

Four years of coursework and a minimum of two community practicum placements

Intensive, full-time internship training experience that will serve as a foundation for your post-doctoral work

Varied practicum site options
What You'll Learn
Independent practice of psychology with a diverse range of clients

Assessment, evaluation, and diagnosis

Interventions from a variety of theoretical approaches and ethical evidence-based practices

Professional consultation/program development

Supervision of those providing psychological services and assessment of outcomes

Facilitate personal and interpersonal functioning across the lifespan
Saint Mary's Currents:
Discussing Depression and Suicide with Ann Schissel, Ph.D.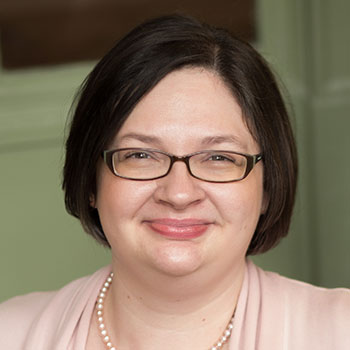 Career Outlook
Upon completion of this program and successful attainment of licensure, pursue a career as a licensed psychologist in clinical practice. According to the Bureau of Labor Statistics, the median annual salary for a psychologist is $81,040.1 A licensed psychologist may also pursue work as a clinical supervisor, independent consultant, adjunct instructor, administrator, or program evaluator.
*A state-issued license is required to practice as a psychologist. Students are responsible for contacting the appropriate agency in their state to confirm licensure requirements prior to enrolling in any academic program. Saint Mary's University of Minnesota cannot guarantee any student's attainment of any professional licensure or certification, in any field, in any jurisdiction. For more information about Saint Mary's programs and professional licensure, visit our Professional Licensure Disclosures page.
Psychologist
$81,040 per year*
Clinical Supervisor
$79,510 per year*
College Professor
$77,860*
8%
Psychologist job growth 2020-2030
Laurie Roy
lroy@smumn.edu
This module doesn't exist.
Frequently Asked Questions
Do I need to have a specific master's degree to apply?
To be admitted to the program, you must have a master's degree in a mental health-related area (e.g. psychology, marriage and family therapy, social work, counseling, nursing, or human development) and have specific prerequisite preparatory coursework at the master's level. The Saint Mary's Master of Arts in Counseling and Psychological Services has an Early Entry track to the PsyD program, in that students in the MA program can apply to start the PsyD program after as little as one year of master's level coursework. This option is only available to students in the Saint Mary's master's program.
What are the biggest differences between a clinical and counseling doctoral program
Clinical psychology doctoral programs tend to focus more on disturbances in mental health and psychopathology training, whereas counseling doctoral programs focus more on overall well-being throughout the lifespan and emphasize multicultural training and a holistic education. Graduates from both programs tend to work in the same practice settings and conduct similar research.
Is it possible to complete the program in less than five years?
The program is designed to be completed in no less than five years. You must complete the required coursework in sequential order and certain degree requirements (e.g., practicum, qualifying exam, dissertation proposal, individualized mentorship, clinical case presentation, clinical dissertation) have prerequisites that hinder completion of the degree in fewer than five years.
Can I still work while I am in the Psy.D. program?
You may choose to work while you are in the program. You will take the most credits during the first two years of the program and also spend 15-24 hours per week at practicum sites during years two and three, so it is important to consider these time commitments when deciding if, and how much, to work while in the program. Classes are scheduled on Wednesday and Thursday afternoons and evenings, so you must make sure your employment and practicum placements will not conflict with these times.
If I complete the program in five years, how much can I expect it to cost?
87 semester credits are required to complete the program. $955 per credit is the current tuition cost for the 2022-23 academic year. As part of the school's mission to make education more accessible, tuition is kept low. The cost per credit may increase over time and you must also pay a few fees for special program requirements (e.g. clinical case presentation, dissertation editing, assessment materials) and pay for textbooks. In addition, there are expenses associated with applying for an internship, due to application fees and possible travel to sites for interviews (although many of these have been done virtually in the last few years). You are encouraged to apply for financial aid to help offset the cost of the program.
Are there opportunities to participate in research in the program?
Faculty in the program conduct research projects from time to time and often opportunities are available for students to participate. Opportunities in research could include gaining experience with conducting portions of the research study, such as collecting data, analyzing data, writing up results or literature reviews, presenting at professional conferences, and submitting manuscripts for publication.
Where are the Psy.D. courses taught?
With few exceptions, courses are taught in-person on the Minneapolis Campus. Students should prepare to attend classes Wednesdays and Thursdays on campus.
What are the biggest differences between a Psy.D. and a Ph.D.?
Psy.D. programs place more emphasis on clinical training and applying knowledge gained from psychology research through the use of empirically-based treatment/services. Ph.D. programs emphasize producing scientific research and gaining experience in teaching.
What is the early entry option?
Are you in your first year in the M.A. in Counseling and Psychological Services program? Advance from the bachelor's level to the doctoral level in as little as one year, saving you time and money. The early entry option allows you to apply for admission to the Psy.D. program during your first year in the M.A. in Counseling and Psychological Services program. If admitted to the doctoral program, you'll start in the Psy.D. program prior to completion of your master's degree. If you are admitted to the Psy.D. program through the early entry option, you'll complete your remaining master's-level training in your doctoral coursework, and are awarded the master's degree after completion of PYD811 Doctoral Qualifying Examination.
What are the steps to getting licensed as a psychologist after completing the degree?
Psychologist licenses in Minnesota are granted by the MN Board of Psychology, and current licensing requirements can be found on the Board website. The first step toward licensure is the completion of the doctoral degree. This is just the first step, however. Many states require that individuals meet additional requirements in order to fully qualify for licensure, including but not limited to additional coursework and training, supervised clinical experiences, and successful passage of state or national exams. Other licensure requirements may include background checks, years of work experience, fingerprinting requirements, etc. State laws, regulations, and policies governing professional licensure may change at any time. In Minnesota, applicants for psychology licensure are currently required to pass the Examination for Professional Practice in Psychology (EPPP) Part 1 , complete one year of practice under the supervision of a licensed psychologist, and pass the Minnesota Professional Responsibility Exam. State requirements for licensure may change; students are reminded to check with the MN Board of Psychology to verify requirements. At this time, Saint Mary's cannot verify that the Psy.D. program will meet educational requirements for psychology licensure in jurisdictions outside of Minnesota. While graduation from an APA-accredited program can assist with state licensure eligibility, most states typically have additional requirements beyond the completion of a doctoral degree that must be met in order to be eligible for licensure, including but not limited to additional exam requirements, additional internship hours, etc. Saint Mary's cannot guarantee the successful attainment of licensure in any jurisdiction. Students interested in pursuing psychology licensure are responsible for familiarizing themselves with licensing requirements in their state. Additional information about this program and psychology licensure, including links to state agencies, can be found on Saint Mary's Professional Licensure Disclosures page.
Is there an option to specialize in an area of Counseling Psychology in the program?
The program does not offer any formal areas of specialization, however you are able to choose from a variety of elective courses in three areas: diverse settings, diverse populations, and advanced practice. You are also able to focus on areas of interest when applying to practicum sites and setting up their individualized mentorship. The mentorship is a unique opportunity to focus on a special area of psychology that you were not exposed to in their courses or during their practicum experiences. Deciding which internship sites you'll apply to is another method of focusing your doctoral training experiences.
Are work study options available to students (teaching assistant, research assistant, other)?
The program does not offer paid research assistantships. Some part-time graduate assistant positions may be available on an as-needed basis. In addition, psychologists in the community and practicum sites will contact the program with paid opportunities for students (e.g. psychometrist positions, research opportunities, part-time psychotherapy positions). These available positions are then posted on the Psy.D. program page on Canvas for students.
Does the program sponsor any training in specialized areas?
The program seeks to make you aware of any training opportunities available, including in-person and virtual/web-based trainings. Also, from time to time, the program and student groups will sponsor speakers to share research and/or discuss various psychological topics. You are encouraged to become members of the Minnesota Psychological Association and American Psychological Association, and as a member, you can get substantial discounts on training opportunities and resources.