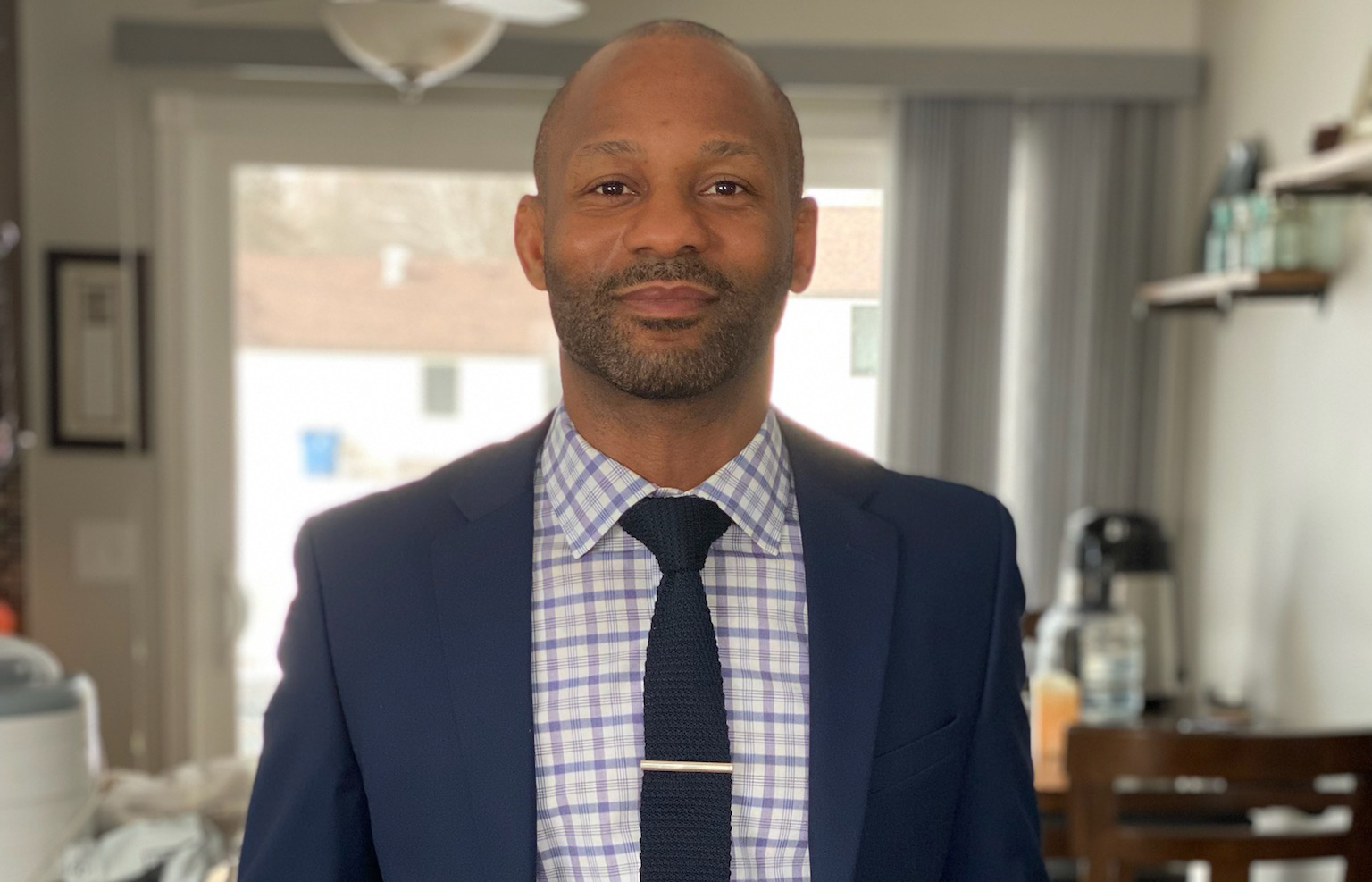 After receiving a health and physical education degree, Jamell Tidwell D'22 never planned to go into the field of education.
"I don't think I chose education," he said. "Education chose me."
Tidwell is currently serving as an assistant administrator and athletic director at Valley Middle School of STEM in Apple Valley and holds an Education Doctoral Degree in Leadership from Saint Mary's University of Minnesota.
He earned the academic title "doctor" earlier in the spring of 2022 after defending his dissertation "The Lived Experiences of Teachers in a Restorative Practice Program at a Minnesota Suburban Middle School."
"When I got to Saint Mary's (for my master's degree), it just changed my whole outlook on getting an education and pursuing education," Tidwell said. "At Saint Mary's, there were so many people who wanted me to succeed."
Tidwell said he had always had his eyes set on joining the military. But after completing his undergraduate degree, he took a job as a paraprofessional at Apple Valley High School and eventually moved to a position at Valley Middle School of STEM. While he was there, he decided to pursue a master's degree, which brought him to Saint Mary's. It wasn't long after he earned his master's degree that he thought again about leaving education, but this time, for the corporate world. But before he could leave, the principal at his school talked him into staying. It was then he says he realized education was where he belonged and where he felt he could make the most impact.
Tidwell returned to Saint Mary's again to receive a Graduate Certificate in Education Administration, and eventually, his doctoral degree.
When it was time to select a research project for his dissertation for his doctoral degree, Tidwell decided to focus on a subject he knew well from his time as an administrator: finding alternatives to suspensions.
"Unfortunately, students who are being suspended at a much higher rate are students of color," Tidwell said. "So, my goal was to see if restorative practices were a good alternative to suspensions."
Through restorative practices, teachers and administrators attempt to understand why a student may have acted in a certain way and communicate to the student how their actions not only impacted themselves but the entire school community. At Valley Middle School of STEM, teachers, administrators, and students take part in restorative practices regularly, with teachers participating in regular equity circles and students going to restorative conferences instead of more traditional disciplinary measures.
What Tidwell found through his research was that while restorative practices work as an alternative to suspensions, one can't have restoration without consequences. Another finding that surprised Tidwell was the number of teachers who do not want to move away from traditional, zero-tolerance policies when it comes to discipline, which he attributes to a rise in behavior issues stemming from the COVID-19 pandemic.
One of the main reasons Tidwell took on the topic of restorative practices for his dissertation was to find a way to help keep students of color in school and to help eliminate any racial discipline disparity.
"I want to see if I can make a difference in education, make a difference in the world. I really believe a lot of things start in school for kids," he said.