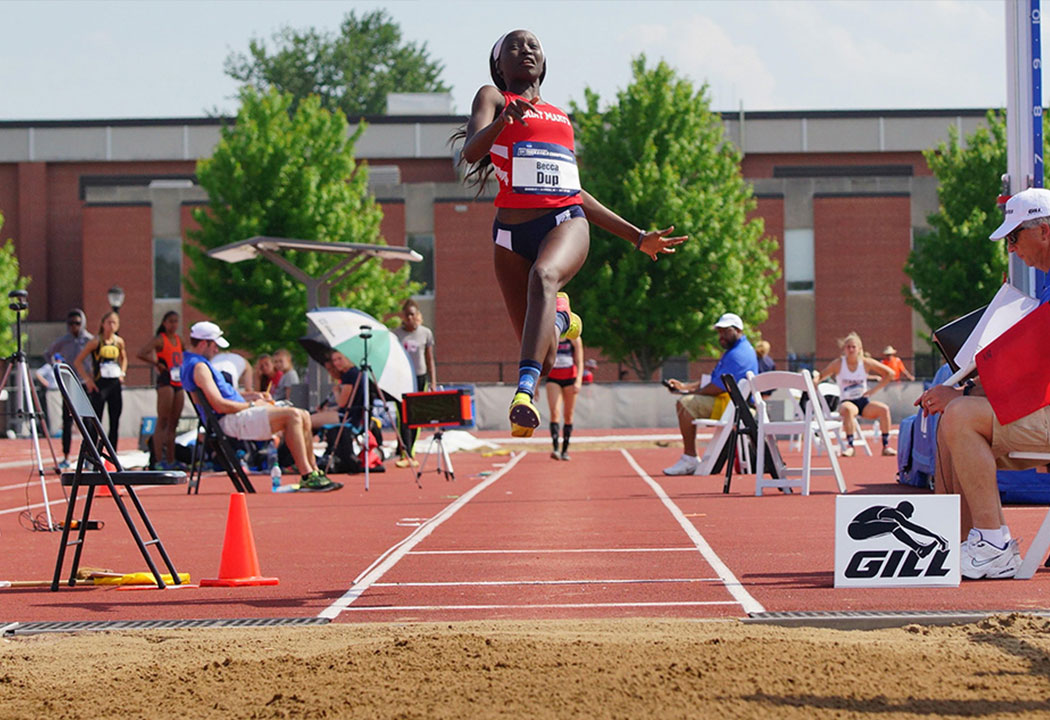 By Donny Nadeau
Saint Mary's Sports Information Director
LA CROSSE, Wis. — For Becca Dup (Albert Lea, Minn.), the third time was most definitely the charm.
And that charm had a very nice ring to it … All-American.
After 17th- and ninth-place finishes in the triple jump in her first two NCAA Division III national championships, the Saint Mary's University of Minnesota junior finally cracked the nation's Top 8 Saturday, as Dup uncorked a leap of 11.79 meters to place sixth overall—and earn her first NCAA All-American honor.
"It's an amazing feeling—my goal coming in was to get into the top eight and be an All-American, and I was able to do that," said Dup, the Cardinals' first female track and field All-American since Ashley Luehmann and Amanda Weinmann in 2007. "I knew I was in (the top eight) before my last jump in the finals, and that just took all the weight off.
"I was so close in indoors (finishing ninth), so it was really an awesome feeling to crack that top eight this time around."
"I'm so happy for Becca—all the work that she has put in, it's great to see her rewarded this way," said Cardinal coach Niels Anderson. "And as a coach, this is super gratifying—she's my first All-American, and she will always be my first All-American for as long as I coach.
"But more importantly, it's the special relationship that we have built, and for her to close out the season as an All-American, that's the most gratifying of all."
Dup, who kicked off her 2018 NCAA Division III Outdoor National Championships with an 11th-place finish in the long jump on Thursday, knew exactly what she needed to do—thanks to being in the second of the two triple jump flights.
And the Cardinal junior left little doubt she would be among the nine finalists, unleashing a jump of 11.79 meters—just shy of her school-record and national-qualifying mark of 11.83—in her first jump and finished fifth overall heading to the finals.
In the finals, Dup opened with an 11.73-meter effort, but scratched on her final two attempts to drop one spot to sixth. Taylor Driggers of UMass-Boston won the event on her last jump, posting a leap of 12.56m. Whitmore's Kayla Brase was second (12.11m), followed by Amber Edwards of Ramapo (12.98m), Dakota Buhler of George Fox (11.97m), Sarah Lehman of PSU-Harrisburg (11.95m), and Dup (11.79m).
"I think it definitely helped being in the second flight—I knew going in what marks were out there and what I had to do," said Dup. "I just wanted to go out there and give it everything I had—and I did that."
And with that effort came the title of All-American.
Read more about Dup: