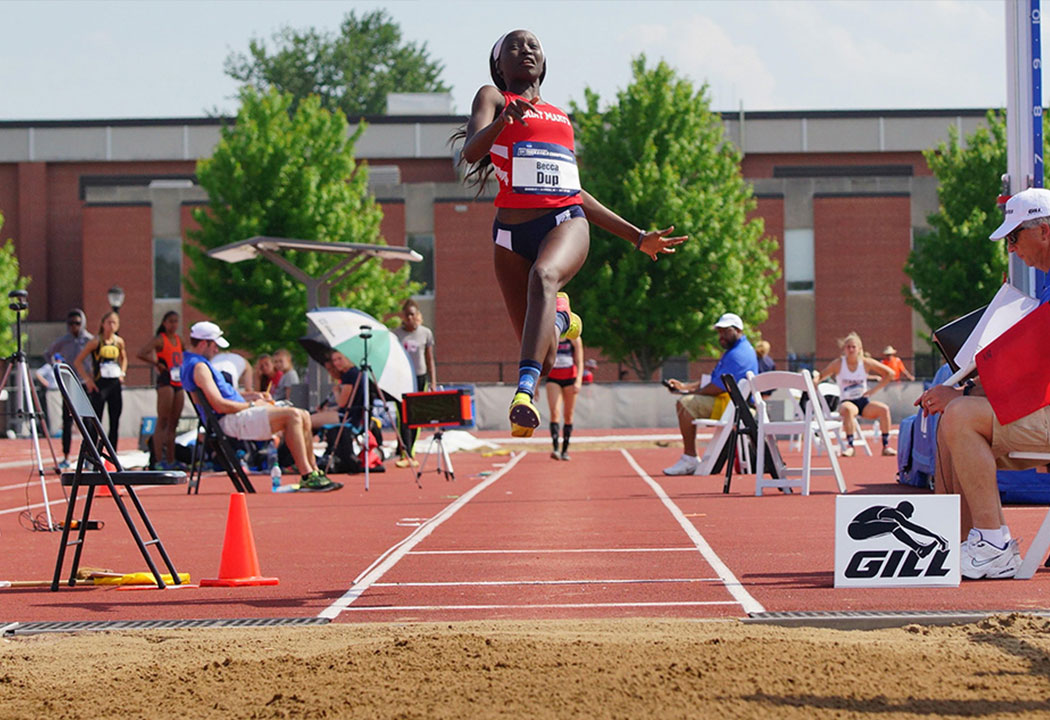 By Donny Nadeau
Saint Mary's Sports Information Director
LA CROSSE, Wis. — It may have been her third appearance at the NCAA Division III national championships, but Thursday afternoon was Becca Dup's (Albert Lea, Minn.) first go-around in the long jump.
And the Saint Mary's University of Minnesota junior's showing was no rookie performance.
Dup—who competed in the triple jump at both the 2017 outdoor and 2018 indoor national championships—put together a leap of 5.62 meters in her first attempt en route to an 11th-place finish.
"I'm happy with my performance," said Dup. "The conditions were a little tough with the warm weather and wind—you didn't really know how much that would affect your jump—but I came in seeded 15th and moved up four spots to 11th, so I'm very happy with that."
Dup entered Thursday's long jump competition with the 15th-longest mark, a school-record 5.74 meters—and nearly matched that mark in her first attempt, uncorking a leap of 5.62 meters that left her third through her three jumps in the first of two flights.
Dakota Buhler of George Fox posted the best leap of the first flight at 5.85 meters, with Texas Lutheran's Cortnee Priour second at 5.73 meters.
Unfortunately, the second flight boasted eight of the day's top 10 jumps—including a 6.05-meter monster by eventual national champion Amelia Glueck of Illinois Wesleyan—pushing Dup down to 11th, and keeping her from a spot in the finals.
Dup, who owns the ninth-best triple jump performance (11.83 meters) this season, will close out her third national championships on Saturday. First flight in the triple jump will begin at 11 a.m. at UW-La Crosse's Roger Harring Stadium at Veterans Memorial Field Sports Complex.
"I'm treating (the long jump) as a warm-up for the triple jump," said Dup. "Every time I've been at nationals, I have improved on my seed—and I'm seeded ninth in the triple jump—so if I can continue that trend and just move up one place, I'll reach that Top 8 All-American status I'm shooting for."