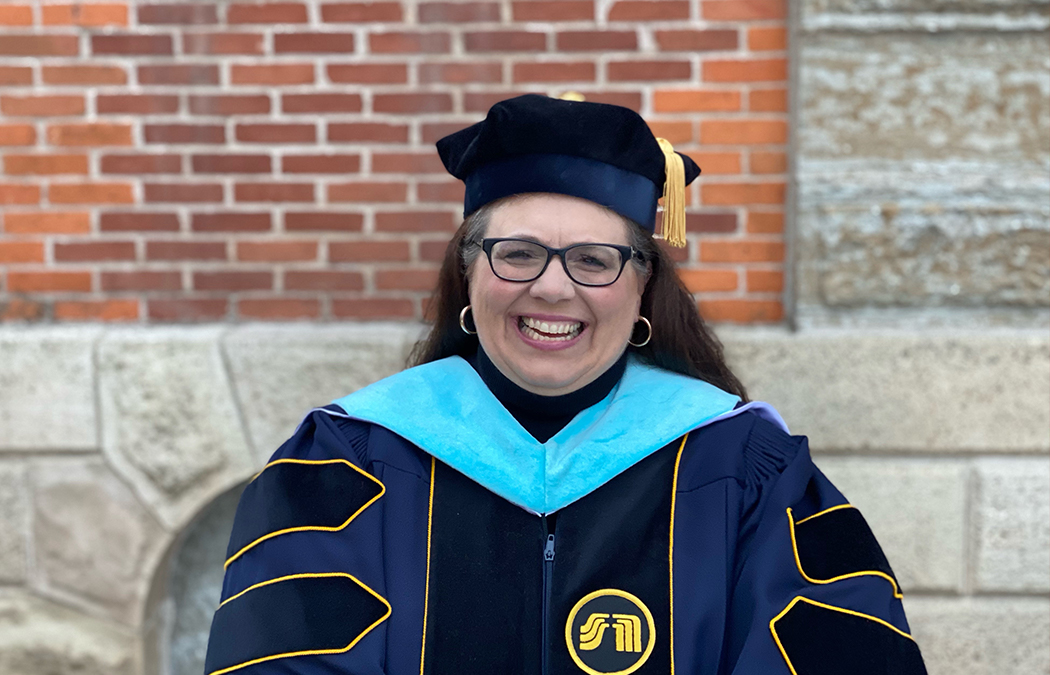 By Maura Sullivan Hill
Dr. Tanya Rand D'20 did homework for her undergraduate and graduate degrees at the kitchen table, usually alongside her three children. By the time she was working on her Doctor of Education Degree in Leadership at Saint Mary's, her grandchildren were around for the study nights.
"They'd say, 'Nana, Nana, what are you doing?' Well, I'm writing my paper," recalls Rand, who worked as a clinical social worker for many years and now teaches in the Morrison Family College of Health School of Social Work at the University of St. Thomas in Saint Paul. "I hope that my children and grandchildren have learned the value of education in part through me, seeing Mom and Nana go back to school."
Her path to higher education was a nontraditional one. Rand had her first child at 18 and did not finish high school; instead, she earned a GED in her early 20s. When she returned to school for both her bachelor's and master's degrees in social work, it wasn't easy.
"I often had feelings of imposter syndrome. I am a first-generation college student. I was a teen mom, and I dropped out of high school, so college was a journey of thinking I didn't belong, from way back in the first classes that I ever took for my undergraduate degree. Those feelings were really hard to shed," Rand said. "Regardless of my success in both my BSW and MSW program, on some level those imposter syndrome feelings lived on when I entered my doctoral program. However, at Saint Mary's, in every class, I sat in a room with professors who made me feel valued and capable. Saint Mary's is high accountability but also high support. The message was always that as long as I worked hard, I could do it. I came to believe during my time at Saint Mary's that a doctoral education could be mine too … that I was smart enough and I had it in me … I had the capacity."
During her years of clinical social work practice, Rand provided services to patients and families in a variety of settings, including adoption, foster care, and in healthcare. She spent most of her practice career in both inpatient and outpatient healthcare settings, working with patients diagnosed with neurocognitive, mental health, or substance abuse diagnoses. Rand spent much of her time providing individual, family, and group counseling services to patients with traumatic brain injuries, Parkinson's disease, or dementia. During this time, Rand also created an internship program for Master of Social Work students at the hospital where she worked. It was through mentoring and teaching those students in the field that she realized she wanted to transition to teaching full time in academia. At Saint Mary's, she found a doctoral program that "caters to working people with busy lives and busy families."
"I could not have continued to work full time, which I did throughout my entire doctoral program, and raise three children without Saint Mary's," Rand continues. "I had a supportive family, a supportive employer, and I had Saint Mary's."
Rand says that the doctoral program prepared her for leadership roles she has taken on at the University of St. Thomas, where she teaches and leads the Areas of Emphasis in Aging Program for students interested in pursuing a career working with older adults and their families. While at UST, Rand has spent time leading and coordinating distance educational opportunities for nontraditional students, and more recently, Rand has also become the project coordinator for a large federal grant that the School of Social Work has received.
"My learning was very rich, being in a classroom at Saint Mary's with people from culturally and linguistically diverse communities, as well as being surrounded by incredible diversity of thought, careers, and backgrounds," she said.
Rand attributes her success to a combination of resilience and stubbornness, plus a strong faith and a "glass half full" approach to life. While working toward her degree, she encountered some significant family health challenges, and for most of her doctoral degree she was simultaneously caring for her aging parents and stepparents, and at times her grandchildren.
"Throughout it all, never did I feel that my professors and advisers were going to give up on me. It was, 'We're here, we got you.' Every time I felt down on my journey, that gave me hope and encouragement," Rand said. "I chose to attend Saint Mary's University for many reasons, but what I kept coming back to over and over again is the gratitude I have that I was always made to feel that I genuinely belonged."