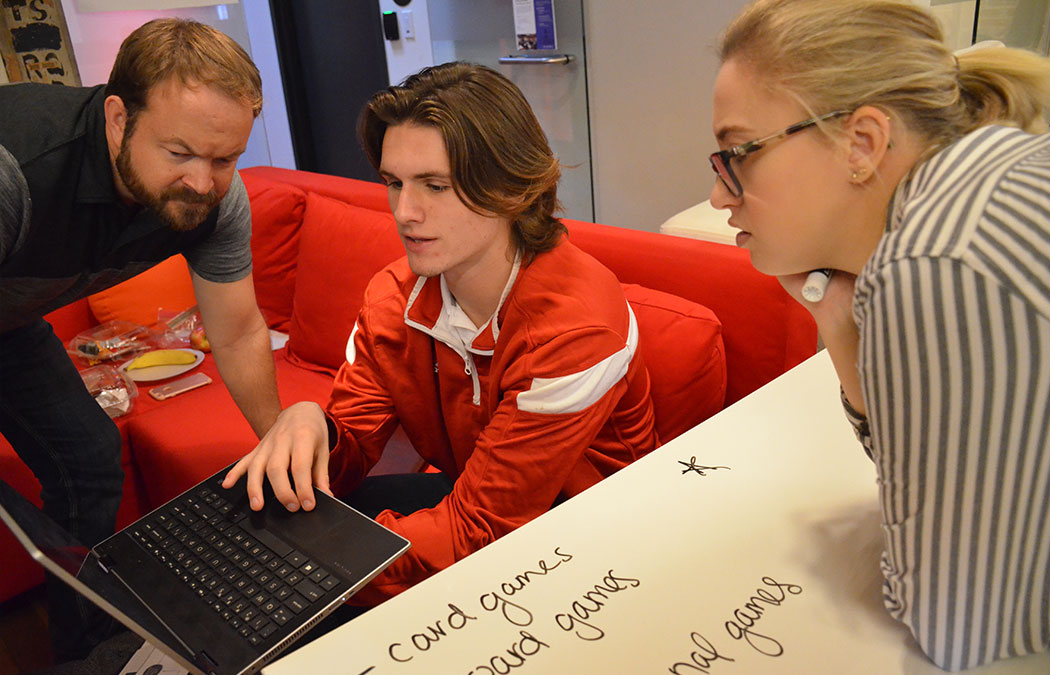 The task: go from an idea to a prototype — in just 54 hours.
Five Saint Mary's students participated in the third-annual Rochester Startup Weekend event, held at Collider Coworking in Rochester.
The goal of the annual event is to gather a group of like-minded entrepreneurs, some college-aged, others already professionals in their fields, to collaborate on a startup business idea. The only thing they needed to bring was a willingness to take risks.
Stephany Beck '21, a marketing and entrepreneurship double major from Oshkosh, Wis., wants to go into corporate marketing and entrepreneurship for a large company after graduating.
James Perreault '20, a finance and entrepreneurship double major from Batvia, Ill., hopes one day to be a portfolio manager.
For both students, the opportunity to network, learn more about how to start their own businesses, and gain confidence in presenting — all made possible through the Kabara Institute for Entrepreneurial Studies — was a valuable one.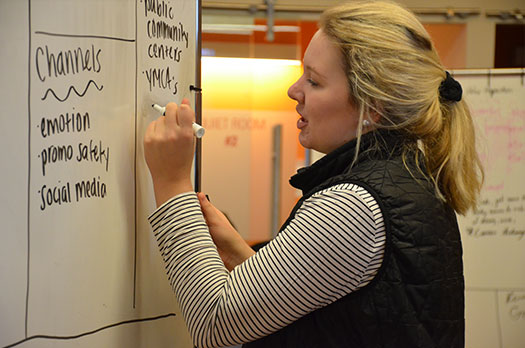 Beck's team decided to pitch bullet-resistant doors for hospitals and classrooms, an idea that originated with Jacob Taschetta '19. "Because of the recent Pittsburgh shooting, it was a timely issue, and we were able to correlate the need," Beck said. In the process her team thought through the product itself, addressed why it was needed, and tried to predict any problems that would arise.
"We talked about the situation of what can happen in the six minutes between when police are called and they arrive at the scene. We wanted to provide the barricade during those six minutes, and we wanted to market to different security systems," Beck said.
Although she loved the entire exercise, Beck particularly likes the sales aspects of entrepreneurship. "I like to talk to people," she said. Last year her team won the competition with a business idea related to farmer's market delivery. This year, she said, it was more difficult to market something that is centered around an uncomfortable topic.
"This year I learned different ways to interview people about personal and difficult subjects and I learned you're not always going to win with your idea, even if you feel super passionate about it. Everyone has very good ideas, and it's great to learn from them as well," Beck said. "Through events like this through Kabara, I get more experience in the field and it helps me further decide what I want to do in the future."
Perrault was on this year's winning team with a 2,000-year-old personality test card game called "What were you thinking?"
He described it as an educational and fun way for people to gain more empathy for others while learning about themselves in a fun setting.
"It was a heavy workload, but it was so much fun," he said. "Right from the start, it really got us critically thinking what problem can we solve. As we progressed, it was really cool interacting with people who want to work as hard as I do. We decided what we wanted to do, did market research in Rochester, and tested the viability of the idea, and then all day Saturday we spent developing our vision for the product and creating a mockup. We were lucky enough to have the mentors help us put together a website."
By advertising through social media, they even received 17 pre-orders on the game.
"First-place prize was $1,000 and we receive free rent at Collider and access to their network and printers," Perreault said. "It's allowing us an opportunity to grow this idea into something."
Perreault said he believes anyone can be an entrepreneur. "You just have to have the confidence to go out and try new things. We just have to change our perception of what entrepreneurship is. It's a matter of taking the first step."
Being involved with the Kabara Institute, he said, is helping him develop "substantially." "I'm getting so much experience in all sectors of business. he said. "Dr. Christine Beech really goes above and beyond to be sure all students are succeeding and engaged. Working with Kabara has not only improved my public speaking, it's also improved me as a person and helped me tap into my drive to get things done."