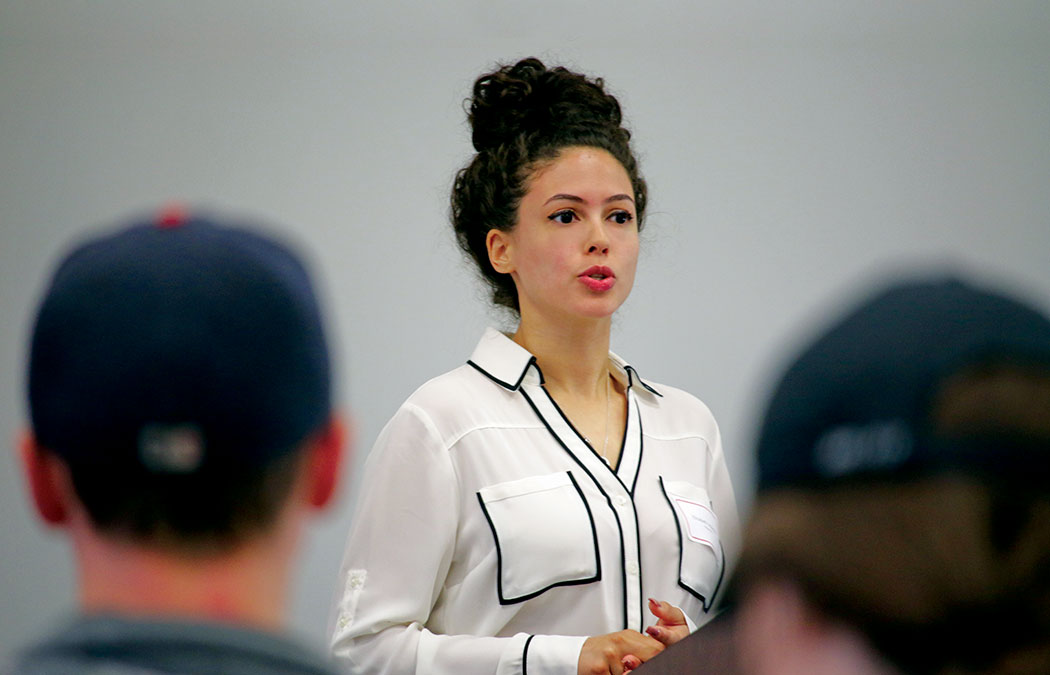 Soon potential business and technology students at Saint Mary's will be able to design new pathways to graduate degrees, take advantage of new opportunities for career advancement, and be able to build their own customized educational experiences.
Saint Mary's School of Business and Technology is thinking outside of the box with a new customizable and stackable series of graduate certificates — called Saint Mary's Accelerators.
In 2019, Saint Mary's MBA program was recognized as the third largest in the state, and Saint Mary's will leverage this reputation and its longstanding history of innovation with an increased focus on business education opportunities for graduate students. In alignment with Strategic Initiative #3: Pilot a Pathways Concept in Business, the School of Business and Technology plans to develop a "stackable" series of graduate certificates, allowing students to customize pathways to their degree. Future phases of this work will involve exploring accelerated completion pathways (certificates stacking together to form a full program), non- degree professional education and boot camps, and undergraduate certificates.
In her efforts to strengthen, innovate, and differentiate the School of Business and Technology, Dean Michelle Wieser, Ph.D., is moving to make Saint Mary's a destination school in this area.
In phase one of this initiative, 10 graduate certificates will launch in fall 2020.
The first 10 certificates are created out of courses currently offered in existing programs and are only online. New certificate programs and certificates to be offered in the university's blended (online and on ground) programs will be explored in subsequent phases.
These certificates can stand alone or build into a full degree, stack onto a different type of degree, or serve as a specialization to the accelerated MBA (AMBA). Eventually they will also be designed to stack to other certificates to form a self-designed master's degree, following a similar approach to the university's current M.A. in Integrated Studies program.
According to Wieser, this approach to graduate education puts the student in the driver's seat.
"Students have the chance to change or accelerate their careers by acquiring knowledge in a more specialized and condensed format," she said.
"As they complete a certificate, they can then decide if they would like to pursue an additional certificate or a full master's degree program — immediately or down the road.
"When a person is committing to go back to school, it can sometimes be daunting to consider a significant time and financial commitment," she added. "By pursuing a graduate certificate, students can gain immediate marketable skills with a much lower commitment of resources.
And, they can receive credit for the full certificate when pursuing an accelerated MBA or another one of our specialized master's programs."
The value of this stackable strategy is that students can customize an educational plan that meets their specific needs. For example, a student could take a certificate in project management, advance his or her career in the field, and then decide to apply the certificate toward the full master's degree in project management. Another student may complete a certificate in a particular discipline and then stack it onto a full program in a different discipline. For example, if a person is a project manager for a nonprofit organization, he or she may choose to take the certificate in nonprofit management and then later stack it into the M.S. in Project Management degree, allowing him or her to create a path that fits his or her unique career.
NEW GRADUATE CERTIFICATES IN THE SCHOOL OF BUSINESS AND TECHNOLOGY APPROVED TO BEGIN IN FALL 2020
• BUSINESS ANALYTICS
• HEALTHCARE ANALYTICS
• ARTIFICIAL INTELLIGENCE
• NON-PROFIT MANAGEMENT
• INTERNATIONAL DEVELOPMENT
• HEALTHCARE ADMINISTRATION
• FINANCE
• PROJECT MANAGEMENT
• HUMAN RESOURCE MANAGEMENT
• DATA ENGINEERING (BLENDED)
• INNOVATION AND ENTREPRENEURSHIP (BLENDED IN ROCHESTER AND LAUNCHING SPRING OF 2021)