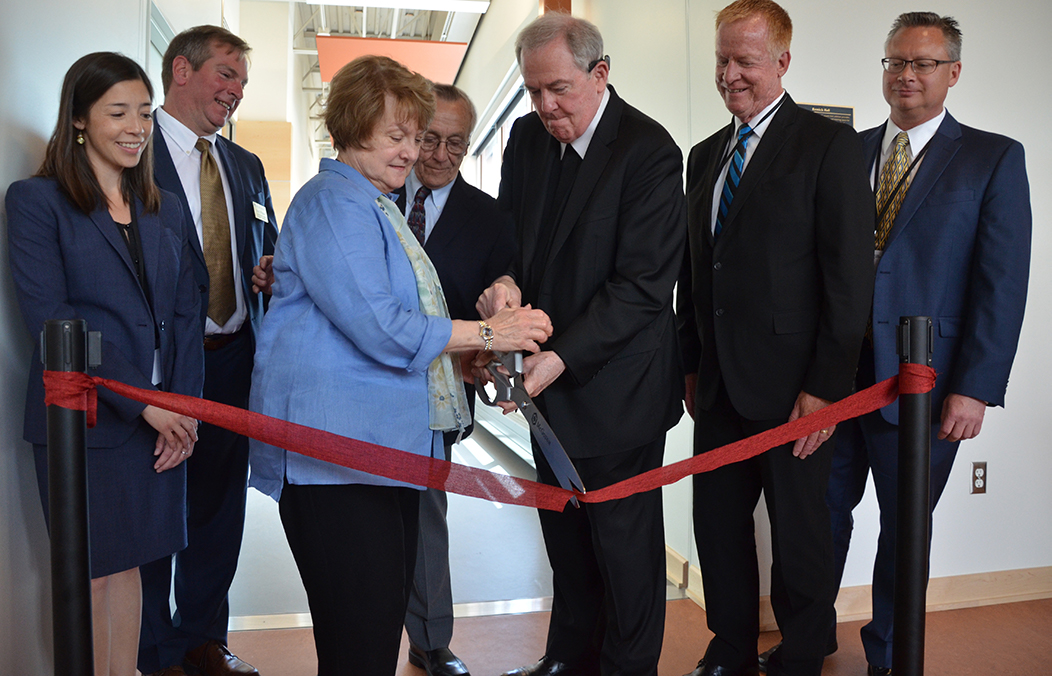 With the snip of a red ribbon, Saint Mary's University became an even more notable community partner in Rochester, Minn.
Starting in July, a new 10,000-square-foot addition to the university's Cascade Meadow facility — dedicated with a ribbon cutting on May 24 — will house the university's extensive Schools of Graduate and Professional Programs in Rochester.
And, through a special collaboration with the Mayo Clinic's School of Health Sciences, the facility will house the graduate portion of a proposed 3+2 physician assistant program, which Saint Mary's anticipates beginning in fall 2019.
Dr. Michael Huckabee, founding director of the Physician Assistant Studies Program at Mayo Clinic, told the crowd, "It's truly a pinnacle of my professional career to have this opportunity to help lead what promises to be a world-class PA program."
He called the day a special moment for both Mayo Clinic and Saint Mary's. "Our forthcoming PA students will train at the No. 1 ranked hospital in the nation, ranked No. 1 in more specialties than any other hospital," he said. "And the Mayo Clinic School of Medicine was just ranked No. 6 in the U.S. News and World Report for Medical Schools. That's the caliber of experience our PA Program will be nurtured in."
He explained that once accredited, select students will complete their first three years at the Winona Campus, and then come to Cascade Meadow for their Mayo PA studies. Upon completion of the program, students will earn both a bachelor's degree from Saint Mary's, and a Master of Health Sciences degree in PA Studies from Mayo Clinic School of Health Sciences.
For students who have a calling to have a meaningful career with direct patient care, Dr. Huckabee invited the audience to grasp what the numbers will mean long term.
"One PA may see 20 patients a day in a typical family medicine setting. In four days of a week, that PA will see 80 patients," he said. "In a modest estimation then of 48 weeks per year, nearly 4,000 patient visits are hosted by that PA."
With a 40-plus year practice, he estimated that each PA graduate of this program could have 160,000 patients visits over a lifetime career. With 24 graduates, that number expands to nearly 4 million patient visits.
"So the impact of each student walking through these doors, by the number of patient visits, by their impact on their teachers, by their impact on the patients that they see in their training — we can't imagine what's to come," Dr. Huckabee said.
Remick Hall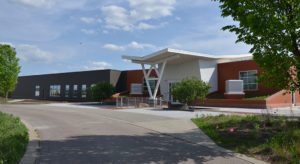 In honor of benefactors and Cascade Meadow founders Jack and Mary Ann (Wera) Remick CST'64, the addition will be called Remick Hall.
Audrey Kintzi, vice president for Development and Alumni Relations said the Remicks have long been champions of education. "Your gifts and talents and dreams have touched so many areas of Saint Mary's University, and benefited so many of our students," she said. "Now, a new era of dedicated learners will be thankful for the opportunities you have helped to provide."
Brother William Mann, FSC, Saint Mary's president, added, "I do not take for granted what a gift Cascade Meadow is. But it's not about a building, it's about a vision, a vision that needs a house.
"If want to be a transformational, educational, faith-based institution in the 21st century, you need partners … and hopefully you find collaborators who believe in you … who are willing to share your vision, like Jack and Mary Ann."
Cutting ribbon were, from left: Laura Smith, associate, DLR Group; Scott Walker, associate vice president of partnerships in Rochester and executive director of Cascade Meadow; Mary Ann (Wera) Remick CST'64, chair, Saint Mary's Board of Trustees; Jack Remick, founder of Cascade Meadow; Brother William Mann, president, Saint Mary's University; Dr. Mike Huckabee, director, Physician Assistant Studies Program, Mayo Clinic School of Health Sciences; Dan Melbostad, general manager, McGough Construction.