Guided by the beams of their headlamps, Colin Norris '13 led a dozen hardy students on a night hike through the bluffs surrounding Saint Mary's University. Carefully, they made their way along the snowy wooded trails, across a stream, and to a clearing far behind the campus lights and activity. The group's excited chatter quieted as they turned their heads to the sky, getting a crisp and clear view of the stars shining above.
Now coordinating the Outdoor Leadership program, it is Norris's goal to create a robust program of educational outdoor recreation activities utilizing the vast natural surroundings with which Saint Mary's University is blessed. The night hike was among the first of many planned events.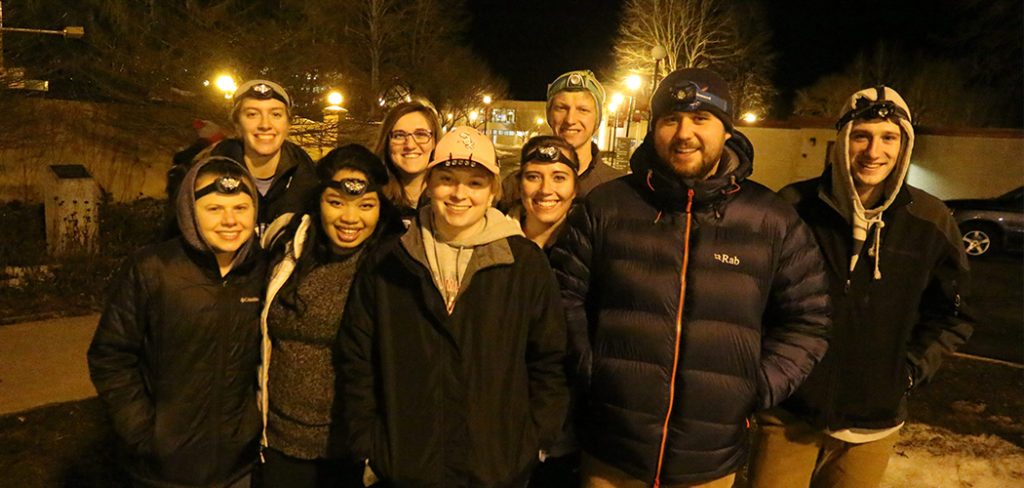 In between pointing out the stars and constellations, Norris reminded his winter hikers of the many opportunities available to them including 18K of trails perfect for walking, jogging, and skiing; a high and low ropes course; and a disc golf course.
Additionally, the campus is located near the Mississippi River. Saint Mary's has easy access to the river via its field station, Norris pointed out. "This is a perfect place to get involved in outdoor recreation," Norris said. "We have a launch point for boats, canoes, and kayaks for easy access to the backwaters."
So that more students can experience these activities, the university also has available for checkout a fleet of canoes and kayaks, cross country skis, and camping equipment.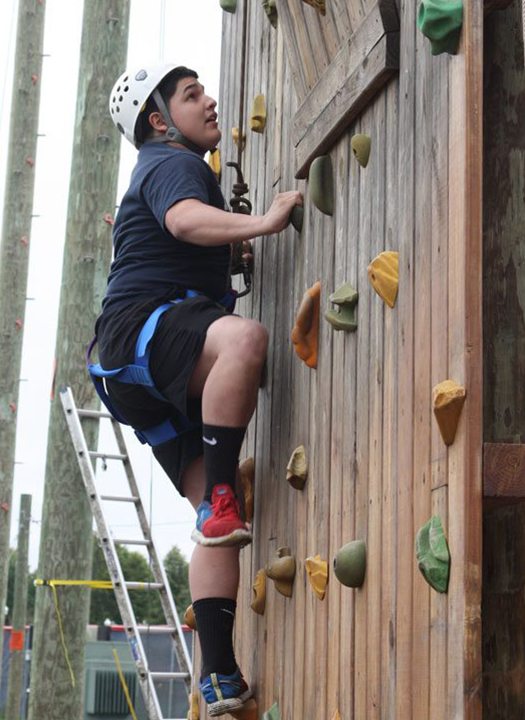 "Students are searching for a vibrant residential experience," said Charissa Jakusz, dean of students. "We are thrilled to revive Outdoor Leadership because through these activities, students will gain knowledge about their identity, leadership skills, fellowship, and stewardship of nature and with the people around them—and hopefully have some fun within the beauty of our location. "
Beyond campus, Winona is quickly gaining a reputation as "heaven" for outdoor recreation facilities and winter resources such as fat tire biking, a public ice skating rink, ice fishing, and even an ice climbing wall. In warmer months, the possibilities are endless.
Norris is familiar with Saint Mary's and the surrounding community. After receiving his undergraduate degree, he is back on campus serving as a graduate assistant hall director, and studying in the Human Development master's program.
"I've discovered this type of work is my calling," Norris said. "I've been on some truly amazing trips, acquiring skills and meeting people who taught me the meaning of environmental stewardship. Now, on this campus, I can make a difference by showing students how to enjoy and respect the great outdoors."
Kelsey Stenzel, a senior elementary education major, said she finds being outside therapeutic. "I love the outdoor activities because I get to enjoy God's beauty that surrounds me, and it helps to clear my mind when things get busy," she said. Stenzel plans to take advantage of further Outdoor Leadership events.
"Students build confidence through these activities," she said. "They can also learn from each other and build community. These skills are important in life."
Events this spring could include camping at Devil's Lake, Wis.; a visit to the International Crane Foundation; kayaking; climbing Sugar Loaf bluff; and a campus cleanup and restoration of fire pits. Next fall could see more ambitious treks to the Boundary Waters or to a western national park, and snow camping could be in the cards for next winter.
As part of the Office of Student Life, Outdoor Leadership contributes to the vibrant campus and residence life experience, and helps Saint Mary's realize its mission to develop students for ethical lives of service and leadership. Student leaders will be trained to help Norris plan and execute outdoor activities and educational programming.