When we asked our longtime professor, Jeff Knopf, what he loves most about teaching in our MBA program, he said he enjoys how interacting with students of diverse backgrounds, learning styles and interests in GIS has taught him adaptability and made him a better educator. Let's dive in to learn more about Jeff's professional experience, hobbies, and more.
How long have you been teaching at Saint Mary's?
I have assisted with the graduate program in GIS for around 19 years.
What courses do you teach for Saint Mary's?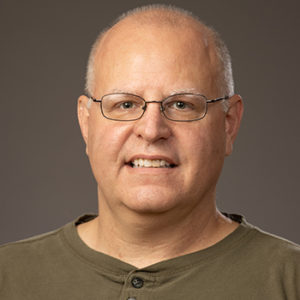 I teach Basics of Remote Sensing and Image Classification.
Please share a little bit about your professional experience.
I got my start in GIS, geographic information systems, and teaching at the University of North Dakota working as a remote sensing technician analyzing satellite data for precision agriculture. I came to Saint Mary's to continue my education in GIS and have been fortunate to continue being active in the graduate program, helping with teaching in areas of my expertise, tutoring students, assisting students with projects and job placement in the GIS field. I also work for the university as a GIS Analyst on several different projects from hydrography and wetland mapping to watershed analysis.
What is your favorite quote?
"For it is in giving that we receive." – Saint Francis
What are some of your hobbies?
In my free time, I enjoy working on cars, community service, hiking, and activities with my family and friends.
What is your favorite classroom assignment and why?
Any assignment that pushes my students' skills and better prepares them for the job market.
What is your contact information?
Email: jknopf@smumn.edu