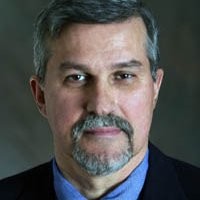 In this post, we introduce you to Ralf Keysser, DBA, adjunct associate professor. Keysser has been a member of our faculty for five years and has an impressive background in the financial industry. Let's dive in to learn more about this valued faculty member of our MBA program.
What courses do you teach at Saint Mary's?
I teach MBA642: International Financial Management, MBA643: Corporate Finance, MBA644: Financial Markets and Institutions, and MAPA620: Managing Public Finances.
Please share a little bit about your professional experience.
I have more than 35 years of experience as an investment banker and business finance consultant.
What are your favorite quotes?
"To be is to do" — Sartre
"To do is to be" — Kierkegaard
"Do be do be do" — Sinatra
What are some of your hobbies?
Photography, hiking, and writing.
What do you enjoy most about teaching?
I enjoy the contact with my students — helping them mature and grow intellectually and professionally.
What is your favorite classroom assignment and why?
I love the required semester-long research paper. This project helps students develop critical thinking and analysis and learn how to communicate and persuade.
For the last several semesters, I have challenged my students to write this research paper on the topic of the long-term impact of the COVID-19 pandemic on their company and their industry, trying to look at the new normal in their world.
I compiled and edited the best of these papers into two volumes of Anthology of Research Papers and made them broadly available as a free download to Saint Mary's students, faculty, and staff, and to my general business network.
The feedback has been very positive, and it is a plus for the students as well, since they can now list a published article in their résumés. The collection of papers speaks very highly of the quality of the Saint Mary's MBA program and its students.
What is your contact information?
You can email me at rkeysser@smumn.edu or find me on LinkedIn.