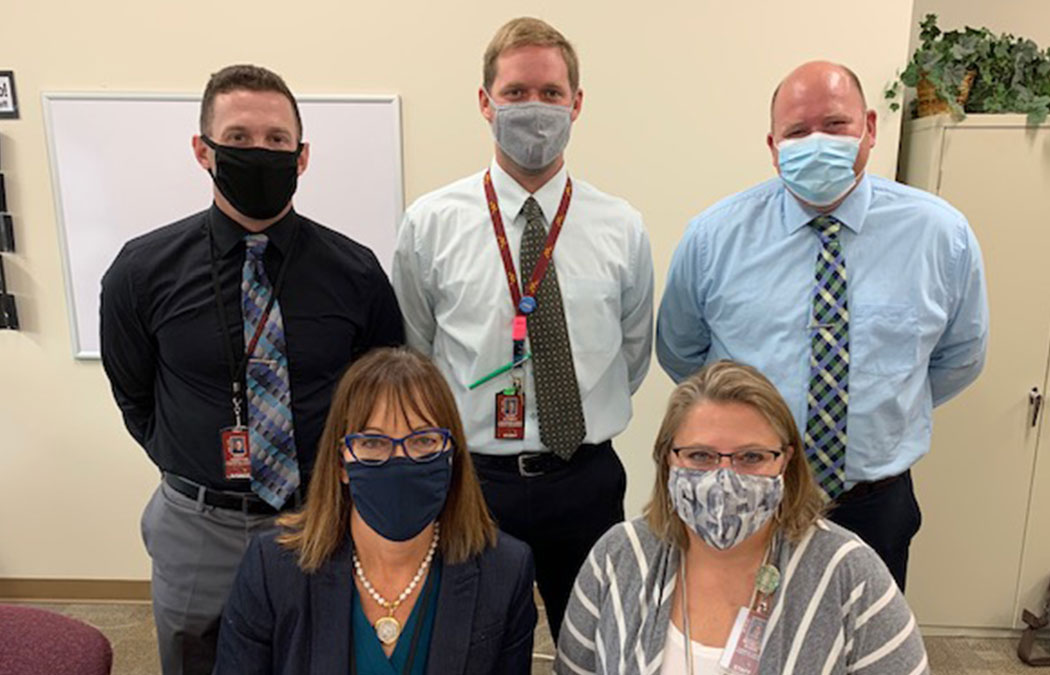 Andy Traetow M'07, C'13, elementary school co-principal; Alex Schmidt C'13, junior/senior high school co-principal; Jake Tietje C'13, C'16, junior/senior high school co-principal; Kim Niss C'13, K-12 principal of curriculum and research; and Michelle Rosen M'96, C'05, elementary principal; have more than one thing in common.
Besides their passion for educating others, they also share a bond established by their connections to the Fairmont School District and strengthened by their Saint Mary's education.
These five all serve as administrators in the Fairmont School District and received their K-12 Principal graduate certificate at Saint Mary's. In fact, four of the five were in the same cohort which graduated in 2013. A cohort model brings together a small team of students to collaborate in convenient locations across the state. Classes are taken in a specific order and students stay with the same group of students throughout the program.
"Being able to draw from the experiences of colleagues and those who have the same ambitions within the educational field was extremely valuable," said Traetow, who also received his M.A. in Education from Saint Mary's. "You get varying perspectives from different school districts in the area. The idea sharing and generating was really one of the most invaluable experiences."
Traetow, Schmidt, Tietje, Niss, and Rosen agree it was undoubtedly convenient to attend classes near home, especially given their unique rural setting.
"Convenience was definitely the draw. It was a major advantage to be able to get my degree right here in town, and I became even more interested when I found out they were hiring area supervisors, principals, and professors to teach the classes — people that understood rural education and understood Fairmont," said Tietje, who also received his superintendency graduate certificate from Saint Mary's.
"It's a challenge for rural Minnesota," said Schmidt. "When you're in the Twin Cities area, regardless of whether you're on campus or in a cohort model, you're going to be within 30 minutes of many schools. Living in Fairmont, you don't have that option."
The cohort met in-person weekly for two years as a learning community model at Presentation College in Fairmont, Minn., providing plenty of opportunities to create close professional relationships.
"One of the biggest advantages of the cohort model is the connections you have when you graduate," said Traetow. "There were a number of times in my first couple years as an administrator where I knew I could call my instructors or classmates with questions. Saint Mary's gave us that foundation to really build off of. It's a steep learning curve when you're thrown into this leadership role, but that base is definitely there and those resources were good to have and lean on."
As administrators, they've encouraged colleagues and staff members to also get their advanced degrees through a cohort model.
"We know the value of it," said Rosen. "I've seen many staff members take and use the cohort method to get their master's degree or administrative degree. Staff like that we understand what they're going through. It's added value to our school system as a whole."
Although connecting with staff is important, the students they serve always come first.
"My passion absolutely lies with teaching and learning and all the elements that truly bring success to all students," said Niss.
"When I was in the classroom, that is what I centered my day on, my teaching on — connecting with students and the learning process that happens, said Schmidt. "As a building administrator, you don't necessarily get the closeness of those relationships with kids, however you get to reach a lot more students being in this role connecting with a variety of different kids in a variety of grade levels.
And you also get to do that with staff too. Once those relationships are built, you can help them be the best teacher they can be. A passion of mine is to help people do the best possible job they can, whether that's as a teacher or as a student learning."
Like so many others, their school district has faced challenges brought on by the COVID-19 pandemic. As Tietje said, "There is no playbook for this." With so much uncertainty, it's no doubt students, staff, and faculty will need more support.
"The social emotional learning has been huge. To be a leader at this time, we have to look at the health and well-being of our kids and our staff. It's very stressful," Rosen said. "We're really looking for ways we can continue to educate our staff and our students on social emotional learning and learning about feelings. It's important to be a listening ear right now to staff members when they're struggling. Not that I didn't do that before, but it just seems like we're doing more of that now because of the situation we're in."
Through real-world examples, case studies, and engaging discussions led by faculty who were teaching in the field, Saint Mary's helped prepare these administrators to excel at their jobs. The relationships built through the cohort model proved beneficial.
"I felt prepared to begin as an administrator. I thought Saint Mary's did an excellent job," said Tietje. "The content delivered paired with the group we had and the format of the class. We all knew each other before going into that cohort, so we were comfortable. But being together as a cohort led to high-quality discussions about case studies which really helped prepare us and made us more comfortable with one another so we could dive deeper into the content."
"I don't know if any program can truly prepare you to be an administrator … but Saint Mary's did a wonderful job providing the foundational aspects. From the law class, to ethics, to curriculum, to special ed, all of the components were there," Schmidt said.
Photo caption: From left (back row), Andy Traetow, Alex Schmidt, Jake Tietje, Kim Niss, and Michelle Rosen together at a recent administrators meeting.