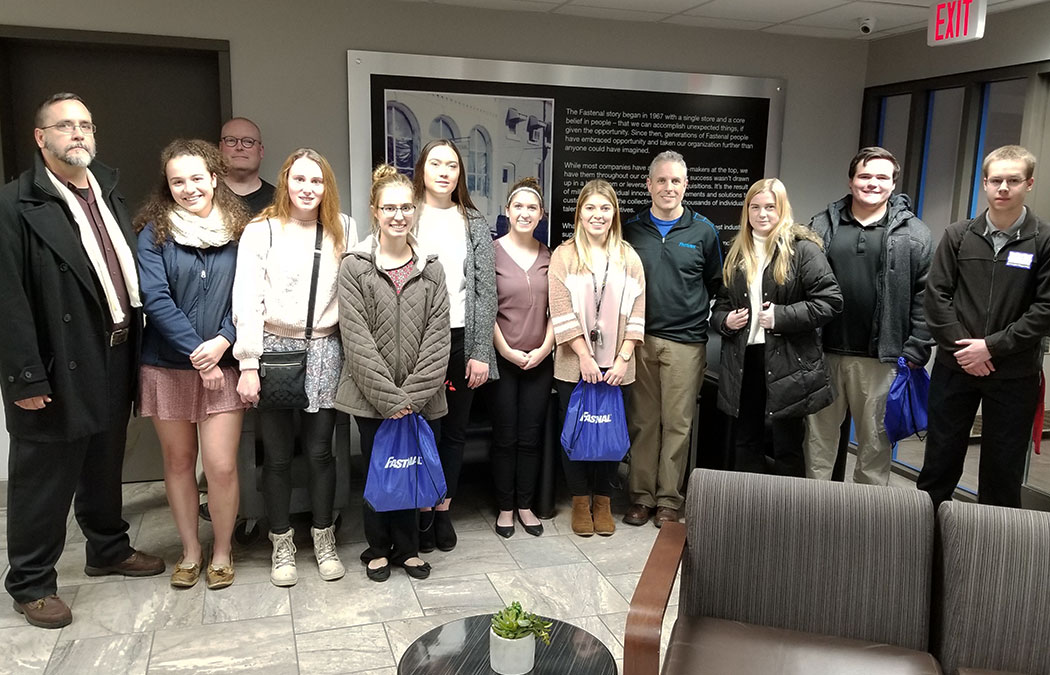 Saint Mary's University of Minnesota Public Relations/Business Club students enjoyed a tour and "meet the managers" session at Fastenal headquarters in Winona on Nov. 7. Students met with eight senior and middle managers to learn more about the Fastenal business operations and to explore internship and co-op education opportunities. Students engaged in networking with the Fastenal professionals and took a tour of the distribution hub.
Students included Courtney Moser, Mary Loy, Isabella (Bella) Nuck, Lyanna Novak, Carolyn (Carol) Chrastka, Hannah Crowe, Jerry Goodwin, Casey Hanson, Morgan Prokosch, and Jack Knoblauch. Business faculty coordinators were Professors Matthew Klosky and Shelly McCallum-Ferguson. The event was part of the PR/Business Club activities.
Photo caption: From left, Jerry Goodwin, Lyanna Novak, Matthew Klosky (faculty), Bella Nuck, Morgan Prokosch, Carol Chrastka, Hannah Crowe, Courtney Moser, Craig Davis (Fastenal), Mary Loy, Jack Knoblauch, and Casey Hanson.