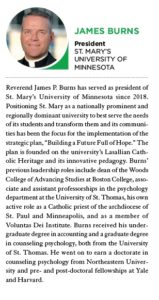 Father James P. Burns, IVD, Ph.D., president of Saint Mary's, has been chosen as one of the state's top 500 leaders and executives, and was included in a print edition of the MN 500.
The selection process begins each year with a list of more than 7,000 executives across multiple industries in Minnesota. The editors of Minnesota Monthly magazine, who publish the MN 500, cull this down to the top 500, looking at everything from the impact each executive has had or is having on their industry as a whole (both in their current role and prior roles), the success and impact the company itself has had or is having under their leadership, special awards or accolades, participation in community and philanthropic endeavors, position on other boards, and the like.
The print publication is mailed with Minnesota Monthly, reaching over 300,000 readers.