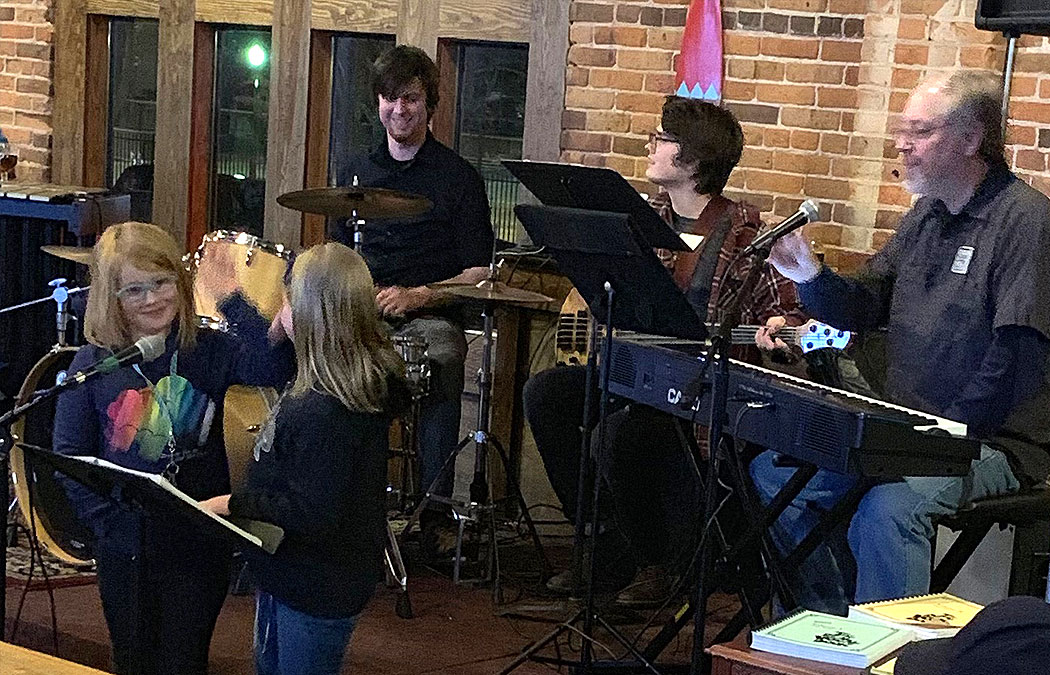 WINONA, Minn. — The monthly Jazz Jam will take place Sunday, Feb. 17, from 6:30 to 9:30 p.m. at Island City Brewing Company, 65 E. Front St. in Winona. This month, the H3O Jazz Trio is proud to sponsor a freewill donation to support Winona students traveling to Misato, Japan, later this spring as part of Winona's Sister City program.
H3O began hosting an annual fundraiser for Masato students in 2013 when Saint Mary's alumnus Max Heukeshoven, H3O bassist, traveled to Misato as a student. In 2016, A. Eric Heukeshoven, assistant professor of music and director of Jazz Studies at Saint Mary's, and saxophone great Dr. John Paulson led a group of student jazz musicians on a special visit to celebrate the 20th anniversary of Winona and Misato's connection.
Now in its second year, the Island City Jazz Jam is an open mic night for jazz. Whether you play an instrument or sing, the Jazz Jam is your chance to sit in with a professional rhythm section. Everyone is welcome and encouraged to perform some of their favorite jazz standards.
Interested jammers can choose from a wide selection of jazz tunes. Players can choose music from Hal Leonard Real Books, bring their own, or ask the trio if they can play their favorite. Simply sign up on the clipboard and get ready to jam.
Island City Jazz Jams happen on the third Sunday of each month from 6:30 to 9:30 p.m. in the taproom. The event is free and open to all ages. If you're not quite ready to sit in, come and enjoy a great evening of jazz.
For more information, contact Ashley Haig, Island City events coordinator, at 507-961-9743 or events@islandcitybrew.com.
About the H3O Jazz Trio
The father and son jazz trio H3O began performing together when bassist Max Heukeshoven was only 14 years old. Along with older brother Hans on drums and vibes and dad Eric on the piano, the group was asked to play for a private pool party and hasn't stopped since!
A. Eric Heukeshoven is an assistant professor of music and director of Jazz Studies at Saint Mary's University of Minnesota. Hans Heukeshoven is a 2015 graduate of Saint Mary's with degrees in Music Performance and Computer Science and works as a software engineer. Max Heukeshoven is completing a degree in Music Industry at Saint Mary's and plans to attend law school.
H3O Jazz Trio performs a wide variety of jazz styles including original music. They have worked as the rhythm section for numerous area professionals including Minnesota Music Hall of Fame's Les Fields and Dr. John Paulson. Recent appearances include HBC25's Artwork Winona, Midwest Music Fest, Great River Shakespeare Festival, Free Family Concert Series, and many other venues. The trio hosts a monthly Jazz Jam at Island City Brewing Company in Winona on the third Sunday of every month from 6:30 to 9:30 p.m.
More information about the H3O Jazz Trio can be found at H3OJazz.com.
Photo caption: Sisters Evie and Vera O'Shea (10 and 8 years old) — daughters of Dr. Patrick and Lindsy O'Shea of the Music Department — high five each other after singing "On the Sunny Side of the Street."