By Krista Joy Coleman
Only one thing could draw Saint Mary's senior Crystal Chavez away from the comfort of her very close knit family — the opportunity to become a teacher and make a difference to generations of students. Her love for working with youth began when she herself was young. Chavez recalls early memories of caring for and educating her five siblings, and cooking for her family.
It wasn't until her seventh-grade teacher showed her how much amazing educators could change their students' lives that Chavez considered going to college.
Chavez looked up to her first teacher of color. The class struggled to adjust to this teacher's strict curriculum initially, but there was something different about her that won them over. "She was the only teacher I had who also taught us social and emotional learning strategies," Chavez said.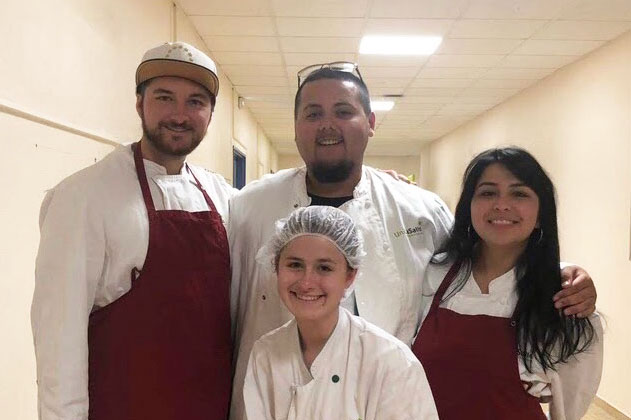 Growing up in Chicago, Chavez explained harmful activity in the surrounding neighborhoods was often difficult for children to understand. Her teacher helped the class process what was happening in their lives through journaling, social-emotional learning, and being cared for as individuals.
Chavez was so inspired by how her teacher pushed the class academically while also helping them process the world around them in a healthy way for the first time. Following in her hero's footsteps, Chavez channeled her desire to care for others and her love of academics into becoming a teacher.
The first time she was ever in Minnesota was while participating in the Countdown to College (C2C) summer program at Saint Mary's University's Winona Campus in eighth grade. As she returned to Winona every summer throughout high school to attend the two-week academic program, she got a feel for college and Saint Mary's. "It was great to have teachers who understood, and accepted, and cheered us on," she said. When she finished the program and was offered a First Generation Initiative (FGI) scholarship to Saint Mary's, she was thrilled. "It was more than a full scholarship," she said. "It was opportunities, and a family I wouldn't have had from another school … without the full ride, I would still be at home. It made leaving home worth it."
Chavez said she is thankful for FGI advisers, Octavia Brown and Alisa Macksey, who have guided her throughout her time at Saint Mary's. Having helpful conversations with women who understand the difference in culture between living in a big city and moving to college helped her feel more comfortable on campus.
While working diligently on her education major, Chavez capitalizes on more opportunities to learn about the world and become a good global citizen. She was chosen for a student trip to Washington, D.C., and to participate in the Lasallian Leadership Conference in France. "The FGI staff helped me with my passport and everything I needed to go. They let me experience not only the real world through the school, but let me see the real world in a global sense as well. That reinforced my desire for my students to be global citizens and learn about different places and cultures."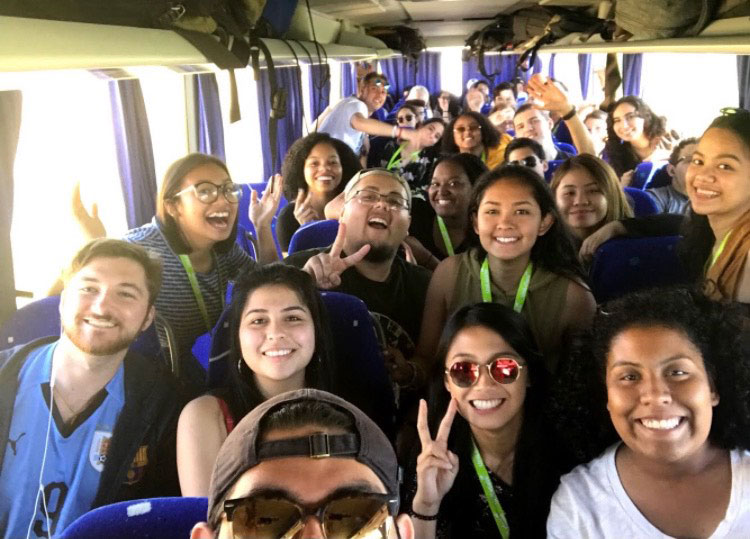 Chavez loves how the Saint Mary's education department exposes her to real classrooms through observation opportunities and student teaching. While student teaching a fourth-grade classroom, she had the opportunity to watch young minds grow and mature. "They are all such amazing kids," she said. Remembering her appreciation for her seventh-grade teacher, roles were reversed as Chavez got to see how the children matured by being exposed to a teaching assistant of color.
At the beginning of her student teaching, some children mimicked her accent. "I took it as an opportunity to teach them why that wasn't okay. If I don't tell them now, they might not know," she said. Chavez was happy to see her students learn about interacting with new people from different backgrounds and enjoyed watching them mature into more respectful and caring people through the year.
She looks forward to graduating this year and helping students grow to be good global citizens. Complete college education soon in hand, Chavez is ready to be an exemplary teacher. All she needs is a classroom.