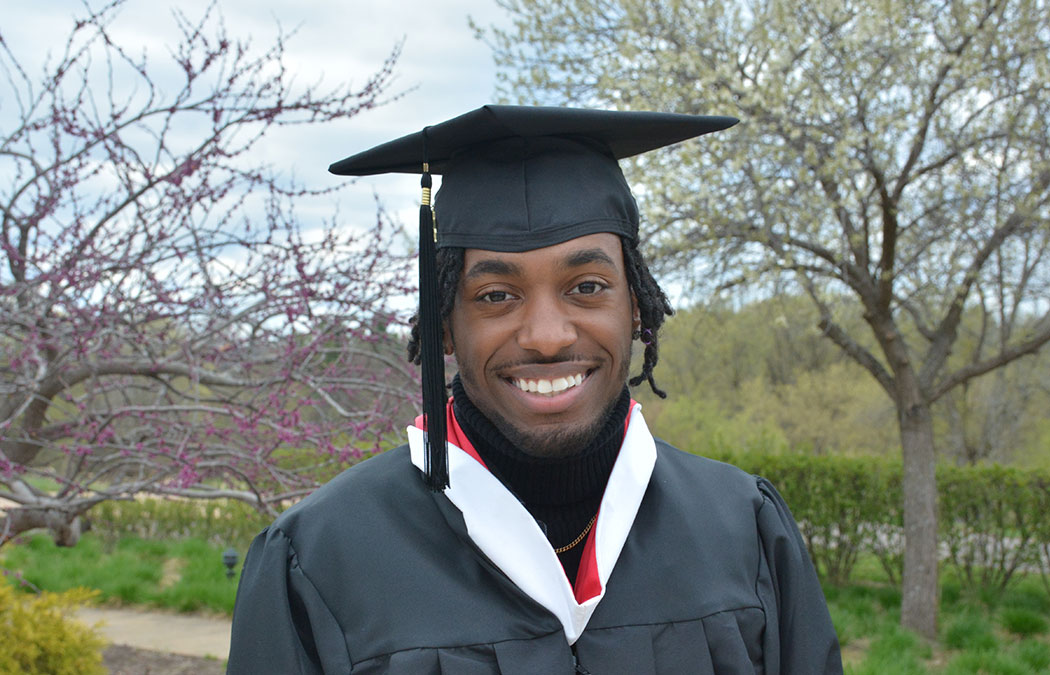 By Krista Joy Coleman
Saint Mary's criminal justice major Raekwon Livingston has his eyes set on changing the world, one person at a time. As a Chicago native, he understands first-hand the community's sometimes negative view of the Chicago Police Department and hopes to change it for the better. He decided to minor in psychology to better understand how to defuse potential situations he might encounter as a police officer.
"I want to see a change in how police officers work with people with mental illness," said Livingston. Having a family member who has a mental illness, he believes the root of change is in understanding the disease. Livingston is particularly fascinated in studying cognitive perspective illnesses. "People with cognitive perspective illnesses are wired differently and have a different way of thinking than we do," he said. As a police officer, he wants to focus on helping people by understanding how they think and feel from their point of view instead of his own.
Livingston said his parents weren't strict growing up; instead, they encouraged him to make good choices with his freedom. To help him not get distracted, his mother enrolled him in after-school programs to help with his homework, and she made life itself a learning environment. His parents always valued college and are immensely proud to watch him thrive at Saint Mary's University. "I would say my parents are my biggest support system," Livingston said.
It was a high school counselor who first told Livingston about Saint Mary's First Generation Initiative (FGI) scholarship and encouraged him to apply. Livingston said he immediately enjoyed the community within the program and was thankful to have their support to help him adjust. Relocating from big-city Chicago to small-town Winona, Livingston said he experienced a bit of culture shock when he arrived. "Octavia (Brown) and Alisa (Macksey) helped me become comfortable on campus. It's great to have someone outside of your parents believe in you and be so caring," he said.
Livingston added he feels so thankful to have a full college scholarship and said he wouldn't have gone to college if he hadn't received the financial support. "With the First Generation Initiative program, students of color get a sense of belonging, a second family away from home, and they are surrounded by other students who are going through the same culture shock who can provide a sense of comfort," he said.
Livingston said he works every day to bring his 'A' game because he knows many others can only wish they had the same opportunity he has. "Use your college experience to better yourself," the senior says as advice to high schoolers and college freshmen. "Devote yourself to learning about the people different from you who are all around you on campus. It'll apply to life later on."
Livingston further encourages, "No matter where you come from, no matter your economic background, you should have a dream and live up to it. It's all in your mind. No one can stop you but yourself. If you have the mindset that you will complete your dream, that it is what you want for your life, hold onto it no matter what, and don't get distracted. No matter how many people tell you that you can't do it, you can. It's up to you."
Livingston is thankful to Saint Mary's — and to FGI supporters — for providing him with the tools he needs to bring about change as the next generation of law enforcement.