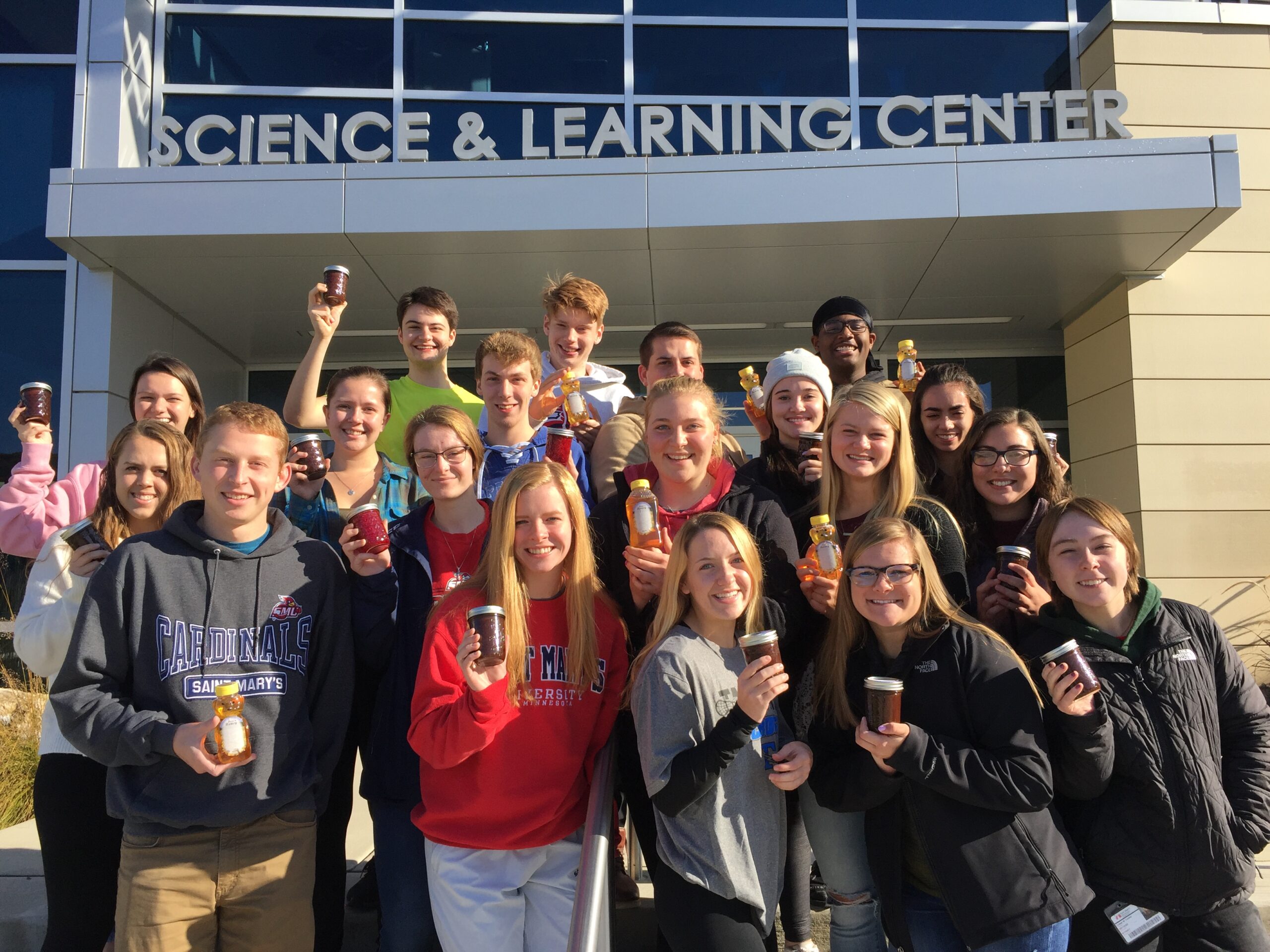 It's safe to say that the students in the First-Year Experience anchor course, taught by Jeanne Minnerath, Ph.D., will never look at a grocery store the same way again.
After all of their work this semester, the group of 20 students has gained a new appreciation for the food they eat.
After learning about the intricacies of the relationships between those foods and microorganisms in the classroom, the class went on to produce, process, and sell approximately 200 jars of raspberry jam, 100 jars of apple butter, 80 bottles of honey, and 60 jars of salsa — with all profits going to the food shelf at Winona Volunteer Services later in the year. The $1,800 in profit will be added to the efforts of the fall 2018 class, for a combined total of approximately $3,000, Dr. Minnerath said.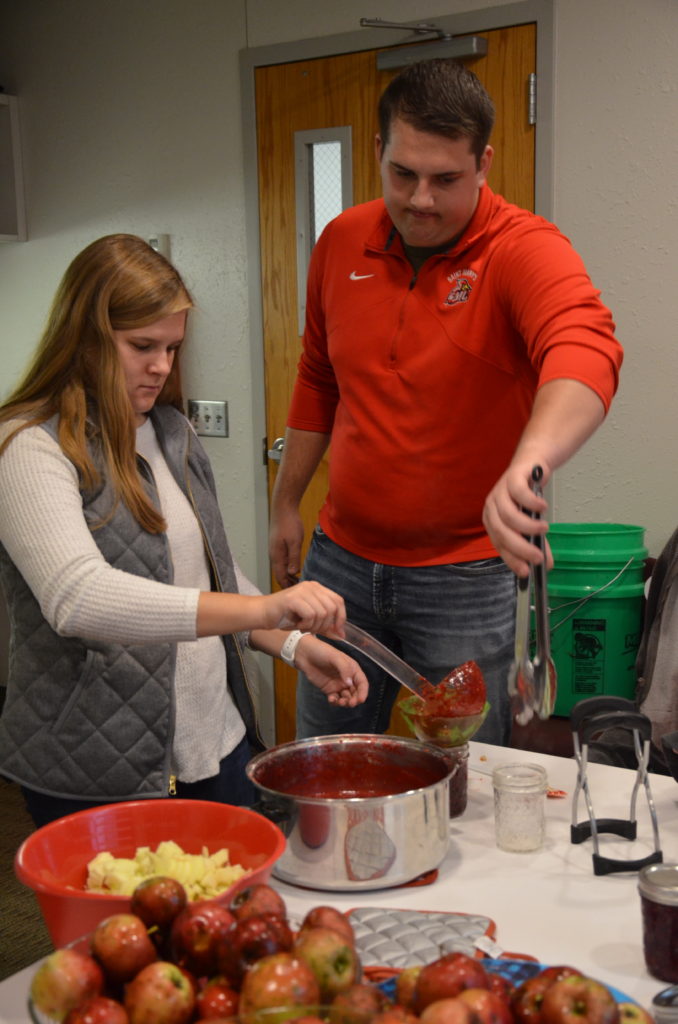 A large portion of the sales is made by pushing a cart full of products around campus during Family Weekend in late September. Other sales came from faculty members.
Corinna Hafner, a first-year student from Saint Paul who is undecided on her major, said that the material covered in the class is applicable to any student, regardless of his or her major.
"We're learning about how food and microbes go together," Hafner said. "Everybody eats, so I think it's cool to understand how microbes play a part in your food — how they can make you sick or how they keep you from getting sick."
Before enrolling in the course, Hafner had previously helped her father make rhubarb jam, "but everything else was new," she said.
One of Hafner's favorite opportunities was helping harvest honey out of honeycomb from hives that belonged to Josh Lallaman, Ph.D., assistant professor of biology, who also happens to be Dr. Minnerath's neighbor.
Dr. Minnerath suggested to Dr. Lallaman he could recruit students from Saint Mary's to help him harvest the honey — and then suggested that they could sell it as part of their initiative to donate money to the local food bank.
During the process, the students had to delicately collect the honey from the honeycomb. They then put the honey through a cheesecloth to properly filter it. The students were then allowed to eat samples of the honeycomb itself once the harvesting was completed.
"Usually, you would just buy honey at the store, so you don't know the process of making it and what goes into it, but we all got to do all of these steps," Hafner said.
Like Hafner, Sean Curran, a first-year student from Appleton, Wis., had helped make jam before, but never had a solid grasp on the science of canning.
"Knowing how it works and why it works is what I'm going to remember," said Curran, who is a member of the inaugural 3+2 Physician Assistant Program with Mayo Clinic School of Health Sciences. "Now I have a better understanding of not only how microbes and bacteria both help and harm us, but how we can eliminate the potential harm to us through processes such as canning."
Where science meets food
After being tasked to create curriculum centered around environmental and human health, the course began last year as a combination of two of Dr. Minnearth's favorite things: science (microbes and bacteria, to be exact) and food.
"I wanted to have hands-on activities in my class," said Dr. Minnerath, who serves as an associate professor of Biology and the director of the Allied Health Program. "And so I thought, 'OK, how can I teach them to preserve food?'"
Dr. Minnerath also wanted to cultivate a sense of community for the first-year students as they acclimate to their new surroundings. The class comes from diverse backgrounds. Some students from urban backgrounds had never been in such an environment.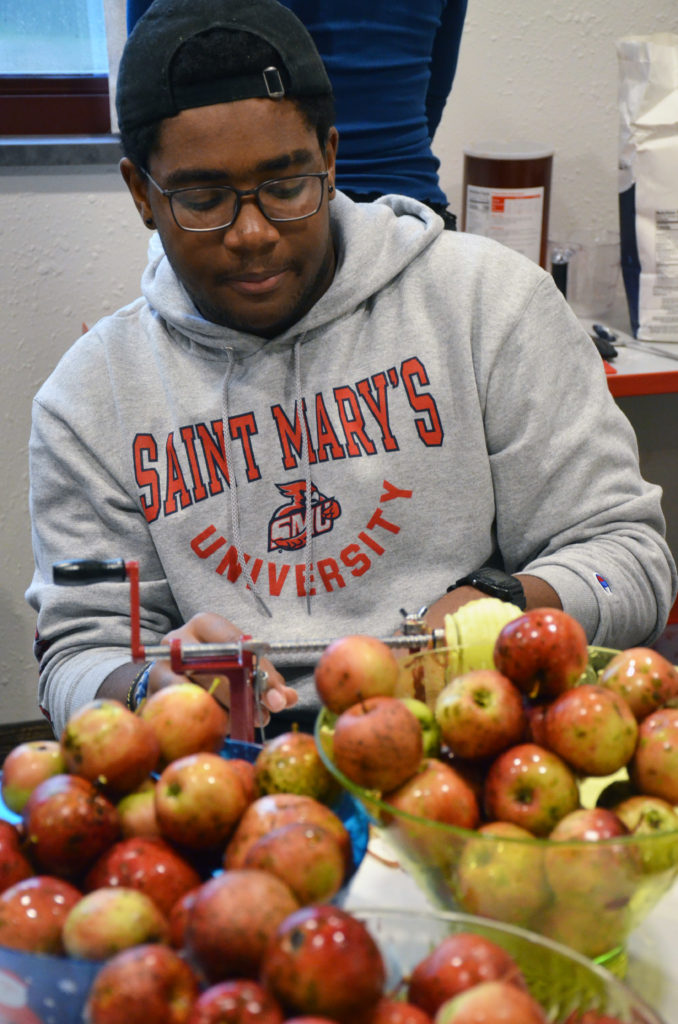 "These are old techniques that are dying off … They have heard of canning, but they've never done it or seen it being done," Dr. Minnerath said. "The goal of this class is to make the science the students learn in class relevant to their everyday life."
As part of the preparation process, the students gathered produce from gardens on the Winona Campus — including raspberries from Brother John Grover's famous raspberry bushes, as well as tomatoes and green peppers from the university's garden — and from off-campus locations.
"It is important to me is that my students are getting connections to the [De La Salle] Christian Brothers. My students are finding out, 'Wow, you can grow stuff here on this campus,'" Dr. Minnerath said.
At one point, the students gathered bruised apples to make apple butter from orchards affiliated with Father Paul Breza, the founder of the Polish Cultural Institute and Museum in Winona.
By spending so much time outside the classroom, the students have formed a bond with each other which has helped them transition to college life.
"We've had some opportunities to go off campus, so we're meeting other people, but we're also with our classmates, which has helped me to make friends," Hafner said. " I know everyone in my class; I study with them, I hang out with them, I sit with them during meals, which I think is really cool because it's different than just being in a lecture and not even knowing the name of the person sitting next to you."